Seattle's 5th Avenue Theatre's recently premiered Waterfall a new romantic musical set in Asia during the 1930's. The shows staging and talent are brilliant; kind of a living forbidden romance poem set to music. And since the plot centers around one woman's painting of a waterfall scene, many of the sets appear as painted canvasses.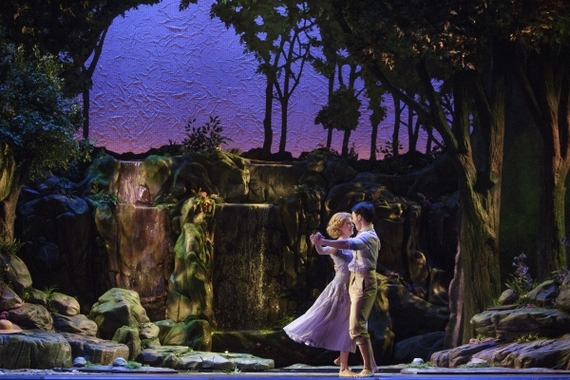 Most impressive were the two main characters Bie Sukrit as Noppon and Laura Griffith as Katherine. Both have to age as the story continues through the years, and Griffith was particularly stunning as she moved from a naïve young woman to an older dying woman.
Here's how the 5th Avenue Theatre describes Waterfall:
"Based on the contemporary Thai novel Behind the Painting, this tempestuous romance is set in 1930s Thailand and Japan as the monarchy crumbles with Japan on the brink of war. In this turbulent time, a young Thai student and the American wife of a Thai diplomat fall into forbidden love whose dangers parallel the shifting world around them.

This 5th Avenue Theatre / Pasadena Playhouse co-production features a captivating dynamic score and spectacular visual design, and marks the U.S. debut of Thai pop superstar Bie Sukrit as Noppon, the student at the center of the ill-fated affair."

Then, there is the waterfall itself. It stunningly appears on stage at the end of the first act, and both characters recreate their one moment of forbidden romance romping in the water. This is quite an amazing piece of theatrical stagecraft, and it really brings the show to full fruition.
All in all, Waterfall is a wonderful look into a historic time and the intertwined lives of two people from very different cultures. It is filled with great music that entertains from opening curtain to the poignant ending.
Calling all HuffPost superfans!
Sign up for membership to become a founding member and help shape HuffPost's next chapter