 Our latest installment features Barbara Bush, CEO and co-founder of Global Health Corps, a social startup that places young professionals around the world to advance global health, in conversation with HuffPost's Brian Sirgutz, Senior Vice President -- Social Impact. We asked Bush about her background, what led to her successful fellowship program and innovations in the global health field.
Brian: You've started an organization that mobilizes college grads and young professionals to work on health care projects in East Africa, Burundi, Uganda, Malawi, Rwanda and other affected areas. Can you tell us the story behind the organization's inception?
When I was 21, I was lucky enough to be on the ground for the launch of the President's Emergency Plan for AIDS Relief (PEPFAR) in Uganda and witnessed firsthand the roadblocks to appropriate healthcare and nutrition.
Then, in 2008, my sister and I were connected with some of the co-founders of Global Health Corps (GHC). The six of us have seen the enormous interest our generation has had in global health -- more than 80 new global health programs have been started at universities and grad schools across the United States over the past five years -- and realized there was an opportunity to harness this collective power.
Brian: Your supporters include top names in information technology, like Cisco and Hewlett Packard. (Note: Cisco sponsors the ImpactX section). Can you talk a little about those relationships and how they add to your mission?
We've actively worked to build relationships with non-traditional partners that share our values -- innovators like Hewlett-Packard (HP) and Cisco who are leading the charge to build products and systems that connect communities, and increase information sharing.
Interestingly, global health organizations desperately need many of the skills employees at multi-national corporations like HP and Cisco have. Cisco employees who are experts in management information and technology systems have mentored some of our fellows working in Malawi with Elizabeth Glaser Pediatrics AIDS Foundation to build out stronger electronic medical records and data tracking systems.
Brian: Can you elaborate a little on your belief that "Health is a human right?" In your program, how do the widely varied fields of engineering, finance, consulting, architecture and more converge in order to create that reality?
Global Health Corps believes every person deserves access to healthcare and that health is the fundamental building block to life. If you're not healthy, you're not able to live a full life or advance educationally and economically.
The complexity and scope of the challenges is why we intentionally enlist fellows with very diverse skill sets, from fields like architecture, technology, education, management, and finance. From advocating for policy in the PEPFAR office in Washington, D.C., to training community health workers in Burundi, our fellows help strengthen health systems that better the lives of hundreds of thousands of people in East Africa, Southern Africa, and the US.
Brian: You've indicated in the past that it's a rigorous screening process to become a fellow, and you recruit the best of the best. How important is literacy in technology, and how does one apply to be a fellow?
Our screening process is more rigorous and intense than we initially intended. In 2012, more than 4,000 people applied for 90 positions. But yes, we are looking for "changemakers" -- fellows willing to embrace the complexity of global health. Applications are open now until February 3. Specifically, applicants must have an undergraduate degree and be 30 or younger.
Brian: How has your organization used technology to increase access to healthcare in the developing world? What kinds of technologies and innovation is the global health space have led to furthering your mission?
CIDRZ, one of our partner organizations in Zambia, has trained nurses in rural areas to email images of difficult-to-treat lesions to doctors working remotely to save time. Our fellows with Elizabeth Glaser Pediatrics AIDS Foundation in Zambia train midwives on electronic health record systems to reduce misdiagnoses and increase care coordination.
Across Africa, SMS messaging delivers test results to patients. One of Global Health Corps' advisors encourages Rwandans to tweet whenever there are stock-outs of drugs at their local clinic or pharmacy so that the Ministry of Health can act.
In the slideshow below, see some of the Global Health Corps fellows work on various projects.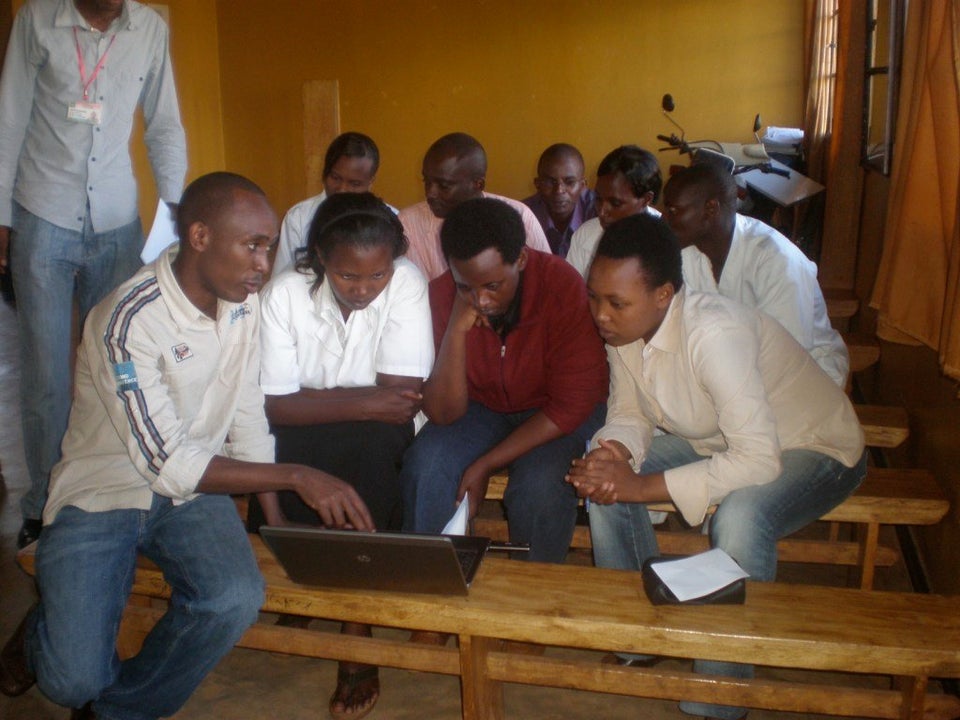 Global Health Corps Fellows In Action