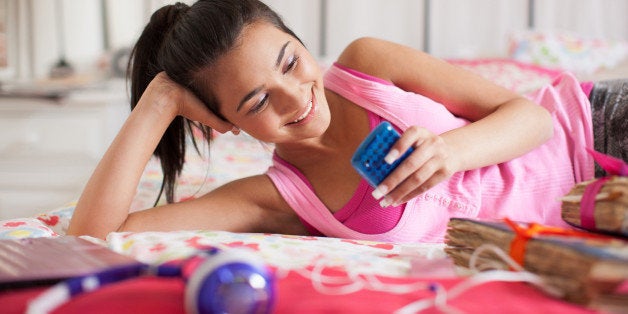 Unless you're single, you might not be familiar with dating apps such as Tinder, where users can quickly swipe through prospective dates. But it's likely your teen knows all about these apps -- even though they're mostly designed for adults. According to the company's own estimates, about seven percent of Tinder's users are age 13 to 17.
Although adults use these apps both for casual hookups and for scouting out more long-term relationships, they're risky for teens. For starters, although many of the apps aren't intended for them, it's easy for savvy teens to get around registration-related age restrictions. Secondly, adults can pose as teens and vice-versa. Location-sharing increases the potential for a real-life meeting; less dangerous but still troubling is the heavy emphasis on looks as a basis for judgment.
It's possible that teens are only testing boundaries with these apps. Many are eager to be on the same wavelength as their 20-something counterparts, and the prospect of meeting someone outside their social circle is exciting. And with so much of their social life happening online, teens feel comfortable using apps to meet people. But these apps are not a safe way for them to explore dating.
If you learn your teen is using dating apps, take the opportunity to talk about using social media safely and responsibly -- and discuss what's out of bounds. Keep lines of communication open; talk to them about how they approach dating and relationships and how to create a healthy, fulfilling one -- and note that they usually don't start with a swipe.
Below are some of the adult dating apps that teens are using.
1. Skout.
This flirting app allows users to sign up as a teen or an adult. They're then placed in the appropriate peer group, where they can post to a feed, comment on others' posts, add pictures and chat. They'll get notifications when other users near their geographic area join, and they can search other areas by cashing in points. They receive notifications when someone "checks" them out but must pay points to see who it is.
What parents need to know. If your teens are going to use a dating app, Skout is probably the safest choice, if only because it has a teens-only section that seems to be moderated reasonably well. However, ages aren't verified, making it easy for a teen to say she's older than 18 and an adult to say she's younger.
2. Tinder.
Tinder is a photo and messaging dating app for browsing pictures of potential matches within a certain mile radius of the user's location.
What parents need to know. You swipe right to "like" a photo or left to "pass." If a person whose photo you "liked" swipes "like" on your photo, too, the app allows you to message each other. Meeting up (and possibly hooking up) is pretty much the goal.
3. Badoo. This adults-only app for online dating-style social networking boasts more than 200 million users worldwide. The app (and the companion desktop version) identifies the location of a user by tracking his or her device's location and then matches pictures and profiles of potentially thousands of people the user could contact in the surrounding area.
What parents need to know. Badoo is definitely not for kids; its policy requests that no photos of anyone under 18 be posted. However, content isn't moderated, and lots of sexual images show up as you browse.
4. Hot or Not. This app started as a website over 10 years ago and has gone through lots of iterations since. It currently exists as a location-based app that shows you the hottest -- or most attractive per their rating system -- people nearby.
What parents need to know. Users must first set up an account of their own, with photos -- and must verify their identity with a working email address or a Facebook account and their mobile phones. The site says it will not accept a profile unless the user is 13 or older and that users 13 to 17 can't chat or share photos with users older than 17 -- but there's no age-verification process.
5. MeetMe. MeetMe's tagline, "Chat and Meet New People," says it all. Although not marketed as a dating app, MeetMe does have a "Match" feature where users can "secretly admire" others, and its large user base means fast-paced communication and guaranteed attention. Users can chat with whomever's online, as well as search locally, opening the door for potential trouble.
What parents need to know. First and last name, age, and ZIP code are requested at registration, or you can log in using a Facebook account. The app also asks permission to use location services on your teens' mobile devices, meaning they can find the closest matches wherever they go.
5Omegle. One of the older, more established anonymous-chat apps, Omegle lets users start out anonymous, but they can (and do) share information such as names, phone numbers, and addresses.
What parents need to know. Although not an official hookup site, Omegle gives kids the opportunity to share personal information and potentially set up IRL ("in real life") meetings with the people they've met through the app. Adding an "interest" to your profile also makes it possible to match like-minded people. Chat on Omegle often turns to sex very quickly, and it encourages users to "talk to strangers."


Common Sense Media is an independent nonprofit organization offering unbiased ratings and trusted advice to help families make smart media and technology choices. Check out our ratings and recommendations at www.commonsense.org
Related