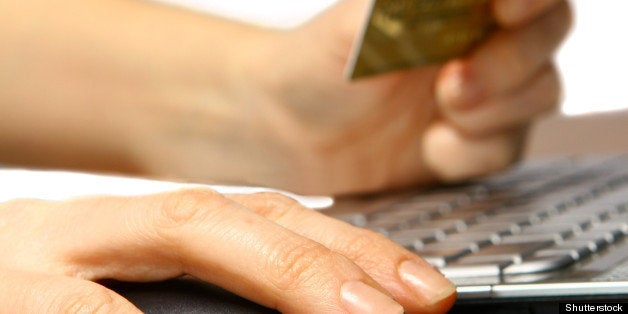 Weddings are a money trap that could leave you hoodwinked, frazzled, and possibly broke. Don't let the pink frosted haze of upcoming nuptials ruin your ability to see clearly and spend wisely. Nip these six stress-inducing spending habits, stat!
Bad Habit: Keeping Up With The Kardashians.
Unless you have 10 million dollars in wedding sponsorships like Kim did, don't try to live up to the weddings of the rich and famous. Be realistic and get creative with money-saving tips on wedding essentials from Pinterest, Instagram, and crafty DIY blogs. Also, ask your friends and family members, who have gone through the process, for vendor recommendations. You'll be surprised at how much you can save by adding your own personal touch and using trusted small businesses.
Bad Habit: Buying Everything You Need.
Remember, all your wedding dollars are going toward one big day. Emphasis on the ONE DAY! Get out of the mindset of buying it all. Consider renting for your wedding rather than blowing your hard-earned cash on materialistic things that only have a shelf life of 24 hours tops. You'll find online rental sites where you can get dresses, handbags, shoes, veils, cakes, diamonds, and much more.
Bad Habit: Trying To Be A Skinny Twig.
Hint: Twigs snap. Let's accept the freezing cold, rugged truth that fancy shmancy diets are expensive and run the risk of failing when you're hit with marital stress, managing vendors, and dealing with life-changing decisions. You may convince yourself that it's all worth it until you're a week away from your big day, short a thousand bucks, and have only lost two petty pounds. As the saying goes, the first thing to go when you diet is your sense of humor, and you'll need that to deal with your new in-laws. Instead, focus on being a healthy bride by eating right and adding uplifting exercises like Zumba, HealHop, and Bootilicious Buns to your daily routine
Bad Habit: Being An Unsavvy Saver.
Symptoms of the Unsavvy Saver syndrome include: making purchases without checking for deals, failing to spend time shopping around, and leaving the promo code box empty. I recently found Hotels.com discount codes from CouponPal by doing a simple search on the web. It took me less than a minute to find an additional $20 off, on top of the current sale prices. Since travel is a big ticket expense these days, always remember to start the search early, look for bundle packages, and give yourself a week or two to monitor price changes on different travel sites.
We all want to look like Ariel rising from the ocean all sparkly, shiny and whatnot, but sometimes you have to know when to put the breaks on that daydream. According to the Daily Mail, 10 percent of brides get plastic surgery right before their big day. The average cost of a procedure ranges from $2,000 to $20,000, without the guarantee that you will look any better. One too many women get obsessed with their flaws and forget the one most important thing: The man (or woman) who put that princess cut diamond on your finger loves you for you, so there's no need to go all Joan Rivers on him. Save yourself the money, pain, and suffering by embracing your inner and outer beauty, aging gracefully, and creating a happy home for you two to enjoy for decades to come.
Bad Habit: Neglecting Your Debt.
Swipe goes your credit card again! To find out if you're getting the best rewards and perks with each transaction, review and compare your credit card fees and features with other card companies at CardExplorer.com. Be mindful that because you're not used to spending this much, you're also not used to monitoring your expenses as often as you should. Simplify this process to get a real view of how much you're spending by using free online money management services like Mint.com. This will help you stay on top of your debt and keep track of your spending to avoid any surprising, overwhelming bills at the end of the month.