Now that cold, rainy days are washing over the country, there's no better time to head to the Caribbean for some island R&R--and nothing goes better with island sun than a fruity cocktail, of course. While the BVI is a notorious hotbed for great beach bars (Soggy Dollar, Foxy's, and Deadman's Beach Bar at Peter Island Resort) we've rounded up other fantastic bars that are literally on the beach, so you can sink your feet into the sand while sipping a signature drink.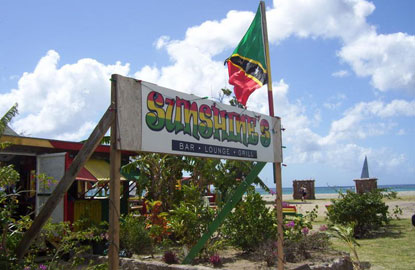 Sunshine's Beach Bar
Nevis
You'll be hard-pressed to find another island that gets as old-school Caribbean as Nevis. There are no streetlights, no casinos, hotels are transformed form 200-year-old plantation homes, and it's one of the few islands where monkeys still freely roam. Fitting right into the picture is Sunshine's Beach Bar, a popular watering hole right on the beach where locals and visitors gather for home-cooked, freshly grilled seafood, ribs, and chicken. You'll find everyone from dreadlocked locals to Four Seasons Nevis guests (the resort is next door) kicking back with cocktails and enjoying the ocean breeze.
Signature Drink: Killer Bee. Rum, passion fruit juice, club soda, honey, and fresh-squeezed lime juice.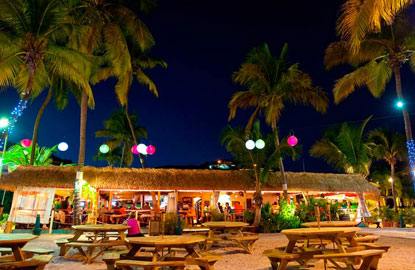 Iggies Beach Bar at Bolongo Bay Beach Resort
St Thomas, US Virgin Islands
On the beach in St Thomas is Iggies Beach Bar featuring live, nightly entertainment from local and national bands, domestic and Virgin Island brews, and a whole cast of characters, including some rock stars who frequent the bar (Stevie Wonder and Dave Mason stopped by and treated guests to an impromptu performance this past spring). Surrounded by swaying palms, the main bar has plenty of seating, but opt for one of the outside tables right on the beach.
Signature Drink: Voo Doo Juice, created with five types of the local Cruzan rum, cranberry juice, and pineapple juice.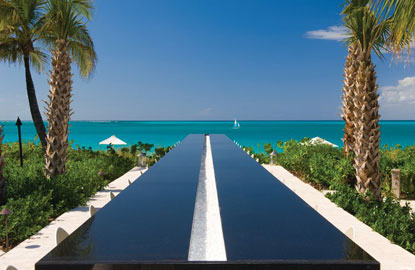 Infiniti Bar at Grace Bay Club
Turks & Caicos
Touted as the longest beach bar in all of the Caribbean, the Infiniti Bar -- at 90 feet -- at the luxurious Grace Bay Club in Turks & Caicos is the first infinity-edge bar in the world. Flanked by high chairs, it often comes complete with the sound of live music (three days a week). You're likely to find a fashionable set sipping on cocktails and, with its invitation to socialize (it's a communal table, after all), you're bound to make a friend or two. Even locals are known to hang out here, so kick up your feet and watch the sunset.
Signature Drink: Infiniti Martini. Hyptonic (yes, seriously), Malibu rum, and pineapple juice.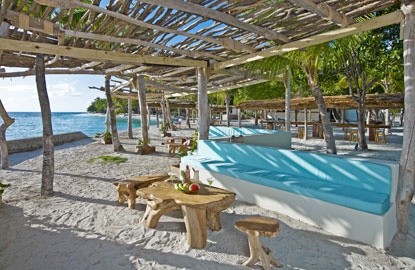 Goatie's Bar at Petit St. Vincent
Grenadines
This bar opened November 2011 at Petit St. Vincent and is literally steps from the water--be careful what chair you choose to sit in (and how much you drink!). The bar offers incredible views of the southern Grenadines along with beautiful sunsets. The bar is named after an employee who's been on the island the longest (46 years)--he was one of the original workers on the island as it was being developed back in 1966.
Signature Drink: Conrad's Rum Punch. Rum, fresh fruit, and some secret ingredients.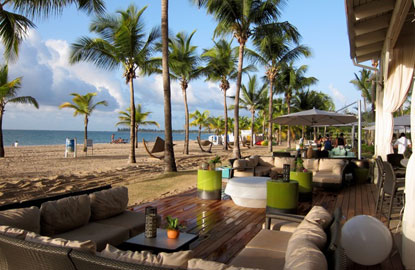 Oceanfront Beach Bar & Lounge at The Isla Verde Beach Resort
San Juan, Puerto Rico
Hot off the heels of an extensive "refresh" (the first phase of a year-long, multi-million-dollar renovation), this brand new bar at Courtyard by Marriott Isla Verde Beach Resort is on the largest stretch of beach in San Juan and has been wooing visitors who, well, want to chill at a bar directly on the beach. Both the tapas and cocktail menu are inspired by local flavors, and it's not uncommon to find your fellow patrons dancing after a round of the bar's signature drink.
Signature Drink: Black Octopus. Vodka, Peach Snapps, Midori liquor, Blue Curacao, and cranberry juice.
da Conch Shack & Rumbar
Turks & Caicos
A trip to Turks & Caicos isn't complete without getting a pitcher of ConchKnocker at this institution in Turks & Caicos. At da Conch Shack & Rumbar, picnic tables are right on Blue Hill Beach. Souvenir vendors do abound, but with a conch farm just fifteen feet out in the ocean its hard to knock it. While here, you must also try the conch in its many forms: fritter, salad, chowder, to name a few.
Signature Drink: ConchKnocker. Thankfully no conch but a blend of rums and a secret ingredient.
Photo Credits: Sunshine's Beach Bar: Courtesy of Sunshine's Beach Lounge; Iggies Beach Bar at Bolongo Bay Beach Resort: Courtesy of Bolongo Bay Beach Resort; Infiniti Bar at Grace Bay Club: Courtesy of Grace Bay Club; Goatie's Bar at Petit St. Vincent: Mike Toy Photography; Oceanfront Beach Bar & Lounge at The Isla Verde Beach Resort: Courtesy of Courtyard by Marriott Isla Verde Beach Resort