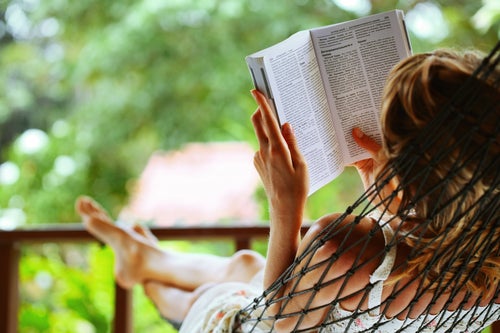 Few things are as comforting as curling up with a good book. Books can sweep us away from our problems, teach us new things, and provide reassurance that we're going to be okay. When you are going through a divorce — a time when comfort can feel in very short supply — the quest for a good book may be more important than ever.
Fortunately, there are books (quite a few of them, actually) that offer soothing wisdom and practical know-how about the very topics that may be keeping you up at night: separation, divorce, your children, your finances, and what you need to do to start moving on towards a brighter, more secure future.
As a divorce attorney, I am constantly reading and browsing divorce books so I can pass along timely suggestions to my clients. Need recommendations for what should go on your nightstand? Here are five books that are particularly helpful for women going through divorce.
For help processing your emotions, read: Falling Apart in One Piece: One Optimist's Journey Through The Hell of Divorce. When her husband announced he wanted a divorce, author Stacy Morrison mourned the loss of her outwardly enviable life. Dealing with divorce, co-parenting, fixing a money-pit of a house, all while juggling a high-pressure job in publishing, gave Morrison unexpected gifts: grace, forgiveness, and dignity. For other women just starting to navigate through divorce, this book is inspiration for the journey, no matter what comes your way.
To help your kids cope, read Two Homes. Written for children aged 2 – 5 by Claire Masurel, this illustrated storybook is narrated by young Alex, who explains what it's like living in different homes, with different expectations and personalities. Parents will enjoy reading this book to their children as it helps validate the configuration and experience of most divorced families. Add it to your bedtime reading rotation, or snuggle in with your kids for an afternoon read-and-chat.
For help with your finances, read: Women and Money: Owning the Power to Control Your Destiny. Financial challenges can be destabilizing for many women post-divorce: who am I without my former lifestyle? What if I can't provide for my family? How do I begin to budget? Financial expert Suze Orman lays out a 5-month plan to help women develop a healthy relationship with money. But the book is about much more than finances: it's about showing women how to develop a solid sense of self so they can get the life they deserve.
To learn about the legal side of divorce, read a divorce guide tailored to your state. Divorce laws can vary widely from state to state. In New Jersey, for example, we divide marital assets using "equitable distribution" laws, but in California, assets are split 50-50 as community property. If you do happen to live in New Jersey, I am the author of the multi-book divorce guide series: Family Law Jersey Style, with titles including A Guide to Uncontested Divorce in New Jersey and A Guide to Child Custody in New Jersey. If you live elsewhere in the United States, check your local library or search Amazon for legal guides specific to your state.
Because you deserve a good laugh, read Heartburn. Nora Ephron, creator of HuffPost's Divorce section, based this fictionalized memoir on the demise of her marriage: when she was seven months pregnant, her husband left her for another woman. The book is funny, poignant, and contains some great recipes!
I am a bookworm at heart and am always reading family books so I can make recommendations to my clients. What have I missed? Which books are your favorite? Please comment below or drop me a line at bariw@wlg.com to let me know!
Support HuffPost
The Stakes Have Never Been Higher
Related
Popular in the Community