Eduardo F. Conrado is one of the most unique guests we have had on CXOTalk because he is the Senior Vice President of both Marketing and IT at Motorola Solutions, Inc. Yes, you read that right. Conrado oversees both marketing and IT - a most unusual combination. The unique pairing was born from the belief that where you put IT is going to determine the value that IT is going to bring to the company. Since part of Motorola's business strategy is to be focused on the customer and become a more solutions-oriented company, they were looking to realign IT to have the group report into a front office, customer-facing group. An engineer-turned-marketer, Conrado, who was CMO at the time, volunteered to take IT.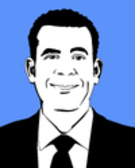 Eduardo F. Conrado - SVP Marketing and IT, Motorola
"Looking at the end-to-end experience of the customer, which is digitally enabled, is where you see the beauty of the combination of these two roles", says Conrado, who thinks that user-centric design is the future of IT - starting with the end user and working back on how to architect your systems.
Here, Conrado discusses the many benefits that companies can derive by having marketing and IT combine forces.
6 Business Benefits of Marketing and IT Collaboration:

1. Stronger customer focus - In most companies, IT is so focused on back office systems that they tend to forget the customer facing systems that impact both marketing and sales, which creates tension. Conrado reports that having the two groups in the front office naturally diffuses tensions and increases collaboration between the teams because there is a balance of investment between the front office systems of engagement and the back office systems of record - both are looked at with the same importance. "Historically, IT has been focused on the past, which has led to where the IT budget is allocated, which has led to marketing having their own operational money and making their own decisions independently of IT. The benefit of having both areas combined and under my purview is the breaking down of those functional silos and the balance of investments around front and back office."
2. Cultivating an agile and insight-driven culture - Part of better aligning IT with the business strategy and becoming more of a solutions-oriented company, is to look at how well you collaborate across the expertise that you have around the world. Traditionally, IT was running silo programs around more functional areas. Conrado wants to move away from software implementation that ties into the program and instead have IT enable end-to-end processes within the company which span around the multiple software they may have in place. He wants IT to look at data as an asset of the company and provide insights into that data. Ultimately, he wants to move IT to have more of an agile approach, having quick wins as they go along.
3. Shift from a product to a solution-oriented mindset - In his Harvard Business Review blog, Conrado challenges marketers to rethink the 4 P's that have well-served consumer markets for half a century. As he was looking at how Motorola could evolve to be a solution company, he realized that the 4 P's were outdated. It's not that the 4 P's are irrelevant, just that they need to be reinterpreted to serve B2B marketers. His model shifts the emphasis from products to solutions, place to access, price to value, and promotion to education--SAVE, for short. "The SAVE model starts with customers and backs into the solution and how we solve their problems," says Conrado.
As the conversation shifts from feeds and speeds to value, Conrado notes that the continuity of the business and security are table stakes. However, most IT departments are functionally aligned and Conrado thinks this is the wrong way to view IT. Companies need to ask if the traditional IT set up actually matches the company and customer expectations. Motorola re-organized IT to center around customers, operations and security. IT is grouped by teams that look at systems of engagement, relationships, systems of record, transactions, systems of collaboration and systems of innovation.
4. Improved user experience through contextual intelligence - To ensure that they are starting with the customer, and not the solution, Conrado has user experience experts sitting with the IT team right at the very beginning when they are looking at the whole customer journey. The user experience expert is designing along with the IT architects to figure out what that journey looks like from the customer perspective, what the impact is on the digital footprint of the company and what the requirements are to give IT to build out the system or architecture that they are going to put in place. Marketing designs the customer journey in conjunction with IT so that the technology and the customer goals are moving in lock-step all the time. Conrado says that the additional benefit of this is that when they look at the funding model of projects running in the front office, they have marketing, IT and sales all in the same room. The teams look at all the relationship systems the company has and they have a single conversation where they all come to an agreement. This creates a tight interconnect in all the groups, centered around the customer.
5. Acceleration and adoption of change management - Conrado has said that IT should drive culture change. He thinks that both IT and marketing play a huge role in culture change. On the marketing side, creating a purpose-driven company based on brand values impacts the culture of the team externally and internally. According to Conrado, IT has an equal impact. On the IT side, the culture is enabled through IT systems. At Motorola, their internal social platform, enabled by IT, impacts how they communicate as an employee base. This has had a huge impact on culture in terms of employee communication and breaking down boundaries between functional areas and breaking down the walls of distance. The same is true with video. IT deploys video capabilities in companies - another tool to help break down those boundaries, and therefore drive culture by enabling better communications and collaboration.
"When we put our social platform inside the company we saw employees taking points of view and writing blogs, which enables learning to happen that is not formalized. That's the beauty of systems enabling that culture change," says Conrado.
6. A shift from departments to integrated processes - Conrado tries to balance out his time equally between sales and marketing. He told us that IT has the higher budget being that budget allocations are based on the business strategy of the company. "If you elevate IT to being a business enabler, we are sitting in the room along with other groups - sales, marketing and services - and pushing for things that make sense for the company, not just from the perspective of a function.
The end benefit in mapping the end-to-end experience is that you start seeing things you would do differently because you are having a conversation that spans across marketing, sales and services, and you are looking at the architecture holistically.
Of course, as a CMO, I couldn't let Conrado off the hook without asking him which side he likes more - marketing or IT. Conrado does not show any favoritism: "I have been working in marketing for many years and I love what marketing can do and have come to appreciate IT in terms of the value it provides to the company." Although he did confess that while 80% of the time he loves IT, 20% of the time he doesn't, referring to the calls he gets on a Saturday or Sunday when an issue arises. Can you blame him?
You can watch the full interview with Eduardo Conrado here. Please join me and Michael Krigsman every Friday at 3PM EST as we host CXOTalk - connecting with thought leaders and innovative executives who are pushing the boundaries within their companies and their fields.
Calling all HuffPost superfans!
Sign up for membership to become a founding member and help shape HuffPost's next chapter