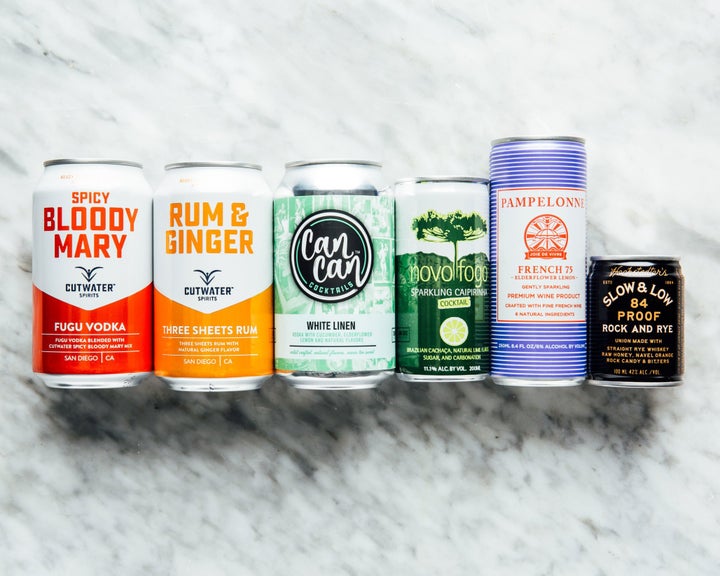 Nearly every cocktail known to man requires at least two bottles to make: one with booze and one with a mixer. But like that book about the mouse with the cookie addiction, you know that if you have those two bottles, then you'll need ice. And if you have booze and ice, you're going to need a shaker, lemon wedges, bitters, simple syrups, and don't forget those pesky cups. But where we're going, we don't need any cups. Canned cocktails are as easy to chill as a forty of rosé, and can be shaken without any bar tools, and offer the complexity of a mixed drink without the long grocery list. There are now over a dozen varieties available, from spiked lemonades to gin and tonics to Cuba libres. We chose our six favorites for when wine, beer, and makeshift cocktails in Gatorade bottles simply won't cut it.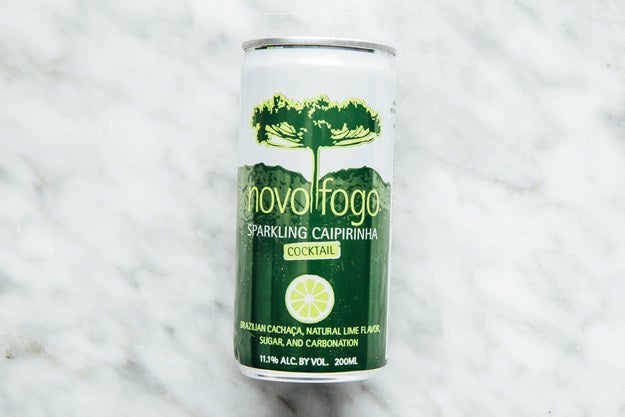 Novo Fogo Sparkling Caipirinha ($4 each) It's difficult to contain the freshness of a caipirinha, Brazil's national drink, in a 200 ml can. The cocktail's key ingredient is freshly muddled lime wedges. This canned and carbonated blend of cachaça, real sugar, and lime manages to serve up the bright, sweet limey flavors of a crisp caipirinha without having to muddle and shake it up on the spot. Drink it chilled and serve it over ice with a squeeze of fresh lime for extra-tart bonus points.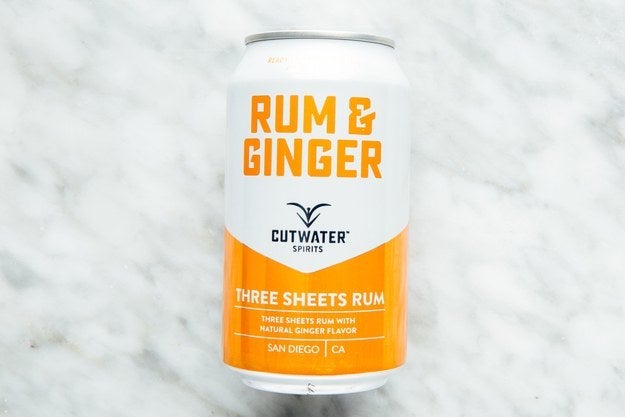 Cutwater Spirits Rum & Ginger ($15 for a 4-pack) Cutwater Spirits, based in San Diego, has the most canned cocktails on the market with a spicy bloody mary, rum and coke, and a gin with cucumber tonic mix. They also have plans to release six vodka soda cocktails this summer. We're partial to the rum & ginger, a blend of Cutwater's white rum and homemade spicy ginger beer. The use of ginger beer rather than ginger ale gives the cocktail a kick of heat and masks any hints of rum. Dangerous! It's a simple, two-ingredient drink that comes together perfectly because of its simplicity. No added sugar or citric acid, just two ingredients that were meant for each other.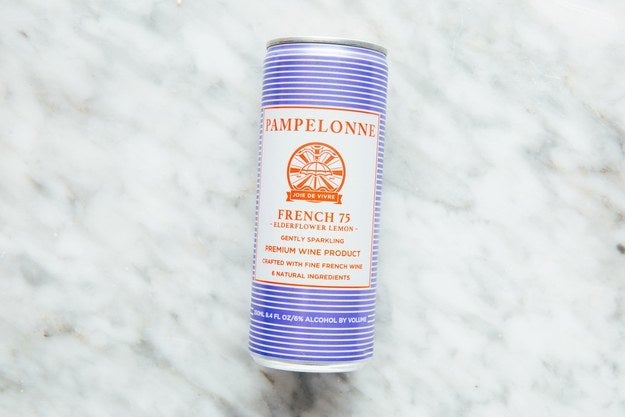 Pampelonne French 75 ($10 for a 4-pack) This classic cocktail probably never expected to find its way into a can, assuming it would be served in a champagne flute with a twist of lemon for eternity. But times have changed and this updated French 75 is a blend of Meyer lemon, sparkling wine, and elderflower. It's not traditional (no gin) but the result is bright, floral, and refreshing. It's like an alcoholic version of the flavored sodas you find at Ikea, which is a very good thing. Grab a can, sit back, and imagine that you're on a yacht in the French Riviera rather than in a foldable polyester camping chair on your roof.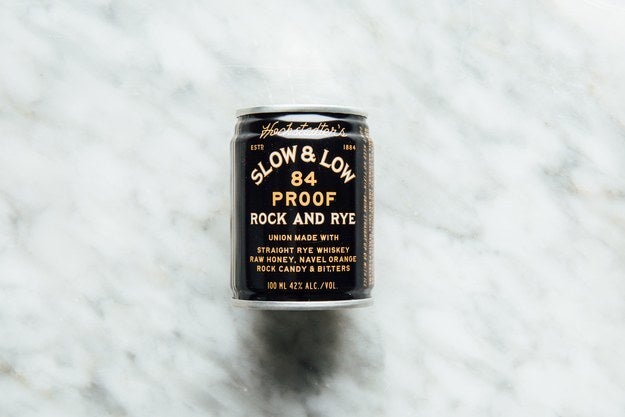 Slow & Low Rock & Rye ($4 each) This small but mighty blend of rye whiskey, raw honey, Angostura bitters, air-dried Florida oranges, and an unconventional touch of rock candy packs a punch in this short 100 mL can. Seriously, this thing could fit in that little cell phone-pocket in your purse. Inspired by a pre-prohibition era American cocktail that was endorsed for its medicinal qualities—the hot toddy if its time—the rock & rye balances sweet orange and floral honey with the spice of rye whiskey. It's best served chilled or over ice to cut through the heat of the rye. While the chubby can may seem like it's not enough to get the party going, the drink weighs in at 42 percent ABV and costs a fraction of what a craft cocktail does at most bars.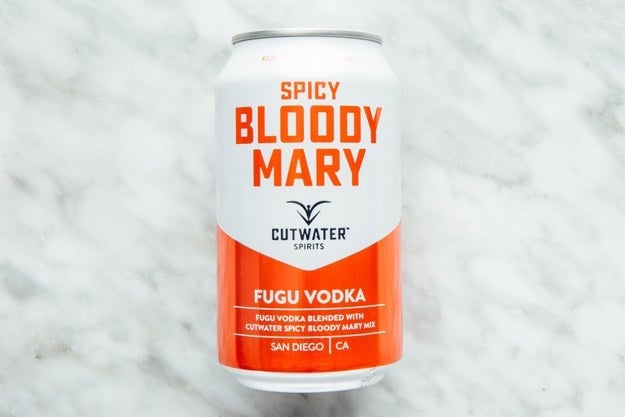 Cutwater Spirits Spicy Bloody Mary ($15 for a 4-pack) This list would not be complete without a canned bloody Mary. We know that you're probably flashing back to the last time you had one, on an early-morning flight wishing you'd paid a little more for the extra legroom. Unlike that salty tomato juice, this peppery, pre-mixed bloody is everything you want from the drink: a seriously spicy kick, a consistency that's not too viscous but not too watered down, with a hint of citrus to balance everything out. Made with ripe tomatoes, a strong spice blend of cayenne and black peppers, horseradish, and the company's 15-times-distilled vodka, the only thing this canned Mary is missing is a stalk of celery and cocktail stick full of garnishes.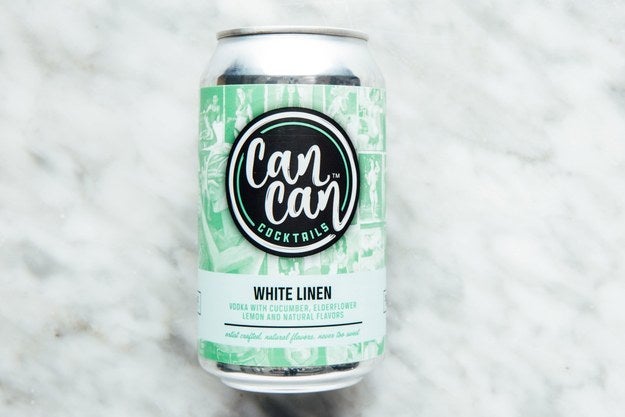 Can Can Cocktails White Linen ($5 each) This small Sacramento-based company was onto something when it decided to bottle (ahem, can) the city's signature cocktail: the "White Linen." Invented by a local bartender, the white linen is a carbonated blend of vodka, cucumber, elderflower, lemon, and a light sprinkling of real cane sugar. The resulting cocktail is crisp and refreshing thanks to the cukes with a hint of floral sweetness from the elderflower syrup. It's like drinking spiked spa water at an outdoor resort and while a massage isn't included, you're free to enjoy it in a terrycloth robe and slippers at home.
Or you can turn a can of beer...into a canned cocktail: