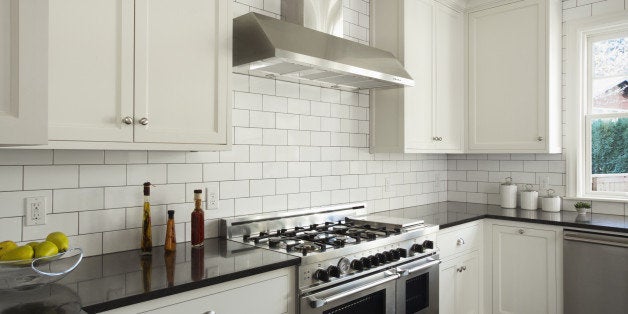 Granite is on its way out the door in kitchen and bathroom design. Designers are booting it in favor of alternatives that are cheaper, varied, and lighter or a mixture of all three. Don't waste your kitchen remodel investment on this fading material. There are more alternatives than you can imagine waiting to take its place:
Quartz countertops are durable, sleek and engineered to match whatever design you have in mind. Colors include red, green, brown, black, white or marble. They can even have specks of glass or metal in them to add that granite-like appearance.
Marble countertops come in a variety of types and can be cheap or expensive to install. Cultured marble is the affordable option -- cheaper than solid surface -- but homeowners need to be aware that it scratches and can't handle high heat. So this might be the optimal countertop for bathrooms rather than kitchens.
Soapstone is durable and comes in two types: artistic and architectural. It doesn't stain, and it's heat-resistant. It is available in colors ranging from light to dark grey with blue and green undertones, as illustrated by this beautiful kitchen countertop in Edmonds, Washington. It is a softer material that can be scratched or nicked with sharp objects.
Wood is a natural alternative that comes in different types like bamboo, maple, walnut, cherry and oak. Styles range from flat grain to inlay. Wood countertops are green, recycled from trees, and biodegradable. However, they are prone to splitting, cracking, moisture and stains. That's why they work best as islands or butcher blocks, like this island countertop in Venice, California.
Silestone has more than a 90 percent quartz surface that makes it hard as a rock, and it comes in many colors and shades. This countertop in Bradenton, Florida is one of the lighter shades you can purchase silestone in. Its design allots different textures, and its strength means it doesn't need to be sealed or repaired often. It is scratch, stain, heat and bacteria-resistant. Its weight will require professional countertop installation.
Corian is a type of solid surface material known for its acrylic composition and ability to mimic granite and marble. It comes in over 100 colors, and it is non-porous, meaning no stains stay in the stone. Its versatility allows Corian to match any kind of kitchen or bathroom, from traditional to modern minimalism, like this contemporary kitchen and Corian countertops in Brooklyn, New York. It is not resistant to scratches or extreme heat.
Support HuffPost
A No-B.S. Guide To Life
Related
Popular in the Community