If you are not aware of the horrors of factory farming, then you are not paying attention. Treating animals like heads of lettuce --"forget it's an animal" says one farmer magazine -- has created institutionalized ruthlessness toward animals, workers and the environment at the same time it harms humans who eat the products. Factory farming even damages the economy thanks to meat-related obesity, diabetes, heart disease and cancer and greedy, short-sighted land-use policies.
While many procedures on factory farms are cruel, some practices like breeding animals into mutant-like parodies of their original species and violating mother/offspring bonds are truly crimes against nature.
Crime 4 -- Fast Growth Diseases
Thirty years ago pigs, chickens and cattle did not look like they do today. Thanks to growth producing chemicals and selected breeding, factory-farmed turkeys can barely walk and can't fly at all or reproduce because of their extreme meat-intensive physiology. Chickens grow so intensely, if they were human they would weigh 500 pounds at age 10. The frenzied growth makes them prone to "flip over disease" in which the metabolic strain causes sudden death. Pigs given the growth drug ractopamine, illegal in many countries, are so muscle-bound they are practically non-ambulatory. "Simply, the pig will go down and not be able to get back up," said Gary Bowman, an Ohio State Extension veterinarian with the College of Veterinary Medicine. Visitors to factory pig facilities have to wear biosecurity suits because "the immobility, poisonous air and terror of confinement badly damage the pigs' immune systems," read an article in Rolling Stone.
Under the use of the Monsanto-created genetically-altered recombinant bovine growth hormone (rBGH), the udders of dairy cattle become so engorged, the animals can barely walk. The painful infections (called mastitis) the animals develop along with their shortened life spans and weakened conditions when they arrive at slaughterhouses, often as downers, are the ultimate crime against nature. Many grocery chains have renounced rBGH but some operators still use it for the "cost savings."
Crimes 5 -- Abuses Against Marine Life
While production of the fast-growing frankenfish, the AquAdvantage salmon, has temporarily halted, greed will likely prevail in aquaculture as it has in factory farming. The salmon, created by crossing a Chinook with an ocean pout and a wild Atlantic salmon, grows twice as fast as normal salmon, reaching its full size in 18 months instead of three years. Though the fish's creators and the government say it is no different from normal fish, in studies AquAdvantage salmon had high incidences of "jaw erosion" and "focal inflammation" (infection), low glucose levels and a possible "increase in the level of IGF-1 [insulin-like growth factor-1]" compared to normal fish.
Like their factory farming counterparts, AquaAdvantage salmon promoters extol the reduced carbon footprint that can be achieved by squeezing animals together. Yonathan Zohar, PhD, from the Center of Marine Biotechnology at the University of Maryland said at FDA hearings that the fish can be grown at up to "80 to 100 per cubic meter"-- which is bumper to bumper fish. Is it ethical for a swimming animal to spend 18 months practically standing on its tail? In the interests of making more money? Is it ethical to expose wild fish populations to the aquaculture-generated sea lice which has all but decimated salmon farming in Chile and Norway?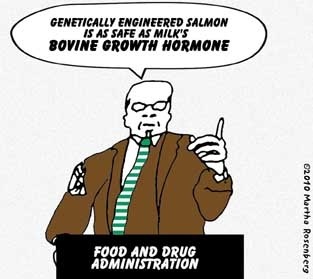 Crime 6 -- Brave New Animals
Another brave new animal which raises ethical questions is the Enviropig, a genetically modified line of Yorkshire pigs that has the capability to digest plant phosphorus more efficiently than ordinary unmodified pigs and produce a less phosphorus-rich manure. This would reduce damage to waterways and algae blooms with no cutback in factory farming itself. Brave New scientists at the Roslin Institute at the University of Edinburgh in Scotland, where the cloned sheep Dolly was created, have also developed chickens that produce eggs with interferon and other disease-fighting substances, functioning as living, breathing biofactories for humans. "Once you've made the transgenic birds, then it's very easy," enthused scientist Helen Sang, PhD. "You can breed up hundreds of birds from one cockerel [young male] -- because they can be bred with hundreds of hens and you can collect an egg a day and have hundreds of chicks in no time."
While cloning was once the next big thing, it has lost its luster because of a problem called "epigenetic dysregulation" which causes up to 90 percent of cloned offspring to die. In fact, so many animals die to make one surviving clone, the European Group on Ethics in Science and New Technologies said "the current level of suffering and health problems of surrogate dams and animal clones" renders it not "ethically justified." Cloned offspring "tend to be large for their breeds, and often have abnormal or poorly developed lungs, hearts, or other affected internal organs (liver and kidney), which makes it difficult for them to breathe or maintain normal circulation and metabolism," says an FDA report. The problems are so common in cloned cattle and sheep, they are called Large Offspring Syndrome.
Still, scientists at the University of Missouri, University of Pittsburgh Medical Center and Harvard Medical School have a clone product they are pretty proud of. They have developed "White piglets with muscle tissue larded with omega-3 fatty acids," that can lead to "healthy pork" reports the New York Times, because such fatty acids are linked to a lowered incidence of heart disease. "People can continue to eat their junk food," rhapsodized Harvard's Alexander Leaf, MD. "You won't have to change your diet, but you will be getting what you need." Aren't animals great?
Martha Rosenberg is an investigative journalist covering the food, drug and gun industries. Her Random House exposé, Born with a Junk Food Deficiency, was cited in the Amercian Society of Journalists and Authors 2013 Outstanding Book Awards and featured on CSPAN.