The New England Patriots may be known for their history of winning, but they also have a long history of technology innovation, which started in 1995 when they became the first sports team in the world to have a website. Functioning as the Publisher and Vice President of Content at Kraft Sports Productions, including the New England Patriots, Fred Kirsch is truly a technology innovator and someone who is focused on digital business transformation.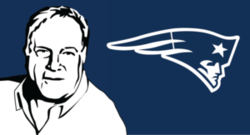 Fred Kirsch (Twitter: @Fred_Kirsch) - VP, New England Patriots/Kraft Group
Whether you are sports fan or not, a lot can be learned from Kirsch, our recent CXOTalk guest, who is actively building and deploying new technologies to stay ahead of his field and to enhance the fan experience with the latest and greatest technology. We were also delighted to have Lauren Brousell, staff writer for CIO Magazine join our conversation.
6 Ways to Create Value for Customers with Digital

1. Start with a solid Wi-Fi (wireless) foundation - Jonathan Kraft, President of the New England Patriots, understood before 2012 that Wi-Fi was going to be a cost of doing business at Gillette Stadium because connectivity is expected by the fans and they partnered with Extreme Networks to make it happen. In a day and age where there are more smart phones than toothbrushes in the world, the first step to doing business is having the foundation to allow people to connect and use their phone and then building on it.
The Patriot's robust Wi-Fi network allows them the confidence to offer their Gameday live app to fans, as well as NFL RedZone, live replays and highlights of the game right after they happened and player stats because they are certain that fans will be able to connect. As fans get comfortable with the technology, the sky's the limit from live game day giveaways to expanded in-seat concessions ordering.
2. Know your audience - Everything the Patriots do revolves around creating value for their fans, which starts with knowing their audience. This means putting content wherever they want it, whenever they want it and however they want it instead of making fans come to them. "If our audience is going to mobile, we have to be on mobile and if that means crafting our content a little bit differently for shorter time for consuming it, we have to do that," says Kirsch.
As the Patriots came to realize that being a Patriots fan is a lifestyle, they recently launched a lifestyle section for Patriots.com which is home to digital content that ranges from tailgating recipes to travel guides for away games to stadium fashion. Kirsch shares the fact that a lot the lifestyle content is beating out the straight football content on their site.
3. Provide great digital support - In 2012, when the Patriots installed their Extreme Networks Wi-Fi throughout all of Gillette Stadium and made it free for all fans, they learned that they have fans of varying degrees of technical knowledge, which required a need to have support people in the stadium on game day.
To ensure that all fans have a great digital experience, the Patriot's have Wi-Fi coaches who roam the stadium on game day wearing very visible clothing marked 'Wi-Fi coach'. These Wi-Fi coaches know the ins and outs of the Gameday Live app and interact with fans who are on their phones and need help connecting to the Wi-Fi network. Besides helping the fans, the coaches provide Kirsch with feedback after every game allowing his team to act on it that week and correct it for the next game.
4. Create a unique customer experience - With a waiting list of 40,000 fans, the Patriots are in the fortunate position of not having to worry about ticket sales right now, which allows them to focus on creating a unique experience for both fans at home and those in the stadium. The Patriots are not looking to compete with the cost, comfort and convenience of home game viewing, but they are looking to make the energy, excitement and entertainment of the in-stadium experience as unique as possible.
According to Kirsch, "All the sporting leagues need to be looking at what they can do to make things better for the fans not just at the games, but when they are watching on TV as well, and figuring out how to serve fans better and create more value every year."
Always looking to enhancing the value of the fan experience, the Patriots have short-term plans to partner with Ticketmaster to offer paperless ticketing through smartphones as well as expanding their in seat ordering to the 300 level. Long-term plans include creating apps for wearable devices like the Apple iWatch that allow fans to check stats, developing an app for Google Glass and gearing up to support the new 4D TV's that are coming out.
5. Listen to your customers and solve problems - Fan feedback is extremely important in driving digital efforts for the Patriots. "We have people actually come into the stadium to participate in focus groups, and we also have emails that go out after every game where we pick about 300 fans throughout the stadium to survey their experience and to ask them poignant questions to elicit helpful responses," says Kirsch. Putting into practice what they preach, after learning from fans that they wanted to know where they could find the shortest restroom wait time, Kirsch took the feedback from the genius of the crowd and solved the problem digitally by developing a restroom wait time app.
6. Always put yourself in the position of the customer - When it comes to developing digital technology, Kirsch advices to put yourself in the position of the customer and look for sustainability and ease-of-use: "I always put myself in the position of the fan. If I was a fan - which I am - would I find this cool, would I use it or would I use it once and then say it's cool but not use it again?"
UI and UX are really important because fans aren't really looking to make their lives more complicated with technology; they are looking for it to enhance what they are already doing and it has to be bullet-proof and easy-to-use.
You can watch the full interview with Fred Kirsch here. Please join me and Michael Krigsman every Friday at 3PM ET as we host CXOTalk - connecting with thought leaders and innovative executives who are pushing the boundaries within their companies and their fields.
Popular in the Community