Stereotypes run rampant in much of our media consumption and children's cartoons are no exception. Our children, no matter what their race or background, don't see enough cartoons with diverse characters in different cultural settings. Where cartoons feature some diversity, more often than not, the main character remains white, but may have a Black or brown friend. While there are exceptions to this, few of these shows beyond beloved Dora the Explorer have achieved mainstream fame. Beyond Dora, I wanted to find more cartoons that promote diversity. (Curious why this is essential for your white child too? Then read this!) Here are some of the awesome cartoons I found.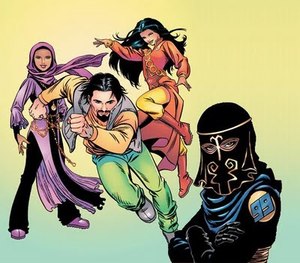 1. The 99 is the first comic book and cartoon series featuring Muslim superheroes! It was created by a Kuwaiti national who wanted to show that "'hey, our [Islamic] values, they're the same as yours; they're the same as the rest of the world." The stars are a group of teen and adult superheroes inspired by the 99 virtues of Allah, which are universal values like strength, courage and wisdom. How cool of a concept is that? You can see a preview of The 99 on YouTube. It is distributed across 70 countries, including Netflix in the U.S. Check out The 99 homepage to see some of the fun characters. My favorite is Mujiba the Responder, featured in purple in the picture above.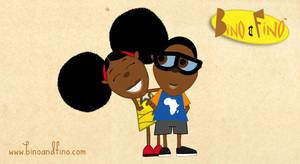 2. Bino and Fino, a children's cartoon out of Nigeria, made me perk up in excitement when I discovered them on Facebook. The show depicts the everyday life of a Nigerian brother and sister who live with their grandparents. It was created for all the right reasons. "I couldn't understand why there weren't any Nigerian cartoons for kids," the creator Adamu Waziri shared in an interview with African Screens. "In fact, there weren't really many African cartoon shows for kids. Children in Africa are watching imported cartoons that have nothing to do with them when it comes to ethnic and cultural issues." But Bino and Fino isn't just a good choice for African kids. It portrays a positive image of Africa for all kids. "Young children are constantly being bombarded with negative and patronizing images of Africa, and generally by the time they are around 10, they have already formed a negative impression about the continent," Waziri says in the same interview. "So, it's best to start when they are young and give them positive images of the continent." I couldn't agree more!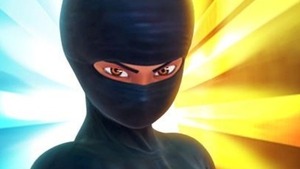 3. Burka Avenger is a Pakistani nod to Malala Yousafzai's fight for girls' education in Pakistan. Jiya is just your average schoolteacher but when she needs to protect girls' education, she dons a sleek black burka in superhero mode and fights the bad guys with books and pens. What I especially love about this is that Jiya only wears her burka in superpower mode, which completely flips the image many of us in the West have of the burka on its head. Created by one of Pakistan's biggest pop stars, Aaron Haroon Rashid, the show just premiered in Pakistan in August. The underlying message says Rashid in an interview with CBS is that "the pen is mightier than the sword."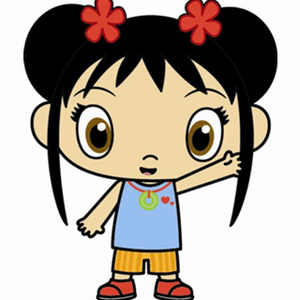 4. Ni Hao Kai-Lan, already widely popular across the U.S., spotlights a Chinese-American girl with a cast of animal friends and her Ye Ye (grandpa) and has a similar style to Dora the Explorer. The show introduces basic Mandarin words as well. It currently airs on U.S. and Canadian TV.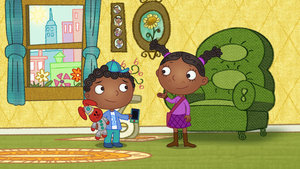 5. Sara Solves It takes place in New York City, where an adorable brother and sister duo solve mysteries. Unlike the other cartoons mentioned, there is no added cultural element to this cartoon, but it deserves mention for having two main characters who are brown. One thing I love about the characters is they are brainy, curious about the world and portray learning in a positive light. You can check out the trailer on YouTube and find episodes on amazon here.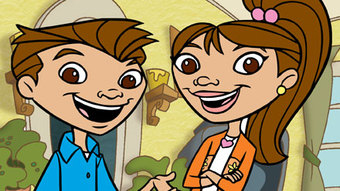 6. Maya and Miguel are 10-year-old twins growing up in a Latino family in the U.S. They have a Puerto Rican dad and a Mexican mom, which is a nice detail, as it reflects the mixed heritage of many American families and doesn't portray Latino culture as a monolith. The show is geared toward both Latino and non-Latino children and has two main goals according to PBS, the network on which it airs: (1) "Encourage children to value, respect and better understand a variety of cultures, perspectives, traditions, languages and experience." Yay PBS -- we need more shows like this! (2) "Support children in building their understanding of the English language, with a special emphasis on vocabulary."
What I like about this show is that bilingualism and different cultures are portrayed as the norm, which captures the reality across much of the U.S., but is not reflected in most of children's programing. While the show's focus is on Latino characters, there is a mixed array of friends including a Chinese friend Maggie (voiced by Chinese-American actress Lucy Liu), who is bilingual and speaks English and Mandarin, as well as another bilingual friend who is African-American and Afro-Dominican. A European-American and a recent Mexican immigrant who is learning English are contributing characters on the show.
If you want to find more TV programs that feature diversity, then have a look at the full article on this topic at InCultureParent.com. Also be sure to check out this discussion on our Facebook page for a lot of great reader suggestions of even more shows that feature diversity.
I would love to hear from you. What cartoons do your kids watch that celebrate diversity?
Related