This is part of the Digital Marketing Insights series -- featuring tips, analysis and recommendations on how to become better marketers online.

Journalist Elaine Murphy has written: "Mention analytic tools to the marketing manager and he or she will immediately break out into a cold sweat, and probably run to the nearest travel agency to catch the next flight to Greenland -- where there are no analytic tools, just geysers and sheep. Marketers don't like analysis -- they prefer an epiphany."
But marketers can get epiphanies when they take the time and trouble to analyze the data that comes from analytic tools. It's predicted that marketing managers will be making in excess of $123 thousand a year for the foreseeable future -- to earn that kind of income, don't let the jargon frighten you -- analytics is your marketing friend, and here are some very effective analytic tools that will help you market better: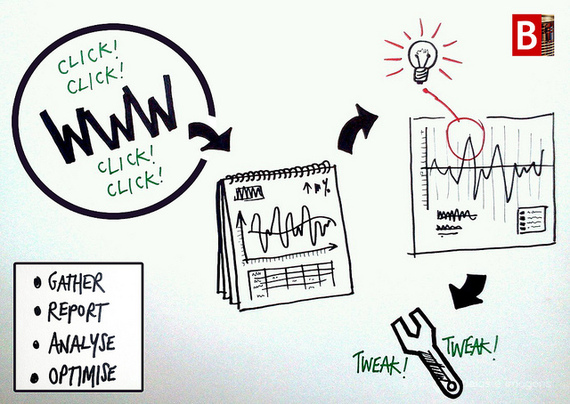 Image Credit: Flickr, Creative Commons | James Royal-Lawson

Helps you to construct heat maps and gauge your visitors based upon where they click specifically within your site. With this you can pinpoint which parts of your website are the most popular, click-worthy, and pull in the most attention. They also include a very useful scroll-map, so you can see just how long viewers scroll down pages and when they abandon.


A streamlined webform facilitator, they make it easy for beginners to create webforms by helping them to decide what to ask first on the form, how to state the purpose in the heading, use predefined quick tools for common fields like name and email, and how to use a text area for long replies (such as comments or description). Beyond just the simple webform, however, JotForm has form analytics built in that gives you behavioral awareness for how your audience is reacting to your webforms to optimize and iterate them over time.
An exhaustive social media analytics tool that covers most social networks - Twitter, Facebook, Vine, Instagram, YouTube, Tumblr, LinkedIn, Google+, Klout and even Google Analytics (with Pinterest soon to be added). Their information is extremely thorough. You can decide to see your reports in either Excel or online, or you can even export them straight to PowerPoint, and receive very detailed analysis of your viewer's online behavior, your clients and fans and much more.
Do you want to know just how your competitors are shaping up in terms of attracting and keeping customers to their site, or just how they are doing against you as far as traffic? Compete allows you to discover what keywords are impelling users to both your website and to that of your competitors. An excellent spying tool so you can examine your competitors website stats. e-commerce; mobile tracking; and even data export application program interface (API).
What sort of analytics tools are you using to track and measure your campaigns' success?
REAL LIFE. REAL NEWS. REAL VOICES.
Help us tell more of the stories that matter from voices that too often remain unheard.