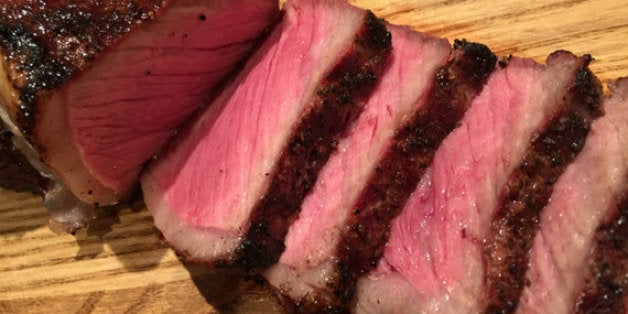 Steak. No other word in the English language makes a carnivore's heart beat faster. You might think we Americans have a monopoly on steak, but great sizzling crusty slabs of grilled beef turn up all along the world's barbecue trail. Even vegetarians find steak irresistible--studies show that five out of six eventually find their way back to beef.
Below are six of the best steaks I've found anywhere on Planet Barbecue (with links to recipes). Ladies and gentlemen: sharpen your knives.
"Caveman" T-Bone Steak with Hellfire Hot Sauce (USA)
This is it--the primal steak--the ultimate flavor junkie's T-bone. You grill it not on the grate, but directly on the embers. This produces a crusty surface char and a smoke flavor you can't replicate on a conventional grill grate. Add a scorching pan sauce of jalapeños, cilantro, and garlic, and you've got T-bones with off-the-chart wow power.
Bistecca alla Fiorentina (Italy)
Tuscans like their steaks rare, and this bible-thick Porterhouse spends just enough time over a charcoal or wood fire--often in the fireplace--to sear the exterior dark and crusty while leaving the center still mooing. In a perfect world, you'd start with dry-aged Chianina, a massive breed of white cattle native to Tuscany, seasoned profligately with coarse salt and pepper, and drizzled with green Tuscan extra virgin olive oil. The meat juices and oil form the sauce. Lemon wedges optional.
Salt-Crusted Rib Steaks with Romesco Sauce (Spain)
Casa Julián occupies a funky former garage in Tolosa, Spain, an hour or so drive from San Sebastian. This chuleta--3-finger-thick, salt-crusted, charcoal-grilled, bone-in rib steak--will make you want to repeat the journey the next day. At home, I accompany it with Spain's smoky grilled vegetable and nut sauce, romesco.
Buenos Aires "Heart-Stopper" (Argentina)
I have long wondered how Argentina, a nation of relentless carnivores, manages to stay so trim. (Average per capita beef consumption tops 120 pounds per year.) This "Heart-Stopper" has it all: butterflied grilled strip steak piled high with bacon, fried eggs, and garlicky chimichurri. Consider popping an extra Lipitor before partaking.
Oaxacan-Style Grilled Sirloin (Mexico)
Carne asado (literally, "grilled meat") is Mexico's national steak--wafer-thin slices of sirloin or top round seasoned simply and grilled over charcoal. (The fireworks come from grilled chiles and green onions.) You'll find it wherever crowds gather and an enterprising cook has space to set up a grill, like at the Mercado 20 de Noviembre in Oaxaca. Enjoy it tucked into grilled tortillas with salsa and guacamole. No steak knife required.
Nonya-Style Flank Steak (Malaysia)
Named for the Malay word for grandmother, nonya refers to a style of cooking that combines Chinese ingredients, like soy sauce and oyster sauce, with traditional Malay flavorings, like chiles, turmeric, and coconut milk. You can make it with rib eye, New York strip, skirt steak, or flank steak. Adjust the cooking times depending on the thickness of the steak, and always slice on a sharp diagonal into thin slices.
SIGN UP for Steven Raichlen's UP IN SMOKE newsletter to learn more about barbecue!
Steven Raichlen is the author of the Barbecue! Bible cookbook series and the host of Primal Grill on PBS. His web site is BarbecueBible.com.