You should know every great party starts and ends in the kitchen. If you're hosting a dinner this holiday season, we are aware it is that time of the year when we will all be busy perfecting carols, scouring for presents and digging out those festive Christmas sweaters. With all that on your hands, sometimes the most important place of the holidays gets overlooked. Decor Aid interior designers offer some expert advice, compiling their top six kitchen holiday decor ideas to help get your home prepared for the upcoming holidays.  
Warm Lighting
The right lighting is essential for any room especially the kitchen, during the holidays our designers suggest sourcing warm lighting, to assist in creating a welcoming ambiance. Wow, your holiday guest by swapping out old light fixtures for modern updates, such as overhead pendant lights. If replacing isn't in your future, opt for temporarily using bulbs with tints to them, like an amber tint, which creates a welcoming glow that provides a classic holiday atmosphere. Layering the lighting is another great kitchen decor idea that is big on delivery and easy on your wallet. A mixed-use of candles, under cabinets, and pendants are examples of how to achieve layering.
Comfy Seating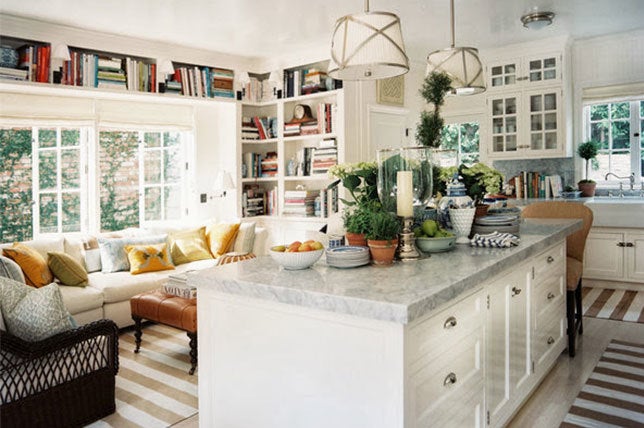 While your regular seating arrangement works wonders for your daily routine, our designers stress the importance of having extra seating available while hosting your holiday parties this year. Adding counter stools into your kitchen will help make your guest feel invited, and you'll even have a few extra hands now to help out with the prep work. If your budget is shorter due to all that gift buying, source chairs from around the home, helping make room for all and will add personality to any kitchen. An affordable kitchen holiday decor idea that will give every one of your guests the chance to kick back and socialize while the chef works wonders
Fancy Dinnerware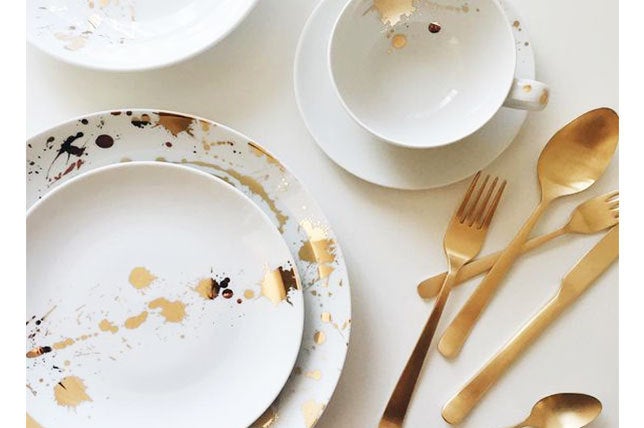 Not always the first thing on your mind when planning a festive dinner, but the dinnerware is something you won't want to forget about this year. Whether using traditional family china or looking to buy a new set, be sure to clean and sharpen dinnerware a day or two before the big day. For a conventional look, Decor Aid decorators advise with going with silver, while implementing gold utensils and plates will add a touch of glam to any dining set. Never be scared to mix and match styles and patterns. Traditional with modern, modern mixed with rustic, no matter the combinations, your table will have personality and style.
Tidy Pantries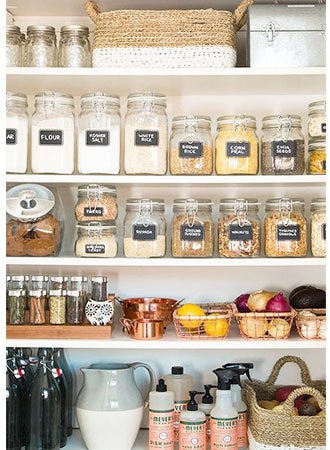 Something that seems like it doesn't have to be mentioned, but designers feel that many people overlook their pantries when trying to prep their kitchen for the holidays. Although your guest more than likely won't be visiting your pantry, it is an excellent idea for you to make room for the incoming ingredients needed to make those dishes perfect. It is the season of giving, so a great way to give back is to clean out your pantry, keeping non-perishables to the side. These can then be donated and what better feeling then that knowing you helped make someone else's holiday season a little better.
Going Green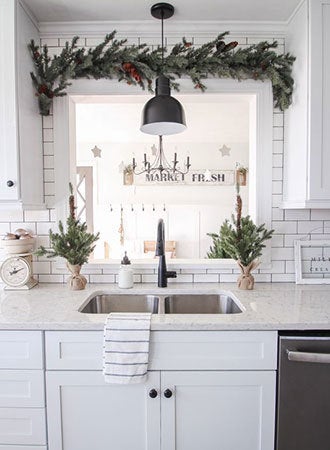 Adding some vegetation to your kitchen holiday decor is a fantastic way to help refresh not only the heart of your home but also add the right festive touch. No need to go overboard because a little green will get your space where it needs to be. Try playing with draping greenery around and down your table. Senior designers say your guest will instantly have the holiday spirit when the fantastic pine aroma surrounds them. Another bonus is that many plants while providing gorgeous decorations, will help clean the air in your kitchen at a time like this when it is bound to get stuffy
Borrowed Spaces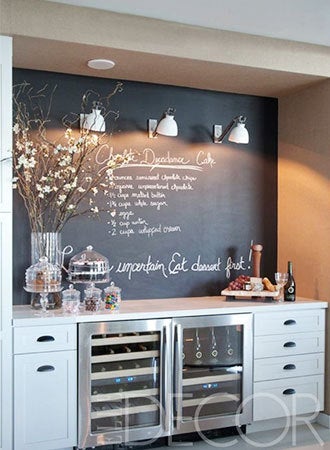 While the kitchen should be a room you want to prep for any holiday dinners or parties you may have, it is easy to get carried away and end up with an overly crowded cooking area. To keep that design nightmare at bay, be sure to look for borrowed spaces around your home, that can help alleviate some of the holiday stress in your kitchen. Wherever space allows, import a small table to serve appetizers or turn into a self-serve bar or look into sourcing a convenient serving buffet in your dining room. Regardless of where make sure you give yourself some elbow room in your kitchen while getting prepared for the holidays this season.
Calling all HuffPost superfans!
Sign up for membership to become a founding member and help shape HuffPost's next chapter
This post was published on the now-closed HuffPost Contributor platform. Contributors control their own work and posted freely to our site. If you need to flag this entry as abusive,
send us an email
.