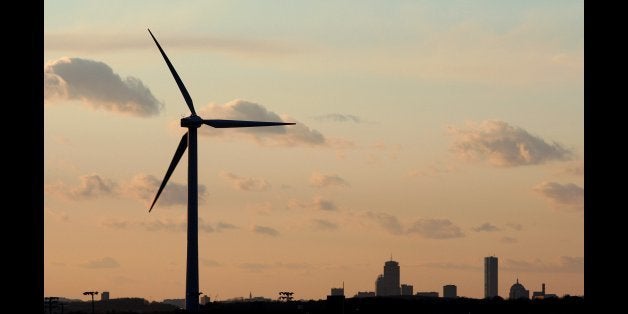 There is good news about renewable energy, and it matters to all electricity consumers -- which means all of us.
So why am I qualified to share these facts with you?
In addition to being a former senior policy official at the Department of Energy and Deputy Manager of Power at the Tennessee Valley Authority, I spent the better part of three decades flying 4 million miles on United as I developed a startup global electric power and distribution company into a company with $18 billion a year in annual revenue and power plants now in 21 countries.
So here are six FACTS about the impending renewable energy revolution:
1. Most of what is called "renewable energy" is hydro, geothermal, wind and solar, with the last two being by far the largest. Big wind and solar plants are now cheaper to build than coal or nuclear plants -- the mainstays of utility generation. This is a major change from only a few years ago. In 2008, solar panels cost $3500 per Kw, with installation costs adding another $3500, for a total of about $7000 per Kw. Coal plants cost half that, nuclear projections were about $5000 per kw. Today's solar and wind plants can be built for about $1600 per Kw, and the nation's largest manufacturer of thin film panels, FirstSolar, projects reaching a cost level of less than $1000 by 2017.

2. Renewable energy is NOT going to provide lots of jobs. There are some construction jobs, but many are low skilled. After it's built, all you need is a few technicians monitoring the plant's output. You don't need the large group of plant operators and maintenance people, three shifts a day, all day, year-round, that a fossil or nuclear plant needs.
3. Traditional power plants take forever to site and build. They have big footprints, they are difficult to put near customers, and they generally require extensive local, state and national permitting. Solar can fit in just about anywhere -- all you need is roof space or a reasonable piece of more or less flat and unshaded ground. These installations can be put into densely populated areas just fine. The Europeans have limited space, but have put wind and solar in small installations in many places, some of them ingenious, including rooftop solar for car parks and wind machines on waste dumps. Solar panels are fast and easy to install. Once the frame is set up, all that's needed is to put the panel down, tighten four screws, and make a simple plug-in electrical connection. That's far easier than replacing the water heater in your home.
4. These things last. Solar panels really don't break -- they are just thin layers of silicon organized within an aluminum frame. If you take a sledge hammer to one or blast it with a shot gun, you will do some damage, but otherwise they just sit there and make electricity. Panels at test sites like the Argonne National Lab have been sitting outside and functioning for more than thirty years. The electrical conversion hardware, something called an inverter, may need occasional servicing, but it is simple and easy to replace. On rare occasions wind turbines lose a blade (two or three instances over the last twenty years) and wind turbine gear boxes and generators need routine lubrication and servicing, but they too have lasted longer than anticipated.
So, isn't most of this good news? Wouldn't we all want safer, more cost-effective renewable energy alternatives?
Proponents recognize that this is the first-time ever that the end-user is able to make their own power in an effectively and efficient manner.
Detractors (the utility companies) would argue that if enough people choose to use renewable energy they will not be able to afford to provide the rest of us with service.
So is this a real Catch 22, or is there a way for the utility companies and renewable energy companies to work together?
Look for me to explain in more detail in my next article: Why Do Utilities Hate Renewables?
Calling all HuffPost superfans!
Sign up for membership to become a founding member and help shape HuffPost's next chapter