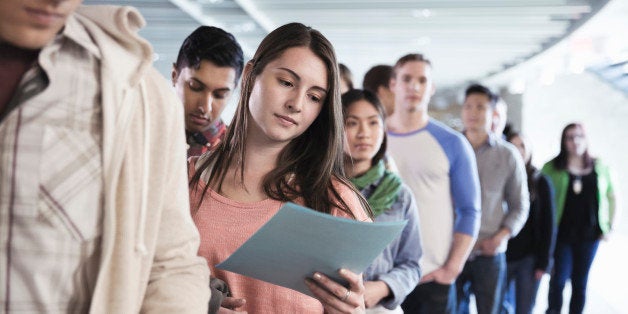 Your mom didn't go to college. Your dad didn't go to college. Your brother and sister didn't go to college. But you want to go to college.
The question is: How do you pay for it?
Your absolute best bet is the FAFSA, or Free Application for Federal Student Aid. Completing this form will make you eligible for grants, scholarships and loans at the federal, state and school levels.
Filling out the FAFSA isn't easy for anyone, but it can be particularly daunting if you're the first person in your family applying to college. Use these six tips to help navigate the form as well as the rest of the financial aid and college application process.
1. Don't pay money for the FAFSA.
The first "F" in FAFSA stands for "free," so never pay to fill out the form. It's not even necessary to pay for help completing the form given that there are so many free resources for students. Check with your high school, prospective college or search online for websites that help guide students through the process. Many schools put on dedicated events, such as College Goal Sunday, where students can get on-site help completing the form. Don't trust websites that charge fees for the application -- all students can complete it for free on www.fafsa.gov.
Do you have a unique family situation? See steps for filling out the FAFSA for any family circumstance here.
2. Make a list of all deadlines.
Acting early is good life advice, but it's especially true when it comes to applying for college and getting financial aid. Waiting too long to fill out the FAFSA is one of the biggest mistakes that first-generation students make, says Robert Kelchen, a Seton Hall University professor. While the federal deadline for completing the form isn't until June 30, states and colleges have their own deadlines that students need to comply with to be eligible for all types of aid. In many cases, it's first come, first served, so you want to be sure to submit your FAFSA as soon as possible.
Check the individual deadlines for your state of residence here.
Students must fill out the FAFSA for each year that they attend college to receive aid. Keeping copies of all documents and forms of communication will help to streamline the process later on, Felicia Bryant, director of financial aid for Camden County College in New Jersey, says. Having copies of all tax documents will come in handy if you don't receive a copy of your federal income tax returns -- which you need along with your W-2s to fill out the FAFSA -- in January. If you have your tax return information from the previous year, you can use that to estimate your financial information, and then update the form online once you receive your current tax returns and W-2s.
4. Don't let the sticker price intimidate you.

First-generation students often pay less than the advertised price because they are generally eligible for financial aid. So don't cross a school off your list solely based on price. Laura Perna, a professor of education from the University of Pennsylvania, recommends using a Net Price Calculator to get a more accurate estimate of what you'll pay after accounting for scholarships and grants. When considering cost, use the totals you get from the Net Price Calculators to compare schools instead of the sticker price advertised by the colleges.
5. Account for all costs -- not just tuition.
Tuition will be the biggest expense when it comes to paying for college, but be aware that the other costs will add up too. Activity fees, textbooks, room and board, meal plans and trips home for out-of-state students are just a few of the expenses students are likely to incur while in college. Create a realistic budget for these costs and stick to it to avoid any unpleasant financial binds down the road.
Not all debt is bad. While loans may not be the ideal way to finance college, as they eventually have to be paid back, they are sometimes the best option. Sometimes it's "better to borrow money from the federal government at reasonable rates than to work too many hours while in college," Kelchen of Seton Hall says. Keep in mind that federal loans usually have lower interest rates and better borrower protections than private loans, so they should be your first choice if you decide to take out loans.
What will you need to fill out the FAFSA?
•Your Social Security Number
•Your Alien Registration Number (if you are not a U.S. citizen)
•Your most recent federal income tax returns, W-2s, and other records of money earned.
•A Federal Student Aid PIN to sign electronically.
Related
Popular in the Community