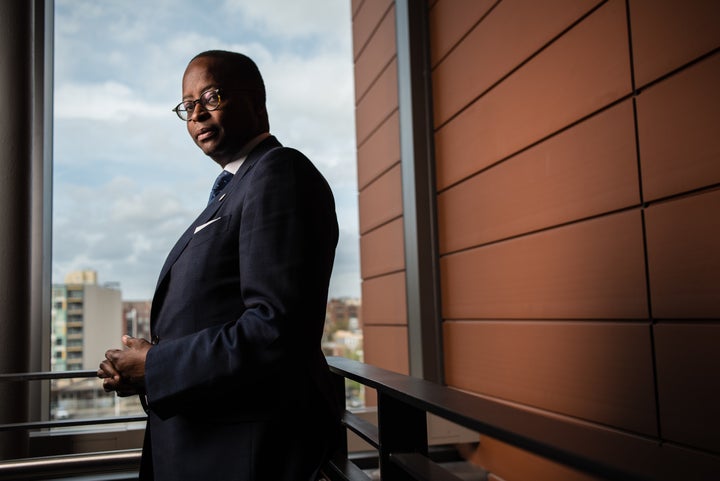 Howard University President Wayne Frederick confirmed Wednesday that for nearly a decade, financial aid officials had misappropriated funds earmarked for low-income students.
Six university employees have been fired, Frederick said. He did not reveal how much financial aid had been misappropriated.
The Medium writer alleged that Frederick had been aware of the scandal since at least May 2017. Seemingly corroborating that account, Frederick said after he first learned about the alleged misconduct in December 2016, he commissioned an outside auditor to look into it, leading to a May 2017 audit report.
The auditor found that university grants were given to employees who also received tuition discounts from 2007 to 2016, resulting in payments that well exceeded the cost of attendance.
"An investigation of individual employee actions was completed in September 2017 and as a result, six employees have been fired for gross misconduct and neglect of duties. We will refer this matter for criminal prosecution, as appropriate," Frederick said in the statement.
Frederick added he reported the problem to the Department of Education in July. A Department of Education representative did not immediately return HuffPost's request for comment. 
The Medium blogger cited an unnamed student whistleblower who once worked in the financial aid office and noticed irregularities in grant dispersals. According to the post, a different student employee at the financial aid office allegedly received more than $400,000 in financial aid awards over four years.
The Medium post gave the name of a former financial aid office student-employee as Tyrone Hankerson Jr., and said he received need-based tuition aid and a special scholarship. Hankerson later responded through his attorney in a statement shared by ABC News on Twitter, saying, "Please know that I have done nothing illegal or wrong. When the truth comes out it will be confirmed that I followed all rules and protocol with the approval of the, then, financial aid officers in any grants, scholarships or awards given to me as a student who attended class all year round and traveled abroad."
The news sparked an outpouring of anger and frustration from Howard students and alumni, with many asking why it took so long for action to be taken.
Juan McFarland, a senior at Howard involved in the student group HU Resist ― which aims to hold administrative officials accountable ― told HuffPost he was "disappointed but not surprised" to learn about the misappropriation of funds.
″We've had suspicions about mishandling of funds based on how many people always never received their financial aid on time," McFarland said, "and also based on how many fees were added to our accounts out of nowhere."
"The energy on campus is really high," he said, adding that more of his classmates have been motivated to demand change at the school.
The university has been plagued by a series of administrative issues, leading to mistrust between administrators and swaths of the student body.
Frederick was slammed on campus last year for taking meetings with the Trump administration that some saw as a betrayal in light of the president's past comments about black Americans. In January, school officials postponed classes for more than a week over heating system problems. Earlier this month, Frederick prompted criticisms over his response to a student who emailed him with deep concerns about whether she would be able to secure a spot in university housing ― an reportedly scarce resource. Frederick had told the student her "tone and tenor" was "inappropriate."
HU Resist demanded a number of specific fixes in a letter to Howard administration this week. The group is specifically calling for Frederick and the school's board of trustees to step down, and it would like students to have more say in administrative affairs. 
In response to the financial aid scandal, Howard plans to implement several new accountability measures. These include greater transparency in how much aid is awarded, increased oversight of the financial aid office and enhanced training for financial aid employees. 
"While this has been a very difficult and disappointing situation, I know our campus community deserves better and I am committed to ensuring that each of our campus offices operate with integrity and are the best that higher education has to offer," Frederick concluded his statement.
Calling all HuffPost superfans!
Sign up for membership to become a founding member and help shape HuffPost's next chapter