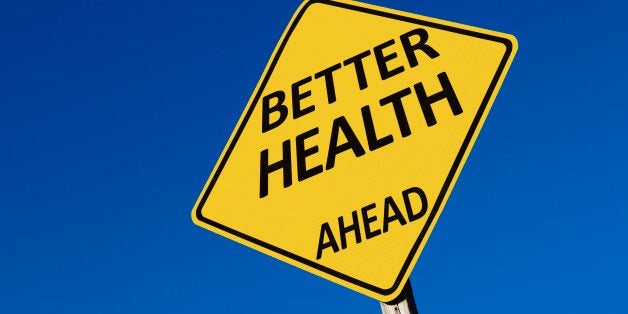 As 2014 starts to wind down, the fitness industry is hotter than ever. We got together with industry thought leaders in New York City for a Talk Sweat roundtable series, hosted by Sweaty Saturday. The panel was stacked with fitness and wellness leaders from all areas of the industry: Marcus Antebi -- founder of Juice Press, Alexia Brue -- co-founder of Well+Good NYC, Joyce Chang -- editor in chief at Self, Erin Corcoran -- brand lead at Nike, John Foley -- founder & CEO of Peloton Cycle and Mark Grabowski -- partner at Catterton Partners all took the stage to discuss the latest topics and trends. The result was an incredibly thoughtful and well-informed discussion about what healthful living looks like today and what it will look like tomorrow. Here are some key themes to look out for in 2015 according to the experts:
1. WHAT'S NEXT FOR WEARABLES?
Is this the end of wearables or a 2.0-style rebirth? This is a theme that far too many of us can relate to: You buy a new Fitbit, JawBone, FuelBand, etc. and track your sleep and steps religiously for three weeks only to figure out what you average, get bored with charging it and throw it in a drawer. Many find that wearables simply don't offer enough information to keep them interested long-term, and we're still quite a ways from technology that will intuit calories consumed. Should we expect to see a decline in this space, even with the arrival of the iWatch?
2. THE RISE OF STREAMING TECHNOLOGY
Right on the heels of wearables, however, is streaming technology. The streaming class is a welcome alternative to your traditional options: working out alone, working out with a personal trainer or taking a group fitness class. Yoga and barre have been at it for a while but will bigger players step in to make the streaming space more interesting and mainstream for other workouts?
3. ARE SOME MARKETS FINALLY SATURATED?
It's not difficult to see where the market is crowded in the wellness space. An excellent example of this is the endless varieties of "waters" now marketed to the healthy consumer. In the words of Joyce Chang, "If you drink maple-infused water then what is that really doing for you?" Is 2015 the year we start to see some pull-back, or will the continued expansion and interest in wellness bring more brands to more markets?
What about the "boutique class deal" concepts that continue to pop up like rapid fire? Will studios finally pull back from the cannibalization of their brands and prices to offer something new and exciting to their loyal customers?
4. ARE TREADMILL CLASSES "THE NEW SOULCYCLE"?
Ever since SoulCycle captured the hearts of fitness lovers across the country, each year we hear the refrain, "This is the SoulCycle of [fill in the blank!]" As the NY Times aptly pointed out recently, "new treadmill studios aim to be SoulCycle's successor." With the phenomenal expansion of Barry's Bootcamp, treadmill studios combining high intensity intervals with incline training are "popping up like banks." And while some argue that the incentive to pay to run in place is low, Equinox, Crunch and the newly-launched Mile High Club are finding plenty of customers willing to pay up for solid instruction.
5. FITNESS AND FASHION COLLIDE AT A RAPID PACE
With fitness apparel growing at four times the rate of other clothing, it should come as no surprise to see high end names like Tory Burch and Trina Turk entering the space. In cities like San Francisco, it's already considered the norm to wear your Lulus to brunch; expect next season's activewear to be especially trendy.
6. HEALTHY LIVING CONTINUES TO "GO MAINSTREAM"
Perhaps this is as much a hope as a trend but unfortunately healthy living remains a counterculture today. The public is growing more concerned with nutrition and exercise but two thirds of Americans are overweight or obese. This is partly because being healthy is hard, and often inconvenient and expensive. The panel leaders discussed the notion of healthy living growing more accessible over the next five years and someday being able to walk into a Chipotle and order an unprocessed, nutritional meal.
Related