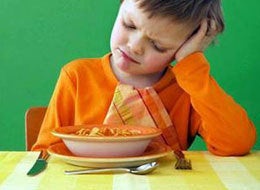 Harriet Worobey, a childhood nutrition instructor, knows firsthand that children can be picky eaters, but even she was surprised by a preschooler last year who ate a mostly chocolate diet.
"Chocolate milk, chocolate chip muffins, chocolate chip pancakes -- it was unbelievable," said Ms. Worobey, director of the Rutgers University Nutritional Sciences Preschool in New Brunswick, N.J. "His mother just thought, 'That's what he wants, so that's what I'm going to do.' "
While most parents haven't resorted to the chocolate diet, they can relate to the daily challenge of finding foods that children will eat. Although obesity dominates the national discussion on childhood health, many parents are also worried that their child's preferred diet of nuggets and noodles could lead to a nutritional deficit.
Fussiness about food is a normal part of a child's development. Young children are naturally neophobic -- they have a distrust of the new. Even the most determined parents can be cowed by a child's resolve to eat nothing rather than try something new. As a result, parents often give in, deciding that a bowl of Cocoa Puffs or a Pop-Tart, while not ideal, must be better than no food at all.
"I think parents feel like it's their job to just make their children eat something," Ms. Worobey said. "But it's really their job to serve a variety of healthy foods and get their children exposed to foods."
A series of simple meal-time strategies can help even the pickiest eater learn to like a more varied diet. Here's a look at six common mistakes parents make when feeding their children.