Like with any college program, it is important to balance what you are learning in the classroom to actually applying all those theoretical concepts. Engineering is the career area that likely requires the most hands-on learning. After all, do we want civil engineering students building bridges if they've only seen the equations for soil mechanics? Do we want aeronautical engineers constructing aircraft after they've only taken tests on airfoil? There's a reason companies want to see internships and experience on resumes. Though there are a variety of engineering-based college competitions, challenges and contests to join, the six listed below are some particularly clever or interesting ones.
1.) International 1/4 Scale Tractor Student Design Competition


Students and their quarter-sized tractors. Photo Credits belong to the American Society of Agricultural and Biological Engineers.
While these college students are not yet building those gigantic Cats you see crawling through construction sites, they are the minds primed to one day do just that.
In this competition (sponsored by the American Society of Agricultural and Biological Engineers), students are given an engine and four tires. That's it. The rest of the quarter-sized tractor design is up to them. They are not solely tested on the design either, but also on the manufacturability, the safety, and even the loudness of their tractor. Competitions consist of students actually making a sell to mock corporate management teams and two performance tests to assess the durability of their tractor.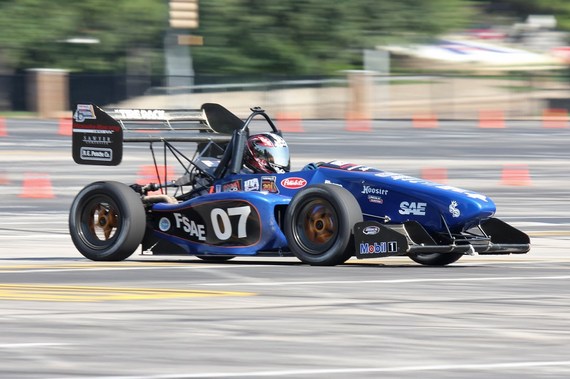 The Formula SAE team from University of Arlington Texas testing their car. All photo credits belong to the team.
Many of us can only dream of being near racecars, much less designing them. For many college engineering students, this dream is a reality. Organized by the Society of Automatize Engineers, the SAE Formula One competition allows students to design and build their very own formula-style car. And, after they have spent hours perfecting aerodynamics and engine performance, student drivers are able to actually drive their car on test tracks.
Unlike real formula-one races, however, the fastest car is not the sole winner (though that certainly helps). Students are tested in eight different events and are given an overall score based on performance in each. The endurance event is, quite obviously, the car that can duke it out the longest. But the car that can go forever may not bode well in the fuel economy event. The wide range of criteria, paired with sponsors of the events providing their own awards, makes this one top-notch collegiate program.
3.) AISC Steel Bridge Competition
I'll be honest: when I saw "bridge" paired with "student", the first thing that came to mind was toothpick bridges. Somehow I managed to miss the "steel" part in there. Let's just say that toothpick bridge doesn't even come close to what these students are accomplishing.
Each year in August, the American Institute of Steel Construction releases a realistic bridge problem statement and a set of parameters to eager civil engineering students. This past year's problem statement involved building a bridge that spanned the seventeen-foot wide Nogo River to allow commerce between farming towns and a capital city; last year's mission encompassed replacing a deteriorating wooden bridge that supported a railroad.
As if building a real bridge (though, from the looks of that image, they already are), teams must be able to quickly implement their design without much delay (referred to as Accelerated Bridge Construction, or ABC), use specified materials, and (naturally) provide a very strong bridge.
4.) National Robotics League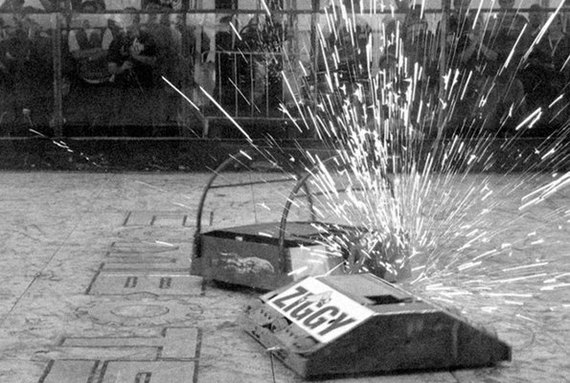 Robots fighting until the bitter end. Photo capture and credits belong to the National Robotics League.
Ever seen Real Steel with Hugh Jackman? The movie about boxing robots? After I watched that film, I fantasized of a world where robots provide sports entertainment. With the National Robotics League, that fantasy may one day be a reality.
The National Robotics League encourages students to pair their technical talents with real industry companies and, from that relationship, build a medium-sized robot to combat other bots in structured competitions. And when I say combat, I mean combat. Two robots are pitted against each other in a clear "cage" until only one is left standing (er...driving).
What's great about the National Robotics League is that it not only fine-tunes technical skills, but also introduces students to real companies, allowing them to network and form connections to launch their careers.
While the National Robotics League promises robotics boxing, VEX U, a collegiate program offered by VEX Robotics, breaks new sporting ground for robots. This past year's game, called "Skyrise," teams were broken down into two "alliances" made of two robots each. These alliances then competed against each other on a 12x12 foot field to build tall stacks of colored cubes (given to them in the game). The 2014 game had a more basketball orientation (though with much more intricate rules and scoring). And the upcoming game for 2016, entitled "Nothing But Net," has an interesting ping-pong feel to it.
VEX has varying levels of programs before college, starting all the way in middle school. The high school and college platforms use the same game each year, yet the college students are promised "a few twists" to apply their engineering skills to.
5.) American Society of Mechanical Engineers Design Competition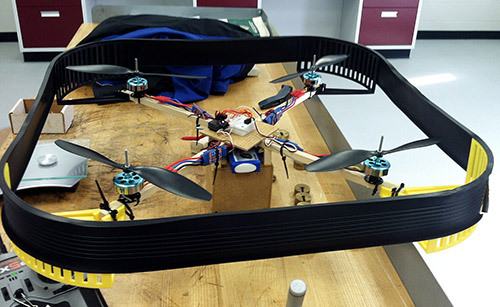 Baker College of Flint Mechanical Engineering's robot, which took second place. Photo rights belong to the team.
Don't let the words "mechanical engineering" fool you. This competition is wide and diverse, one of which students from all engineering backgrounds can partake in.
The ASME design competition has a new problem statement each year. This year's challenge: develop a transporter to deliver fresh water and supplies to unreachable places or across rough terrain (such as the Philippines after Typhoon Haiyan). Last year's competition: design an unmanned air vehicle to examine a forest fire and provide information on the fire to a Forest Service.
With the competition's heavy focus on real-world problems, college engineering students go beyond simply testing and utilizing their skills, but are already inventing new ways to make our world better. ASME is an extraordinary program in its strides to bring young, innovative engineers to real, pressing issues in our society.
REAL LIFE. REAL NEWS. REAL VOICES.
Help us tell more of the stories that matter from voices that too often remain unheard.