There's never a dull moment in Thailand's infamous capital city: Bangkok. The sprawling metropolis is a global crossroads, also notorious for its red light districts and fast-paced nights of drinking and debauchery. For many first time backpackers to Southeast Asia, banana pancake trail initiation begins at Khaosan Road, where they get their first taste of Thailand night life.
Bangkok isn't all ping pong shows and cheap cheap Sangsom rum buckets, though. For travelers that aren't seeking blacked out nights and hungover mornings, this vibrant city is teeming with loads of fun activities to do at night that don't require alcohol. In fact, those that come for the bars and girls may miss out on some of the best cultural experiences that Bangkok has to offer. Ready to explore another, more sober side to Bangkok's nightlife?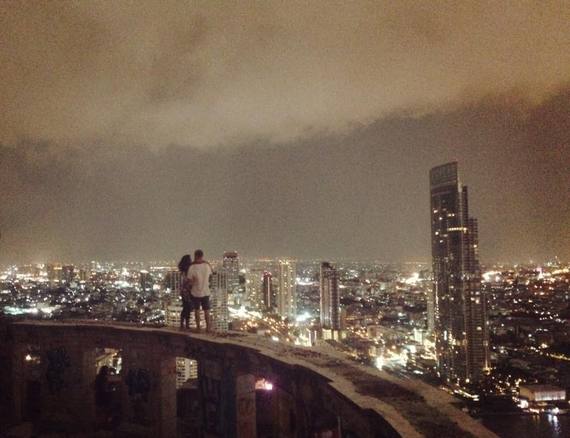 Dizzying heights on top of the Ghost Tower. Photo credit: A Great Perhaps Travel Blog
Start the night off by climbing the abandoned Sathorn Unique Condominium
Or better known by locals as the spooky "Ghost Tower". Urban legend has it that construction began in 1990, but came to a halt when the architect, Rangan Torsuwan was arrested for conspiring in a political assassination plot. That, coupled with the crippling effects of the 1997 Asian Financial Crisis, put Sathorn Unique to rest for good. Years passed, yet developers avoided the devastated condominium's prime location overlooking the Chao Phraya River with superstitions of bad luck and rumors of unruly spirits swirling. Nevertheless, it's hard to miss the concrete Frankenstein, which looms over the Bangkok skyline. Urban explorers enjoy climbing to the tippy-top at sunset to take in some of the best views of the city. Enter at your own risk, as it is quite derelict and dangerous.
Enjoy dinner in pitch darkness
Is your belly feeling adventurous? On the ground floor of the Sheraton Grand Sukhumvit Hotel, famished patrons flock to Dine in the Dark, where they literally sit in a pitch black room and rely completely on smell, touch and taste to devour a scrumptious four course meal. Choose from a set menu of either Asian, western or vegetarian cuisine. There's also a surprise menu for the bold. What sets this dining experience apart from the rest is the fact that without sight, your other senses become noticeably heightened, especially taste! From each meal purchased the restaurant donates a percentage to the Foundation for the Blind.
Learn about Thai history and culture with a viewing of Siam Niramit
Dive into Thailand's colorful history and culture with the world renowned Siam Niramit show for an unforgettable night of exotic costumes, talented performances and beautiful storytelling. Attendees are invited on a magical journey through Thai cultural heritage with a delightful 80 minute performance divided into three acts: 'Journey Back into History,' 'Journey Beyond Imagination' and 'Journey Through Joyous Festivals'. Siam Niramit is one of the largest stage productions world-wide, boasting over 100 professional artists.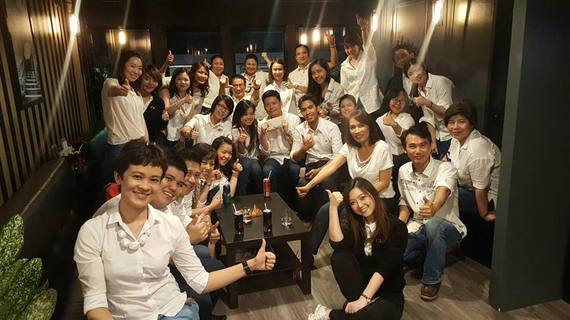 You're locked in a themed room with one chance to escape. Photo credit: Escape Break
Plan a game night in the Big Mango
Everyone loves a thrilling game night out on the town. Round up the squad and get your brains working and limbs moving with a few fun places to go, and I don't mean board games or the arcade (although those are always a hoot too). Lazgam offers the ultimate indoor laser tag experience, set in a trippy sci-fi setting that will make you feel as if you're in a video game. Choose a team and challenge level, then get that adrenaline pumping. If you love puzzles, why not test Escape Break, where cleverness and finite problem solving skills are your trusted tools to help find your way out of a locked room. And of course, one of the most fun things to do in Bangkok, Thailand is karaoke. A trip to Southeast Asia isn't complete without a night of serenading, a popular pastime for locals and travelers alike. Take your pick, as karaoke bars abound, then stretch your vocals in a private air conditioned room all night long.
Snack on street food and shop at Rot Fai Market in Srinakarin
From Thursday to Sunday when the sun sets over Bangkok, the night markets come to life. Rot Fai Market is well-known by treasure hunters seeking out rare vintage collectibles that you can't find anywhere else. Pristine antique furniture, timeless fashion pieces and more, browse the seemingly endless pop-up shops and score a unique souvenir that's not another boring pair of elephant pants. Don't commit a cardinal sin by not indulging in authentic Thai street treats at the market- this goes for any Thai market. Delicious and cheap, it's easy to fill up on BBQ chicken, spicy som tam, classic pad thai and fried insects!
Things can get a bit sweaty in Bangkok with that stifling tropical climate. Sometimes it's nice to take a load off with a visit to the Krungsri IMAX Theatre for a relaxing evening watching a movie with popcorn and air con. In Thailand, going to the cinema is a popular pastime and you better believe the theaters are stocked with the latest film releases in both Thai and English. When you take movie night to the next level with IMAX and don those funky 3D goggles, your viewing experience is enhanced with scenes that seemingly jump straight out of the eight storeys-high screen with crisp digital surround sound.
Related