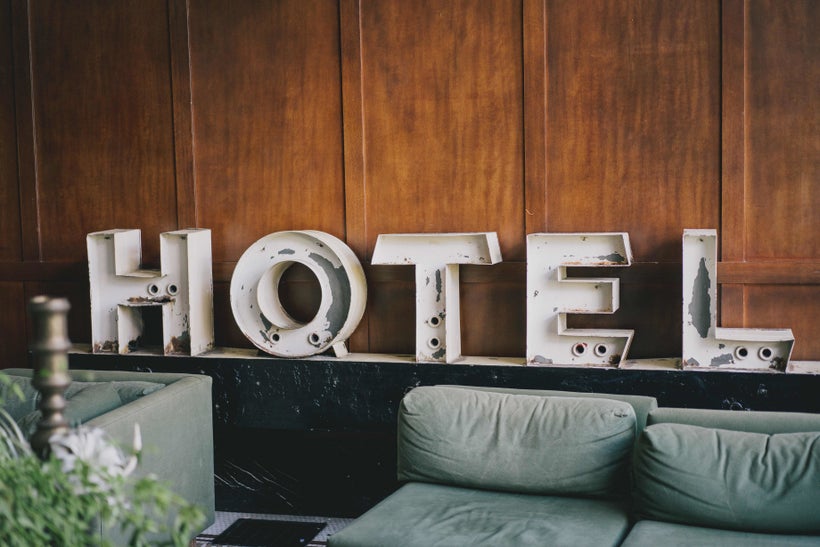 Ranking higher on TripAdvisor is a dream for pretty much every hotel but most have no idea what goes into the rankings. How can you improve your company's ranking, even if you don't have the budget to spend resources on marketing? No one is better to share their knowledge on this topic than Adele Gutman Milne, Vice President of Sales, Marketing, & Revenue at Library Hotel Collection. The company's Aria Hotel Budapest just snatched the coveted #1 spot on TripAdvisor's Travelers' Choice Awards this year. I met Adele for wine and cheese at one of their hotels in NYC, and asked her what she attributes to their success.
1. It costs nothing to be polite.
Adele was 16 years old when she moved from New York to Texas. There, she learned firsthand what Southern hospitality means. Adele recalled an early memory:
"People think you're stuck up or something," a classmate had said. "You don't say 'hi' to them."
"I don't know anyone, why would I say 'hi' to them?" said Adele.
"There are 400 people in this school," the classmate retorted. "If you just say 'hello' and 'good morning' to them, you will know everyone eventually."
"It was in that moment when I learned that you don't have to wait for somebody to come up to you and smile and say good morning," Adele told me. She said this conversation has totally impacted the way she works today and has lead to the positive energy behind the luxurious Library Hotel Collection brand.
2. Share the traveler's excitement for their trip!
It's refreshing when you arrive at your hotel after a long flight and the staff welcomes you as a friend. "Somebody is coming from another country, far away, they saved money, for the whole wedding party to come to New York, or to be here for the Christmas Holidays or another event," Adele said. Even one word by an angry waiter or a stressed receptionist can destroy their whole holiday experience.
"They were dreaming of this moment. You can't just say 'Yes, here's your key.' You have to say 'Welcome, we are so excited for you! We are going to have a great time with our family!' That's what people love so much. We are really having fun seeing our guests smile, and feel good, and warm, and we know that we will be a special memory for their whole lives," Adele told me, while her eyes lit up.
3. Insider Tip Alert: Hire actors or dancers!
"If there's an actress or dancer, I love to hire them because they know how to put on a show," Adele revealed to me. She then told me about the time when she taught at a ballroom and learned how to work with people. She continued that people who are actors or performers "know how to turn off anything negative and focus on the audience; in this case, that's our guests. We have our audience in every moment and we put on the show every day. When people look at you, if they see a smiling face in return, that is the best applause." Who knew? But what an impactful tip!
4. Use world of mouth.
You're probably saying, " They must spend a lot on advertising too!" The truth is: Library Hotel Collection doesn't even have budget for advertising. "We don't spend money on advertising but prefer to spend it on the guest experience itself, like our complimentary wine and cheese reception for example. For our boutique hotels, we are fortunate that word of mouth is enough," admitted Adele. When you provide your clients with a memorable experience, they are motivated to share it not only with friends and family but also on travel review sites!
5. Zero cost idea:
"After every guest's stay, we send an e-mail out saying that we hope they enjoyed their stay and if there is anything we can do better, please, let us know," said Adele. "We add: if you liked us, spread the word. 'Like' our little hotel on Facebook. Leave a review on TripAdvisor. It costs nothing." When I ask her why others don't do this, she said, "Most of them are afraid of bad reviews. If you really try to do your best with every single guest, there's nothing to be afraid of." Adele added that whatever people say they liked, they keep it up and aim to keep doing it 10 times better; whatever people say they didn't like, "We are going to find a solution for it."
Bonus tip: Work with Influencers.
Back to Google. You might ask how all of these blog posts got to Google when Library Hotel Collection doesn't pay pricy influencers to visit them? There's a platform that connects influencers with luxury hotels, and that's how they got introduced to influencers. "It allows us to host every kind of person from all around the world," Adele shared. "We could not have reached them with normal advertising but we can reach them through influencers that they follow."
"Also, in the beginning of the business, you have your website, but you don't have anything leading to your website," Adele said. And normally you don't have too much money to create a buzz around your hotel, so you have to find alternative and creative ways of doing it. "You need all of these blogs, with links back to your website, to help the search engine optimization of your site." When I ask her, why she loves to work with influencers so much, she got excited and said, "The pictures – that's the best. Sometimes their photography is just magic."
This is just a tiny part of the recipe of how Adele and her team turned Library Hotel Collection's Aria Hotel into one of the world's top hotels. But do understand – it may seem like that their hotel in Budapest became an overnight success but the truth is: their team only applied what the company learned throughout the years at all their Library Hotel Collection hotels. There will be always luxury hotels across the globe, but people will choose to stay at the places where they feel loved, welcomed, accepted and where they feel at home the minute they walk through the door.
REAL LIFE. REAL NEWS. REAL VOICES.
Help us tell more of the stories that matter from voices that too often remain unheard.
This post was published on the now-closed HuffPost Contributor platform. Contributors control their own work and posted freely to our site. If you need to flag this entry as abusive,
send us an email
.