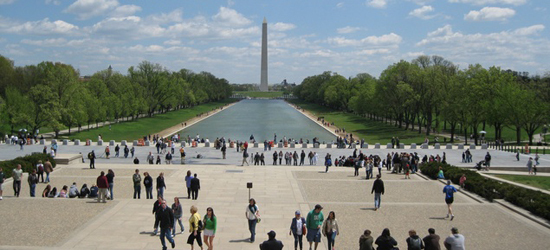 Photo courtesy of vicnaire/myBudgetTravel. Article by Carrie Culpepper and Kaeli Conforti of Budget Travel.
From Palm Springs to D.C., we've rounded up six convenient Memorial Day escapes from coast to coast to ensure that you spend more time enjoying your blues festival (or pool party) than you do deciding where to go. But reading about a party that's taking place miles and miles from home is frustrating, not fun. That's why we highlighted places that are easily accessible no matter where you are in the U.S. (all of the cities called out under "easy getaway" are within either a 1.5-hour flight or four-hour drive from the featured destination). Consider this your ultimate guide to three-day weekend bliss.
Palm Springs, Calif.: For guaranteed summer weather
While most beach seasons are just beginning, Memorial Day marks the end of bearable temps in the desert, so hotels and operators are running specials for the holiday. Though other parts of California will be in the midst of "May Gray" and "June Gloom," Palm Springs still has nonstop sunshine -- plus dozens of vintage shops, acclaimed restaurants such as Copley's on Palm Canyon (where celebrity chef Andrew Copley whips up So Cal comfort food like lobster pot pie) and an enduring love for all things mid-century (its hotels and private homes offer some of the best examples of 1950s modern architecture in the country). It also makes a great base camp for exploring the striking desert landscape of Joshua Tree National Park through hikes, mountain biking, or rock climbing -- don't miss a scenic ride on the Palm Springs Aerial Tramway, one of Budget Travel's most beautiful cable car rides. Stick around for the Flower Drop & Air Fair, hosted by the Palm Springs Air Museum, where more than 3,000 red and white carnations are dropped form a B-25 Mitchell bomber in honor of all who those who have given their lives for our freedom -- visitors are invited to take flowers home following the 1 p.m. drop. Military members should check out the R&R package from the South Coast Winery Resort & Spa that includes overnight accommodations, mimosa breakfast for two, a wine tasting for two, and other perks (from $199 a night for Sunday thru Thursday stays; from $299 a night for Friday and Saturday stays; call 866-994-6379 to book and mention the R&R Package).
Easy Getaway From: Los Angeles; San Francisco; Phoenix; Las Vegas.
Washington, D.C.: For patriotism, pomp, and circumstance
As you might guess, Washington D.C. is the most patriotic place to celebrate the holiday, with a parade and plenty of pomp and circumstance taking place during special military ceremonies. Arlington National Cemetery -- which celebrated its 150th anniversary this May -- hosts a wreath-laying ceremony at 11 a.m. on Memorial Day at the Tomb of the Unknowns accompanied by performances from the U.S. Navy Band. Men in uniform also march in the National Memorial Day Parade along the National Mall at 2 p.m. Don't miss the National Memorial Day Concert Sunday, May 25, on the West Lawn of the U.S. Capitol from 8 p.m. to 9:30 p.m., an event that is televised on PBS each year.
Easy Getaway From: Baltimore; Boston; Charleston, S.C.; Columbus, Ohio; Hartford, CT; Louisville, Ky.; Nashville; New York City; Providence.
The Jersey Shore: For family fun and rides along the iconic Boardwalk
Contrary to popular belief, Atlantic City was not hit hard by Hurricane Sandy in 2012 and was actually back on its feet within a week of the storm -- in fact the area still continues to bounce back post-Sandy with new openings and events along its iconic stretch of New Jersey coastline. Steel Pier, Atlantic City's popular oceanside amusement park, debuted eight new rides last summer. Don't miss Duality, a free 3-D light show featuring catchy music and summer fun-filled images against the façade of Boardwalk Hall every half hour now thru June 20th starting at 8:30 p.m. The best part: you can score a great hotel deal now through June 30th as part of Atlantic City's Hello Summer promotion. Outside Atlantic City, check out the 29th annual Wildwoods International Kite Festival, the largest in North America, Friday thru Monday, an event that starts Friday night with a beachfront illuminated night kite fly on Rio Grande Avenue. There's also a Boardwalk Craft Show Saturday and Sunday, a free concert on Sunday, and on a more solemn note, several Memorial Day rememberance services, including a candlelight vigil on Saturday at 8 p.m. at Wildwood Vietnam Veterans Memorial Wall in Fox Park and a ceremony on Monday at 10 a.m. at the North Wildwood Veterans Monument located at Spruce and New York Avenues. Visit the New Jersey Going Strong website for more information on events throughout the Jersey Shore.
Easy Getaway From: Philadelphia; New York City; Baltimore; Washington D.C.
Denver, Colo.: For fine art and music in the 'Mile High City'
Fine art and pop culture descend on the Rockies over Memorial Day weekend. The Downtown Denver Arts Festival kicks off its 16th year on Friday, May 23, hosting more than 135 local artists from all over the state. The free festival lasts all weekend at the Denver Performing Arts Complex, and everything from 3D mixed media to jewelry to photography will be featured. If live music is more your style, try the Denver Day of Rock starting Friday night from 6 p.m. to 9:30 p.m. at Skyline Park and all day on Saturday, when more than 20 bands -- including The Wallflowers and The Plain White T's among others -- treat audiences to a series of free concerts from 2:30 P.M. to 9:30 P.M. along the 16th Street Mall. Best of all, the concerts benefit Concerts for Kids and Food Bank of the Rockies, two local organizations dedicated to fighting child hunger -- everyone is asked to bring canned food to drop off at designated spots around the venue.
Easy Getaway From: Salt Lake City; Albuquerque; Las Vegas; Kansas City, M.O.; Phoenix; Dallas; Minneapolis.
New York, NY: For free Memorial Day concerts, films, and a parade
After a brief hiatus last year, Fleet Week is BACK! From May 21st thru the 27th, you'll be able to see military band concerts, aerial demonstrations by the U.S. Navy and U.S. Marine Corps, and search and rescue demonstrations by the U.S. Coast Guard. You'll also be able to tour the ships at Pier 92 in Manhattan and at The Sullivans Pier in Staten Island between 8 a.m. and 5 p.m. Thursday thru Monday. Catch a free musical performance by the New York Philharmonic at the Cathedral Church of St. John the Divine, one of Budget Travel's most beautiful churches in America -- tickets for the 8 p.m. show are free and available on a first-come first-served basis starting at 6 p.m. on May 26. Brooklyn's historic Green-Wood Cemetery also offers a free Memorial Day concert at 2:30 p.m. highlighting the works of some of its most famous residents like Leonard Bernstein among others. Families will want to catch the Brooklyn Memorial Day Parade, a tradition in the Bay Ridge neighborhood of Brooklyn since 1867. All Veterans, regardless of age or war, are invited to participate. The parade starts at 11 A.M., runs along 3rd Avenue towards Marine Avenue, and continues to 4th Ave. before making its way to John Paul Jones Park for a ceremony in honor of those who have paid the ultimate price for our freedom.
Easy Getaway From: Washington, D.C.; Philadelphia; Boston; Charleston, S.C.; Charlotte, N.C.; Baltimore, M.D.; Providence, R.I.
Atlanta, G.A.: For fireworks and a Jazz Festival
The Atlanta Jazz Festival turns 37 this year and fills the Piedmont Park area with music from May 23 thru 25. Known for being one of the largest free jazz festivals in the country -- it typically brings in 225,000 attendees over the three-day weekend -- in past years the festival has featured performers like Miles Davis, Dexter Gordon, and Shirley Horn as well as local artists. Kid-friendly activities like face painting and balloon art take place by the playground near the stage, while the live music plays from 11 a.m. to 11 p.m. Friday thru Sunday. Getting to the festival is easy -- free Lanier shuttles are available from nearby MARTA stations directly to Piedmont park, or you can use UBER: enter promo code JazzATL for $25 off if it's your first ride with this revolutionary new car company. For more family fun, take the kids to Stone Mountain Park, a 35-minute drive from Atlanta, for some kid-friendly outdoor activities such as the "Sky Hike," a ropes-and-ladders obstacle course through the treetops. In honor of Memorial Day, the park is hosting evening fireworks, free concerts, and a laser show from Saturday through Monday (The Adventure Pass Meal Deal, which includes a free meal with admission, costs $29.95 for those over age 12, and $24.95 for children ages 3-11). As a special thank you, all active and retired military members receive one free adventure pass with a valid ID and can save up to $10 per immediate family member, as well as a 20 percent discount on food and merchandise inside the park. Fans of AMC's hit show, The Walking Dead, will love the Zombie Run on May 24th, a 3.1-mile obstacle course at Durhamtown Plantation that participants (who register as either humans or zombies) must conquer over the course of the day. Register online or watch the festivities as a spectator on the sidelines. Proceeds from the run benefit children fighting brain injuries and disorders at the Kennedy Krieger Institute.
Easy Getaway From: Savannah; Charleston, S.C.; New Orleans; Nashville; Charlotte, N.C.; Orlando.