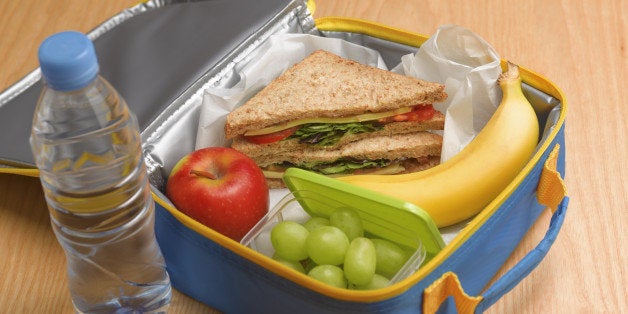 We all want the best for our children. Feeding our kids "real food" -- natural, unprocessed, nutrient-dense meals -- is one of the best ways to support their health and their future. As parents, we can make the time and effort to provide quality food for our children at home, but when healthy choices are unavailable at school, we are fighting a losing battle.
With soaring rates of diabetes, obesity, and autoimmune disorders, our country is in the midst of a health crisis -- which can, in large part, be attributed to our reliance on the convenience and affordability of processed food. With fast-food served at school cafeterias, unhealthy frozen or pre-made meals for breakfast and dinner, and the ubiquity of sugary snacks and sodas throughout the day, American kids are set up to fail. The excellent film, Fed Up, just launched a new food education campaign to help bring food education into the classrooms. The film is creating a Fed Up Food Education Kit, that will be free for all U.S. schools and teachers. Head to their Kickstarter page to learn how you can help:
Below are a few key recommendations and recipes to get you started with improving your children's diet and eating routine. It is never easy to change your habits or your children's habits, but it does not get easier as they get older -- so now is the time to start!
Only keep food in your home that you want you children to eat. "Sorry, we don't have any cookies" is much easier than "Sorry, you can't have any cookies." Stock your fridge and pantry with healthy items and do some prep work so kids can easily grab cut and peeled carrots and hummus, or celery sticks with almond butter, or whole milk yogurt with fresh or frozen berries.
Explain your food-related choices and decision-making process so that your children understand why you are making the changes you are making: That you love them and want their bodies to grow strong so they will grow up healthy and feel well. They may not like the changes, but understanding that you have a reason for them is important.
Involve your kids in some aspect of food preparation. Let them help peel veggies, turn on the blender, measure an ingredient, or choose between two menu items. It may take a little longer (or a lot longer, depending upon the age of your child) but it is often worth it because kids are more interested in tasting food that they helped to make.
Revise your expectations regarding your child's acceptance of a new food. Some children may need to try a new food 10 times before they are willing to eat it. Create rewards for trying new foods multiple times. When introducing new foods, always have one other item available that you know your child will eat. Familiarity is comfortable; once a food becomes familiar, it may not become a favorite food but it can become an acceptable one. Stay calm through the process and don't pressure your child; merely offer it again and again, over time.
Make time to sit down together for a meal as often as possible. Relaxing, family meals may only be possible on the weekends, or with a subset of the family, or only on occasion, but do what you can to demonstrate that meals are a time to come together as a family, talk, and enjoy each other, as well as to eat.
Feed your children the same food you eat. As long as your children can chew the food, there is no reason their meals at home and restaurants should be any different than yours. Give them the opportunity to experience the textures and colors of 'real' food and not become partial to the bland "kid foods" which are usually deep-fried, coated in flour, or sweetened with sugar.
Although time-consuming and arguably tedious, packing a lunch for your children not only ensures that they have a healthy meal to power their day, it can be a wonderfully simple way to express your love and support for them. At its core, preparing food for others is an act of love -- and, as a parent, one of the most potent powers we possess is to support our children's health. Embrace the chance to make the meal special, healthy and tasty and your children will feel the depth of your care for them.
Chicken and rice (can substitute any protein): In a small pan, sauté chopped onion and garlic and fresh or dried herbs and mix in cooked rice or quinoa with small pieces of leftover meat or fish. Add a small amount of bone broth if you have any on hand, or water to make a quick stew. Once heated, transfer to thermos and pack with a fork, spoon and piece of fruit for dessert.
Protein-rich mini bites: If you have two small thermoses, use one to keep these delicious, grass-fed beef and nitrate-free hotdogs warm (cook on stove and cut into small pieces before putting in thermos) and one for cherry-sized ("ciliegine") mozzarella balls, speared on a toothpick with grape tomatoes to create a mini-Caprese salad!
Bento-box variety plate: For the child who likes to nibble, use a segmented container or bento box to quickly put together toothpick skewers of their favorite fruit and veggies, a "turkey roll-up" (slice of turkey rolled up and secured with a toothpick), avocado, cubed cheese, and a Justin's squeeze packof almond butter or a mini-container of hummus to use as a dip.
Deviled eggs: These can be customized to suit your child's tastes, with all sorts of mix-ins as options, such as guacamole, chopped veggies, spices, or you can make them super-basic and they still pack a nutritional punch.
Leftover-based soup: Rely on the trusty blender to turn last night's leftover vegetables into a delicious "cream-of-X" soup, with X being whatever veggie you have. If you're dairy-free, bone broth makes soup making easy, or you can use a bit of cream and butter and fresh herbs to guarantee a rich taste. Simply sauté onion, garlic (or leeks or shallots) in a pan, add the leftover veggies and then purée with either milk/cream or broth, or a combination of both. Transfer to a thermos and include a Ziploc of sliced apple to be topped with an almond butter squeeze pack or use a container for fruit and a portion of protein-rich nut butter.