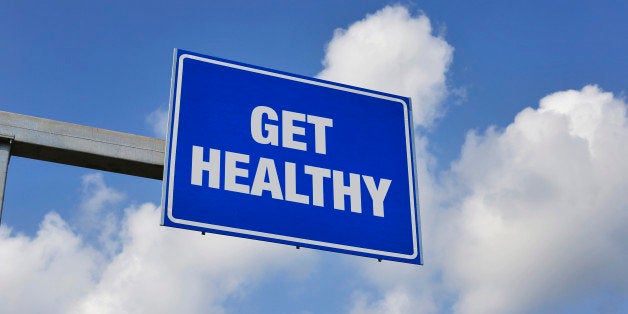 Our society thrives on busyness. A collective obsession with the time and stress of every task we undertake has become the ongoing cultural norm. Between working one (or maybe two or three) jobs, commuting, paying bills, running errands and social obligations, where could we possibly squeeze in time to eat well, workout and take care of ourselves? Even kids today are busy--with each waking half-hour filled by classes and extracurricular activities. In a world where there's always something to be doing, we neglect the very thing that allows us to do those things - ourselves.
Our active and demanding schedules catch up to us sooner or later, and if you don't decide to make your well-being a priority, health complications can bring your steamroller agenda to a screeching halt.
Responsibilities, resources and circumstances may never be equal, but we all have the same seven days each week, 24 hours apiece and at the end of the day, we must make time for what we truly want. The great news is that leading a healthy life does not have to be time consuming.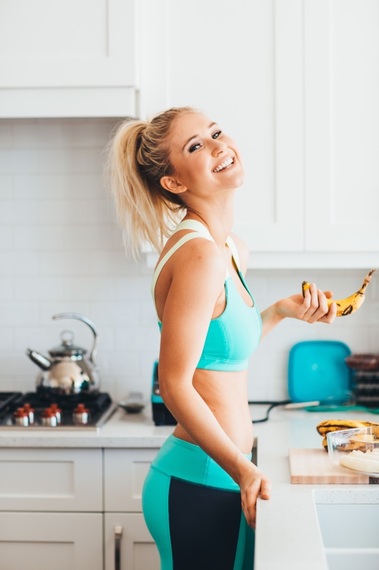 Following these six tips below requires little time, but can make a significant impact on your overall wellbeing.
1. Keep drinking water in plain sight.
We all know water is good for us. But when your mind is occupied, hydration is easily forgotten. The standby recommendation to consume eight glasses a day is merely an approximate guideline, so how can you be sure if you're drinking enough? The color of your urine is a good gauge -- light yellow usually indicates proper hydration.
Need an easy way to keep on track? Leave a large jug of water out on your counter so it's regularly within view. If plain water is just not enticing enough, try my favorite and simple trick of squeezing a few lemons into the pitcher!
2. Portion snacks ahead of time.
Two simple words that make all the difference: be prepared. "Moments of weakness" are not what typically drives us to ditch a healthy eating regimen; it's moments when we are ill prepared. Plan and pack your snacks (ones that are both healthy and you will want to eat) in advance. A grab-and-go lifestyle and a nourishing one are not mutually exclusive.
You can find my video on my top 5 favorite snacks here.
3. Make breakfast the night before.
I know I'm not the first one to tell you this: breakfast is the most important meal of the day. Busy mornings? Overnight oats are a lifesaver -- perfect for those who have busy mornings or simply love to hit the snooze button.
Sophie's Favorite Overnight Oats
Ingredients:
• 1/3 cup rolled oats
• ¼ cup pumpkin puree
• 1/2 cup almond milk
• 2 tablespoons cinnamon
• 1 tablespoon chia seeds
• 2 tablespoons maple syrup
Directions:
Blend all ingredients together until smooth. Store in airtight container (like a mason jar) and refrigerate overnight. Chia seeds have a gelatinous quality that will create a porridge consistency by morning. No need to heat; overnight oats are delicious cold!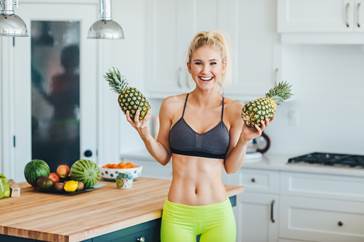 4. Schedule (literally) your workouts.
If you had a dentist or doctor's appointment on your calendar, you'd make sure to show up, right? Start thinking about your workouts the same way. To help stay dedicated, try scheduling each workout session on your phone's calendar. Remember, you must make time for what you want. This doesn't have to takeover your whole life -- by committing to a workout even 2 or 3 times a week, you will see and feel a difference.
Daily two-hour sessions at the gym are not necessary to reach your goals when it comes to getting fit. High-intensity interval training (aka HIIT) can boost your endurance and strength, overhauling your physical fitness in mere minutes each day. HIIT exercises utilize the weight of your own body to build strength, allowing you to do your workouts from home with little to no equipment. HIIT routines only require an investment of your time, and a minimal one at that!
6. Get electronics out of your bedroom.
Your electronics may be to blame for disrupting healthy sleep cycles. Weight gain, irritability, digestive upset and poor focus are only a handful of the negative effects associated with too little sleep. Try shutting your electronics off at least 30 minutes before bed and charge phones, tablets and other devices in a separate room. This simple change requires little effort, though it can have huge impact--allowing time for mental stress to subside, combatting potential insomnia and in turn, giving you prime energy for the days ahead.
Healthy living can fit into a life ruled by busyness, and it is within everyone's power to take the simple steps toward living a healthier, happier life!
You can learn more and always find me at:
FACEBOOK Facebook.com/wayofgray
TWITTER: @wayofgray
INSTAGRAM @wayofgray
YOU TUBE: youtube.com/wayofgraynation