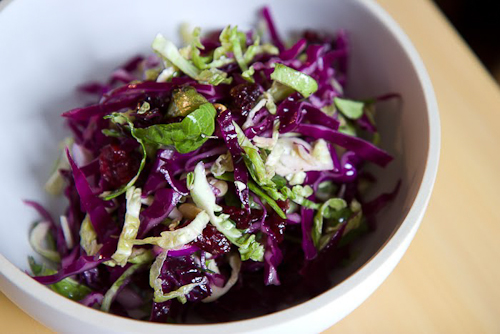 I'm a salad gal. I love 'em. They're versatile, virtuous (theoretically), and chock full of vegetables. They're also the world's quickest meal: just add your ingredients to a bowl and toss with a vinaigrette. Easy. But in the winter, I don't exactly crave a big pile of lettuce. I want a heartier salad -- one with a little more texture, more color, and a lot of flavor. A lunch or dinner type of salad.
(Scroll down for recipes!)
This winter I've been experimenting with all sort of healthy, wintry salad combinations sans lettuce: shaved Brussels Sprouts with Red Cabbage and Pine Nuts, Roasted Butternut Squash with Kale, Roasted Fennel with Quinoa and Pomegranate Seeds, and Spinach with Cara Cara Oranges and Roasted Chicken. I love layering roasted vegetables with a cooked grain (like quinoa or farro or bulgur) and fresh herbs and raw greens, like spinach or arugula. Or making a salad that I can pick up, by topping toasted flatbread with lemony avocado spread and shaved veggies. Basically, the more colorful, the better.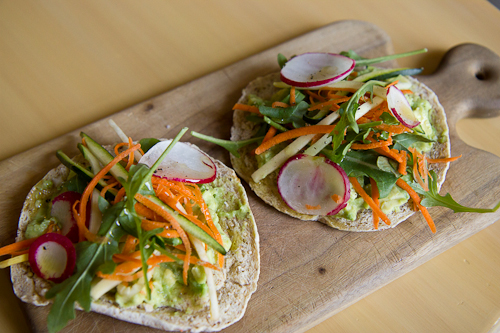 Of course, planning ahead helps. At the beginning of the week, I try and cook up some sort of protein (either organic chicken, wild salmon, or a hearty grain like quinoa) to have on hand. I make sure I have plenty of greens, like kale, spinach, or arugula, and vegetables like Brussels sprouts, avocados, radicchio, or fennel. Sometimes, I'll buy pre-shredded veggies (usually carrots, red cabbage, zucchini, and radishes), beans, and grains from the Whole Foods salad bar, which makes it super-easy to whip up a salad at home. And this time of year, with the citrus fruits at their peak, I try to stock up on lemons, oranges, and grapefruit - all excellent in salads.
In the pantry, I keep plenty of nuts, dried and canned beans, and of course extra virgin olive oil and lots of different vinegars (white balsamic is one of my favorites). That way, when I come home and want to throw something together quickly, there are easy, healthy options available.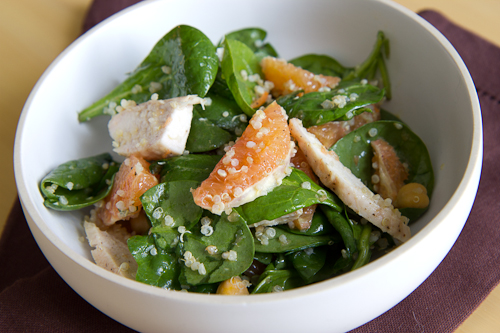 But best of all, after eating any of these salads, you'll feel like a million bucks. Jam-packed with vitamins, minerals, and antioxidants -- and healthy fats that will leave you satisfied, but not stuffed -- the six salads below will give you loads of energy. You won't even miss the lettuce. Promise!
6 Healthy Winter Salad Recipes (click on the links below for recipes)
Calling all HuffPost superfans!
Sign up for membership to become a founding member and help shape HuffPost's next chapter