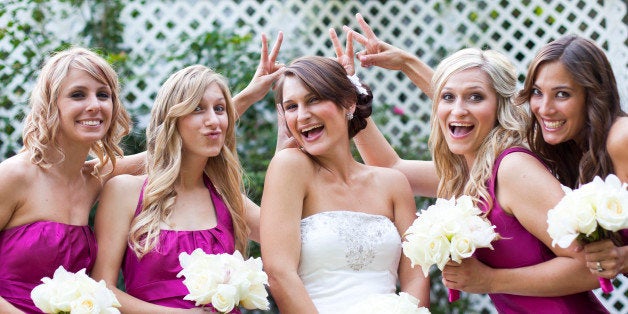 Your bridesmaids -- your best friends, sorority sisters, biological sisters and those who you couldn't imagine your wedding day without. You might have even pictured your bridesmaids as part of the wedding long before you even knew the groom. These girls mean the world to you and they are thrilled to be an honored guest on your special day.
According to WeddingWire and ABC News, the average cost of being a bridesmaid ranges between $1,500 - $1,800 for the travel, dress, shoes, hair, makeup and gifts that are common expenses for almost all bridesmaids. To help your girls feel like it is money well spent, it's imperative that you treat them well and show appreciation for their commitment to you.
These six hints will help keep your bridesmaids loving you throughout your engagement and wedding weekend.
1. Provide Clear Expectations and Information
The best advice for managing your bridesmaids is to be clear with them about your expectations right from the beginning. If you are planning a lot of DIY projects that you want help with every weekend, you need to tell them this before they graciously accept the role. The same goes for letting them know from the beginning if you are planning a destination wedding and would like to plan a girls trip for your bachelorette party as well. These details might impact their ability to be part of your bridal party no matter how much they love you.
Once the wedding weekend approaches, it is critically important that you provide your girls with all the details they need to know about timing, transportation, and where they need to be and when for the entire wedding weekend. Recognize that your bridesmaids have their own careers, relationships and families that need to be planned for before they can let loose and celebrate with you.
2. Be Conscious of Their Budgets
If setting clear expectations is most important, being conscious of the bridesmaids' budgets is 1.B.
Always keep in mind that not all of your bridesmaids will be in the same financial situation and just because something works for a few of them, doesn't mean it is financially feasible for all. While a bachelorette party in Costa Rica sounds incredibly fun to your friends with established careers, your cousin in medical school with thousands of dollars in student loans might not want to bring up the fact that there is no way she can afford this trip without stacking up more credit card debt.
The same goes for selecting the dress and shoes. Try to estimate what is fair to all before finalizing your attire choices. If your girls are wearing a long dress, no one will really be able to see their shoes anyway, so let them select their own shoes -- within your guidelines -- and maybe their can wear an incredible pair they already own and save a few bucks.
Try to be considerate when scheduling your bachelorette party and bridal showers. If most of your girls need to fly into town for these events, try to schedule them on the same weekend to make it more manageable for everyone. If that's just not logistically possible, don't expect their attendance at all events and let them know it's totally okay to pick and choose the pre-wedding events they can attend.
3. Pick a Dress That Flatters All of Them
No one feels beautiful in something unflattering, so while it is challenging to find a dress that everyone loves, select a dress that makes them all look beautiful. Take your maid of honor with you to go bridesmaid dress shopping and determine if the same dress will work for everyone or if you are better off choosing a color and fabric from a designer who makes multiple styles so your girls can each select what they are most excited to wear. Bridesmaids who feel beautiful will radiate happiness in your photos and will be a joy to be around on the wedding day.
4. Don't Treat Them Like Your Slaves
Years ago it was common for bridesmaids to come over your house -- with their hot glue guns -- and help you assemble favors or your invitations for all hours into the night. While some of your girls might happily volunteer for these jobs, this is no longer an expected role of being part of the bridal party, so don't pout if they can't make it to help stuff the welcome bags the week before the wedding.
5. Help Them Schedule Hair and Makeup Appointments
Whether or not you decide to pay for professional hair and makeup appointments for your bridesmaids is up to you and your budget. It's really nice if you can swing it, but they will understand if you can't. However, if they don't live in your town and are unfamiliar with professionals in the area, you might want to take the initiative to schedule artists to come to your home or hotel room to get everyone ready together. If you aren't paying, it's inappropriate to demand everyone pay for professional hair and makeup, but it's more likely everyone will participate if they don't have to drive to the mall to find the closest Chanel counter.
6. Show Appreciation
Everyone likes to feel appreciated. Thank your bridesmaids in the way that feels most appropriate for you. Give them a meaningful gift, write them a thoughtful note, or treat them to a lovely bridesmaids lunch in the days leading up to the wedding.
It's also important to make it easy for them to have a great time at the reception, so they remember how much fun they had for years to come. Seat them with their date and other guests they know and don't give them too many responsibilities after the toasts have been said so they can have a great time with the rest of the guests.
Related