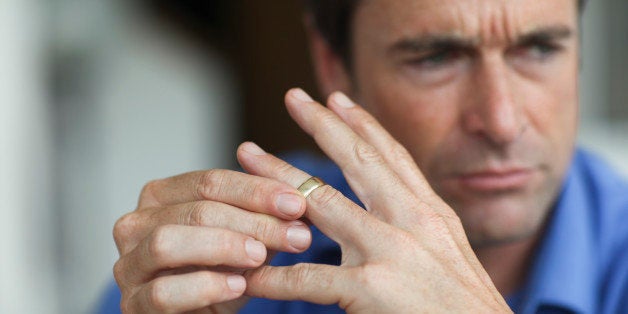 So your marriage is ending. Regardless of how long the marriage lasted, what stage in your life you are right now, and how well or poorly you both handled the situation, this is still going to be a difficult time. It's easy to lose perspective when we're facing the uphill battle of getting on with the rest of our lives, but the good news is that it doesn't have to be all bad. We hope the advice in this guide will help things go down a little easier for you.
1. Recognize That Your Marriage Is a Sunk Cost
In economics, a sunk cost is past investment that has already been paid and cannot be recovered. Unfortunately, in an attempt to derive value from poor investments we often try to justify or invest further despite it not being in our best interests. It's why we pour needless money into poor purchases of cars or homes that require constant repairs. It's why we cancel better plans and drag ourselves to a restaurant we didn't want to go to because we bought a Groupon. But the same principle also tends to keep us in relationships (and even more so marriages) that aren't working out -- because we've put so much time and emotional resources into them. If you are facing or already underwent a divorce, it will be natural to struggle with this concept. The sooner, however, you can recognize your marriage as a sunk cost, the sooner you can move on. If possible, try not to look at your marriage in terms of the time that you lost. If things weren't working out and you made the decision to end it, you made the right decision, as difficult as it may have been.
2. Reconnect With Old Friends
A lot of us tend to slowly drift away from past friends when we're in a long-term relationship, let alone a marriage. Sometimes it happens very slowly, over the course of years. Now that you're single again, it's a great time to reflect on some of your friendships that you might have neglected and reach out. Divorce is a very mentally and physically taxing thing for a man to go through, and you're going to want to surround yourself with as much support as possible. Maybe there were male or female friends that your wife never liked and as a result you spent less time with. Maybe when things got serious and you moved in together, there was simply less time to meet up with your friends. Either way, this is a fantastic opportunity to reconnect, so don't let it go to waste.
3. Be Compassionate With Yourself
We find that there are typically two types of responses men have when dealing with a divorce. Some men tend to externalize all of the conflict, blaming their ex-wives for everything that has gone wrong in their lives. Others tend to internalize the conflict, blaming and beating themselves up over everything that happened. If you find yourself in the second camp, this message is for you. Now, possibly more than any other time in your life, it's incredibly important to be kind to yourself. Little will be gained by obsessing over the mistakes that might have been made or what you could have done differently. Learning to forgive yourself and realizing that your past decisions don't have to burden your future ones will be an important step in moving on.
4. Get a Lawyer Right Away
Coming off a hostile divorce, most men don't hesitate to get legal advice sooner rather than later. But even if you think the split between you and your ex-wife was amicable, don't eschew legal counsel. Divorce tends to bring out the absolute worst in people, and it's not worth risking being mugged in the courtroom because you thought everything was all peaches and cream. Talk to a lawyer, get the information you need and don't look back. There's too much at stake to just let this one go.
5. Indulge in Your Bachelor Habits
Divorce isn't all bad. It gives you an opportunity to get back in touch with a much earlier, arguably more primal version of yourself. Some guys like to kick it into high gear and hit the ground running as soon as they get divorced, and if that's you, that's totally okay. Do whatever you feel you need to do right now. All we are saying is that you now have a unique opportunity to fully indulge in all of those bachelor habits that are as terrible as they are satisfying. Women have ice cream and chick flicks; we have sweatpants, team jerseys and a bowl of chips.
Go to the bathroom with the door open, leave the seat up when you're finished; hell, crack open a beer while you're there. We're not trying to turn you into a horrible slob for the rest of your life, but you have a wonderful little window right now to stretch out and get in touch with your inner man again. It will probably be less time than you expected before you're ready to get back in the game and clean yourself up again, so if you've been itching to do any of these things, now is the time.
There are probably a lot of negatives in your life right now, so it's very important to try to arm yourself with as many positives as possible. One of the best things you can do is to take on a new hobby. Learn an instrument, start upgrading your car, learn a new language. The options are limitless, but the important thing is that you'll have something positive to distract yourself that will also turn into a fantastic pursuit for years to come.
Diving into a hobby won't just prove to be a great distraction, though; it will also give you a chance to potentially meet new people or at the very least give you something interesting to talk about when you do. Interesting hobbies, much like habits, take time to develop. We're guessing that when you were married, you didn't have a lot of time to start in the first place, so don't forget that you do now.
This post was written by Jonno Hill for AskMen.
Related