Quick and easy dinner recipes are always in demand, and pasta is a natural fit for simple suppers ― especially if you're armed with an excellent entree-worthy recipe involving only a few ingredients.
To prove that flavor and simplicity aren't mutually exclusive, we asked six pro chefs from across the country to submit their favorite six-ingredient pasta recipes. Buon appetito!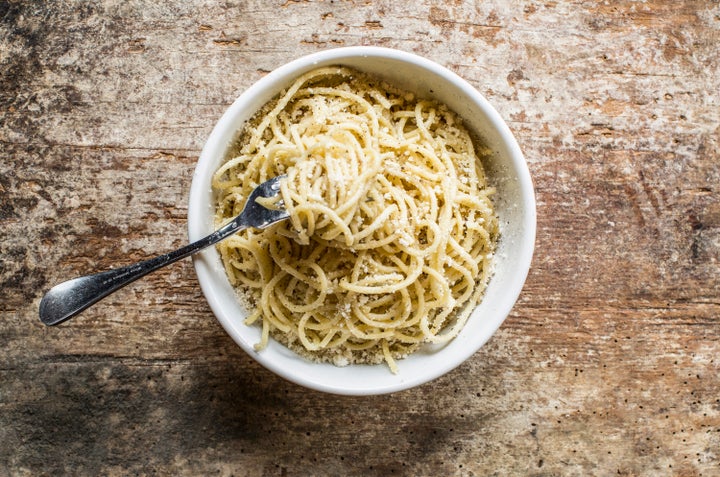 Spaghetti Cacio E Pepe
A classic Roman dish beloved for its bold flavor profile and minimalist ingredient list, cacio e pepe literally translates to "cheese and pepper," which are the dish's primary players. Chef Ryan Pera of Houston's Coltivare counts his Spaghetti Cacio e Pepe among the restaurant's most popular dishes, and he puts his own mark on the traditional recipe by swapping out standard black peppercorns for Tellicherry peppercorns, which have complex spice notes and a slight hint of sweetness.
12 ounces (or about 350 grams) dried spaghetti (Pera recommends De Cecco)

1/4 cup coarsely ground Tellicherry peppercorns

4 tablespoons butter

8 ounces (about 2½ cups) finely grated Parmigiano-Reggiano cheese

2 tablespoons olive oil

Salt, to taste
In a large Dutch oven, bring 2 quarts of salted water to a boil (using as little boiling water as possible will give a thick, starchy liquid that will enhance and bind the sauce).

Once the water is boiling, drop in pasta and give one initial stir after pasta is submerged.

While pasta is cooking, set a large sauté pan over medium heat and add ground peppercorns. Toast until fragrant, then add butter. Let butter melt and bubble with pepper, adjusting the flame so that butter is bubbling right when pasta hits al dente.

When pasta is al dente (consult package for cooking time), remove from water with tongs and drop into sauté pan. Ladle another 2 ounces pasta water into sauté pan and stir with tongs.

Add cheese and olive oil, stirring vigorously until a silky sauce forms from the butter, starch water and cheese. Taste for salt and add if necessary.

Divide into 2 warmed bowls and serve immediately.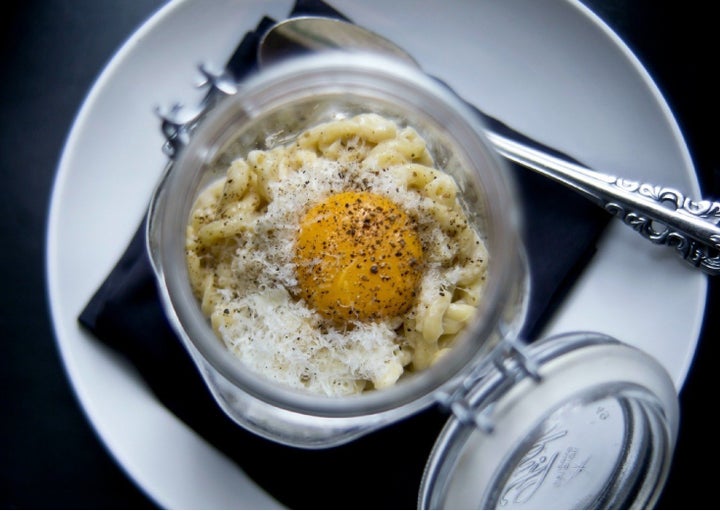 Carbonara In A Jar
If you're looking for a hearty pasta dish that can easily double as brunch fare, carbonara will do you right. Like cacio e pepe, pasta carbonara hails from Rome, and it involves a rich sauce made from egg, cheese and pancetta (cured pork belly, which is like a less-smoky bacon). At Chicago's Siena Tavern, "Top Chef" alum Fabio Viviani serves his carbonara with a very millennial twist: It's layered in a Mason jar and shaken.
1 cup diced pancetta

3 cups heavy cream

2 cups fresh spinach

2 cups grated Pecorino

4 egg yolks

1 pound dried pasta of choice (Viviano recommends gemelli, penne, rigatoni or orecchiette)
Bring a pot of water to a boil. Season with salt and cook pasta until 2 minutes before the manufacturer's specifications. Make sure it is al dente; the pasta will cook longer in the sauce.

Meanwhile, in a large sauce pot over medium-high heat, start browning the pancetta with a little bit of butter until all the fat has been released and the bacon is starting to brown and get crispy.

Deglaze the pan with the heavy cream and reduce until it starts to coat the back of a spoon, then add 1/2 cup of Pecorino.

Once the sauce starts to get thick, add the spinach and toss through to wilt.

Add 1 cup of Pecorino and cook until thick. At this point, adjust seasoning with salt and pepper if needed.

Divide the sauce into 4 Mason jars, reserving just a little bit to toss with the pasta.

Add pasta to the pot and lightly coat.

Divide the pasta among the 4 jars.

Top each jar with remaining grated Pecorino, making a nest.

Place the egg yolk into the Pecorino nest and grate fresh black peppercorn on top.

Vigorously shake the Mason jar, making sure the pasta is mixed really well.

Carefully take the top off the Mason jar and pour onto the plate.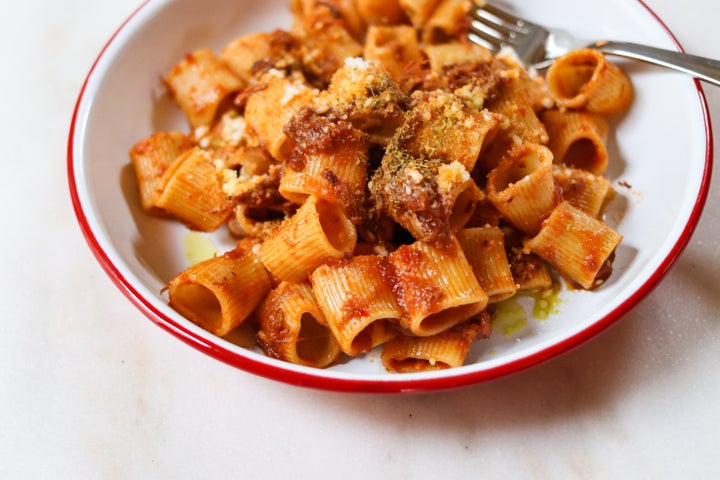 Rigatoni Alla Campidanese
OK, so this recipe has seven ingredients, not six. But it's worth it. Italian meat sauces have a reputation for being labor-intensive culinary endeavors, but it's actually entirely possible to make a hearty ragù with a very short shopping list. Chef Tim Meyers of Bocce USQ in New York City presents a slow-cooked Sunday sauce perfect for those first crisp autumn evenings.
1 pound pork shoulder, cut into 1-inch cubes

8 ounces canned tomatoes

3 ounces dry white wine

8 ounces chicken stock

1 gram saffron

2 ounces Calabrian chiles in oil

2 pounds dried rigatoni
Lay the pork out on a paper towel, dab it dry on all sides, then sprinkle it with kosher salt and black pepper.

Add the saffron to the white wine to allow the color and flavor to infuse the wine.

Get a large sauté pan very hot, with just a thin layer of olive oil. Carefully place the pork in the hot pan to sear. You may need to do two rounds of searing because you want to make sure one piece of pork isn't touching another piece in the pan: they'll get a better golden brown color this way.

When all the pork is seared, transfer it to a stockpot or large saucepan. Add a little chicken stock to the sauté pan you used to sear the pork. This will deglaze the pan, making your cooking liquid that much more flavorful.

Add all the chicken stock to the pot with the pork, and add the tomatoes and white wine/saffron mixture as well.

Set the pot on medium-high heat to bring the liquid to a simmer, then cover the pot and lower the heat to maintain a low simmer. Continue to cook for 3 to 4 hours.

When the pork is done, you should be able to easily smash it against the inside of the pot with a wooden spoon or fork.

Remove the finished product from the heat of the stove and allow it to cool to room temperature. Once it's cool, use your fingers to break up the chunks of pork into smaller strands, then stir in the Calabrian chiles.

When you're ready to eat, cook 2 pounds of rigatoni in salted boiling water, then strain and toss with the pork ragù until the ragù is hot and covers every noodle.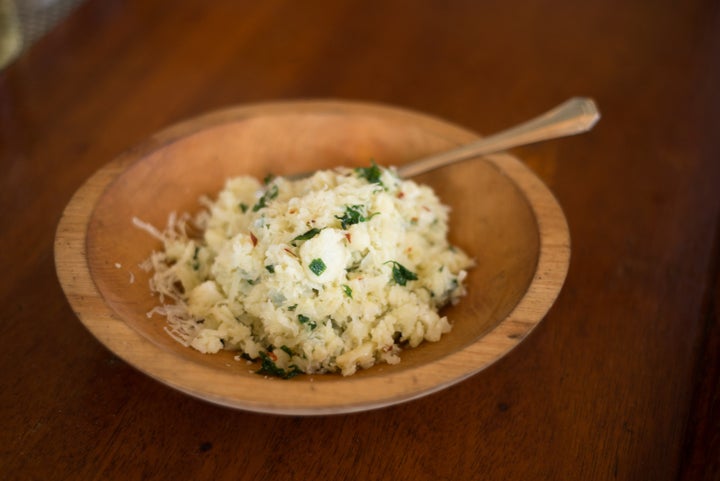 Cauliflower "Risotto"
Cauliflower's having a big moment in the food scene these days, and for good reason: It's an incredibly versatile ingredient, and imaginative chefs can get a lot of mileage out of this once-forgotten veggie. Chef Brandon Boudet of chic Los Angeles Italian eatery Little Dom's likes to swap cauliflower out for arborio rice to make a tasty and keto-friendly spin on classic risotto.
1 head cauliflower

4 green onions, finely chopped

3 ounces butter

2 ounces olive oil

4 ounces grated Parmigiano-Reggiano

Salt and crushed red pepper to taste
Grate the cauliflower using the large holes on a box grater or the shredder on a food processor.

Sauté green onions, crushed red pepper, and salt with olive oil and butter. Do not brown.

Add cauliflower and continue to sauté, stirring constantly. Again, do not brown. Add a few tablespoons of water and continue cooking until cauliflower is just tender.

Finish by folding in grated Parmigiano-Reggiano.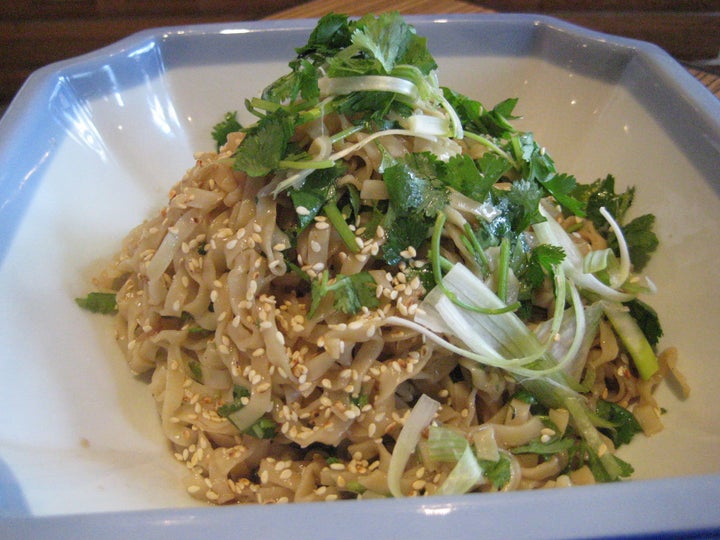 5-Minute Cold Sesame Noodles
Italian chefs don't have a monopoly on simple and satisfying pasta dishes. Chef Kathy Fang of Fang Restaurant in San Francisco can whip up this dish of cold sesame noodles in 5 minutes flat, which sounds like the perfect amount of time for a just-got-home-from-work-and-I'm-exhausted dinner situation.
1½ cups fresh pasta or Chinese wheat noodles

2 tablespoons balsamic vinegar

3 tablespoons brown sugar

3 tablespoons light soy sauce or 2 tablespoon Braggs liquid aminos

5 tablespoons sesame oil

1 tablespoon sesame paste (can substitute tahini or peanut butter)
Cook noodles to al dente, then run them under cold water to chill the noodles.

Toss chilled noodles with a bit of sesame oil to prevent them from sticking. Place in fridge.

To make the dressing, combine vinegar, brown sugar, soy sauce and sesame paste, then slowly whisk in the sesame oil.

Toss noodles in dressing.

Optional: Garnish with sesame seeds, scallions or cilantro.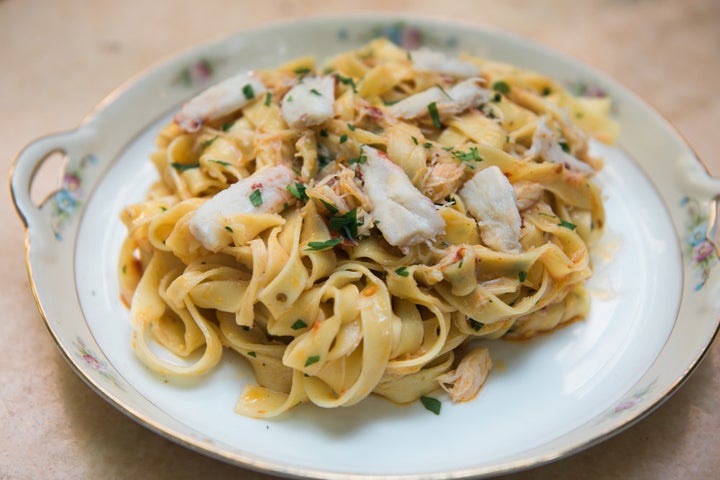 Spicy Crabmeat Tagliatelle
As the chef de cuisine of celebrated Brooklyn raw bar and cocktail lounge Maison Premiere, Jacob Clark brings a bit of NOLA flair to NYC, infusing the menu with Cajun ingredients and flavor profiles. He even applies this strategy to pasta dishes, like this bold tagliatelle starring crabmeat.
6 ounces fresh tagliatelle

1 pound freshly picked Jonah crabmeat

3 cloves of garlic, thinly sliced

1 tablespoon Calabrian chile paste

3 tablespoons finely chopped fresh parsley

Extra virgin olive oil
Bring a pot of salted water to a boil. Drop the pasta and cook for about 3 to 5 minutes. Once pasta is cooked, drain and reserve some of the pasta water.

In a sauté pan on low heat, sweat the garlic but don't allow it to color. Add the crabmeat and Calabrian chile paste and cook for an additional 3 to 5 minutes. Toss with pasta and parsley and then toss with a little salt and extra virgin olive oil.
CORRECTION: A previous version of this story misstated the first name of chef Jacob Clark as Jason.