Communicating at work should be as simple as pulling up a chair, anywhere. Knowledge workers carry the essential communication tools with them: cellphones, laptops and their inquisitive minds.
In their daily lives outside of work, video, instant messaging and consumer cloud apps help today's people share information with friends and family. Teams now want to apply similar tools to be more productive at work. Knowledge workers who bring their own mobile devices to work can be more effective and save the company hardware expenses--but only if their office messages, files and contacts stay in sync, and their valuable data is safe within the network.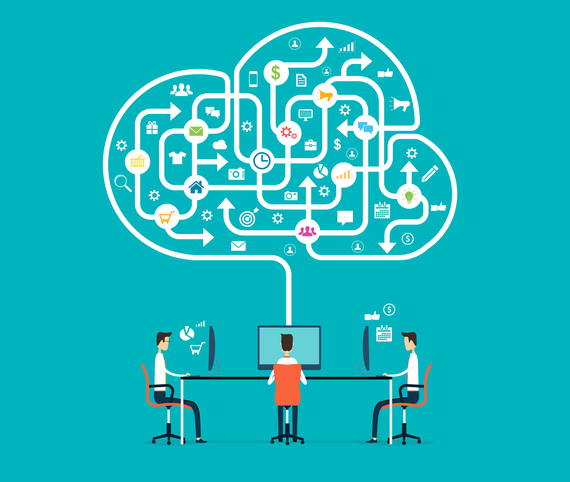 While small- and medium-sized businesses' (SMB's) telecommunications networks have become more proficient at serving more devices and connecting them to the cloud, they may not be able to offer the effective bandwidth increase, speed and security required.
For next-generation telecommunications providers, the new Unified Communications (UC) solutions will be as transformative as Voice over Internet Protocol (VoIP) was a decade ago. Now, Unified Communications as a Service, or UCaaS, makes telecom the backbone for real-time video conferencing, screen sharing presence and instant messaging.
SMB's use online collaboration services to relay messages clearly and move discussion along without buffering or other video streaming quality issues. A capable network brings a far-flung team together regardless of geographical boundaries and keeps them engaged in solving business problems instead of fixing conference-line glitches. They can contribute to a meeting on the way to the office, and enter a virtual conference room ready to share slides, various document types, graphics, charts and much more.

Making the case: Lower costs with UCaaS
The current business climate makes upgrading a communications network particularly challenging. Gartner this year forecasts flat IT spending worldwide--and that's actually an improvement on early estimates. For that reason, IT managers turn to economical UCaaS solutions.
These hosted UC services make full use of cloud capabilities to extend communication resources. They share six major advantages:

1. No upfront expenses. UCaaS shifts a business's cost of designing solutions in an increasing complex space to an experienced service provider. Leased phones and equipment allow companies to adopt new technologies and set up shop in new locations without worrying about features becoming outdated.
2. Reduced operating costs. Shared data centers deliver PBX service more efficiently than onsite infrastructure. The company does not have to find rack space, pay energy bills or configure and manage connections.
3. Smart use of staff resources: Manpower's annual Talent Shortage survey confirms that engineers and technicians are among the hardest jobs to fill. Managed services has hard-to-recruit IT staff on hand and ready to devote to mission-critical initiatives.
4. Scalable provisioning: Companies can start small, deploy and move resources where they're needed, pull back once a project wraps up or add features as needs change.
5. Enhanced security. As cloud-based services, service providers have stringent measures in place to monitor networks for known threats and potential vulnerabilities. At Call One, our UCaaS services are securely hosted in the cloud and updated against the latest security threats giving the SMB customers piece of mind.
6. Pay as you go: Businesses get predictable flat-fee pricing for only the features they use, with a consolidated bill that simplifies accounting.
Making the choice: UCaaS prepares for the future
The business case for UCaaS is growing more urgent. IDC predicts that by 2020 nearly three-quarters of the U.S. workforce will use mobile technology. Companies that make provisions for telecommuting save money that they can devote to other resources, reduce their office space needs and give their employees the ability to work remotely and be closer to their clients.
Communication needs will grow quickly as companies adopt voice controls, beacons and sensors in the Internet of Things. Converged networks will allow workers to cover more ground with fewer onsite visits. As the number of remote connected sites expands, the ability to collaborate will become a more pressing need for UCaaS.
UCaaS holds an especially strong value proposition for small and midsize businesses, according to Gartner research. The pace of cloud innovation and the lack of internal expertise put onsite solutions at a real disadvantage.
As a result, customer service and support are, and will continue to be, key factors in choosing a hosted UCaaS solution. A UCaaS partner should have a track record of working with new technologies, deploying solutions quickly and easily, responding to security threats and demonstrating their return on investment.
The ways we communicate have rapidly changed in the past decade. VoIP and cloud systems are not the last steps in their evolution. Unified Communications offers a framework that will help business deliver on the promise of a more collaborative and productive workplace.
Popular in the Community