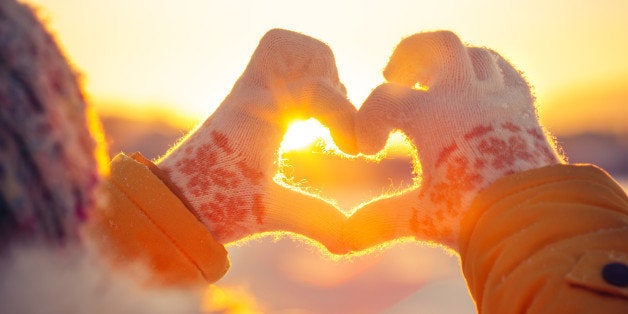 I can unequivocally say that every love story is different. Each has its own twists and turns that represents all the defining moments of a couple's relationship. Even in the days of online dating where you might imagine that "how we met" stories stack up similarly, there are nuances to every circumstance that makes it wildly different than the last.
But there are some similarities too. Not in the specific details, but when you look close enough, you can see themes that shine through to be the rule rather than the exception. The commonalities aren't trivial either. They show that love is a combination of selflessness, hard work, conscientiousness, consideration, thoughtfulness and appreciation.
1. The first "I love you" comes out during a disagreement
You might think that the first "I love you" is said in a romantic setting, but it actually happens quite a bit during an argument.
It's nerve-racking to say those three little words for the very first time. Will he reciprocate? What if she doesn't feel the same way? All these questions swirl around in her head along with the unrelenting desire to express her love for her partner and when emotions are highest, like during an argument, those sweet words just pour out.
2. The good guy wins (really!)
There's a common saying that nice guys finish last. Not so. In every love story I've written, the woman chose to be with the man who was a genuine good guy, meaning he supported and cherished her and proved that he was committed to her even when times got tough.
3. Obstacles are telltale signs
Getting through a hard time is usually a depiction of how well a couple works together and thus is a catalyst to knowing he or she is "the one." It doesn't have to be a huge obstacle either, just something that shows the couple works well as a team.
For example, in a recent love story I wrote, the couple had a flight to catch for an event the next day. When they arrived at the airport, they found out their flight was cancelled due to bad weather. The guy said to me that it was because he and his girlfriend (now wife) were able to solve the problem easily and without any extra stress that he could see a future with her.
4. Men take proposals very very seriously
If you think that most men just walk into the jewelry shop one weekend and the next, they're proposing, you're sorely mistaken. Men spend months planning the perfect way to pop the big question. They not only want to meet their significant other's expectations, but exceed them.
A perfect proposal starts with the perfect ring. He may consult with many people before buying the engagement ring just to make sure it's absolutely something his girlfriend will be proud to wear. Then, he'll start thinking about the actual proposal and all the pieces he needs to put in place before he's ready to get down on one knee.
5. The proposal rarely occurs on a random date
While he's planning, he's also thinking about when to propose. Most guys don't just choose any old date. They think of a date that has meaning. That could be their anniversary date. Or the first time they met. Whatever he chooses, he's thought about why it makes the perfect date to ask for his lover's hand in marriage.
6. It's not an immediate "Yes!" after he proposes
The "yes" eventually comes, but first her reaction is of complete surprise, shock and disbelief, which is expressed like this: "Are you serious?" or "Is this really happening?!" or "Oh my gosh!"
This Valentine's Day, chat with your lover about your love story and see if yours follows any of these patterns. Not only will you reminisce about some really great times, you'll fall in love all over again as you relive memories that may have been tucked away for a while.