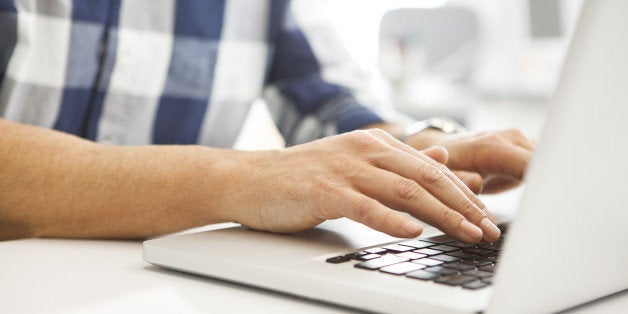 When I was first taking the steps to turn my blog into an online business, I was trying everything. Facebook Ads, guest posting, being on every platform; you name it, I did it!
Only problem was, doing everything to build my business quickly wore me out. Not only that, but I didn't know what was really working. Sure, I saw some growth--but at the expense of my sanity!

I literally tried everything and only saw about a $100/month return on my endeavors.
I felt like a failed dreamer--an optimist who tried and crashed, with nothing to show for it.
I was about to give up on the whole online business thing. I was an inch away from quitting everything. But then, I took notice of what my friends were doing to grow their profitable online businesses.
We had similar business models, and yet, they were 10x more successful. So I closely studied everything they did and discovered: unlike me, they weren't trying everything.
When it came to building a profitable online business, they were only focused on the essentials.
It was then that I changed my entire perspective on business. I shifted everything about my mindset and reapproached my business with a new lens. Here's the mindset shift that occurred:

I used to view online business as a hit or miss game of luck. Now I see it as a disciplined pursuit of what works.
If you read the title of this article, you're probably wondering what all this has to do with minimalism. Well, minimalism is all about the intentional promotion of what matters and a clearing away of distractions. When I took this minimalist understanding and applied it to business.
My blog became profitable when I cleared out the excess of what wasn't working in exchange for pursuing what actually mattered.
In other words, adopting a minimalist mindset for my blog turned my blog into a business.
You're probably reading this because you, like me, have tried everything and are still closer to making a $100/month. Or, you're probably reading this because you're overwhelmed about how to grow your blog into a business that can sustain your livelihood.
Turning your blog into an online business doesn't have to be a game of hit or miss. You can prioritize what works to grow your business quickly.
If you're wondering how you can do this, tune in. I'm going to show you the minimalist, 7-step path, to building a profitable blog from scratch.
But before we begin, you can follow along in a brief email course I created called the "Blog to Business Jumpstart Course."
In this quick guide, I'll go through everything from research to launching your first product.
If you follow this minimalist path, you won't approach your blog as a game of luck. Instead, it'll become your full-time business.
Stop trying everything and pursue this minimalist path to business instead:
1. Before you begin, know whom you're serving.
The opposite of a minimalist mindset entertains everything. They invite distraction into their work, and as a result, don't build a focused audience.
As a minimalist blogger, your first action will be to focus. Before you spend time on anything, you will know whom you're serving and how you're helping them.
You're not going to start a blog about puppies, Netflix shows, and pirates. You're going to choose one topic that hits hard with a targeted, specific audience.
Choose one passion of yours.
Find 10 people you know who are also passionate about this.
Ask them what they struggle with when it comes to this passion.
Write blogs based on their answers.
2. Build a clear, uncluttered design.
Now, when you're ready to build your blog, you want to make sure you don't have a distracting design. Many first-time bloggers think they need a sidebar that's filled with ads and 20 blog posts that are all on their homepage. But really, what you need to do is guide people to take action in the clearest and simplest way possible.
This means, you don't need a distracting design.
When choosing your design, take a hard look at what's absolutely essential for your goal, and structure everything from there.
For instance, my website doesn't have a sidebar. This is because I don't believe it's necessary to distract my audience with a sidebar. I want my audience to stay engrossed in my content, not be distracted by what's in my sidebar.
I did this after an experiment I did last year on another website where I tested how much my conversions would increase by simply getting rid of the sidebar. The result? A 5x increase in conversions (email list subscribers).
Don't be afraid of white space in your web design. Instead, optimize your website so that users will easily be able to find the action you want them to take.
Check out the WordPress themes on Studiopress--my favorite place for minimalist website designs (like mine!).
Make sure your call to action--which should be signing up for your email list--is easily visible. For instance, mine is the first thing you see when you arrive on my website.
3. Make every blog post worth it.
Next, you'll be writing your blog posts. But when writing your blog posts, the last thing you need to do is write tiny 200-word blog posts that don't add any value to your readers.
Believe it or not, but minimalism isn't about writing as little words as possible. It's about promoting value. This means, you can decrease the number of articles you come out with (I do 1 per week), but have each article be epic and insanely valuable.
It's always better to have a handful of quality articles than a plethora of articles worth nothing.
Make every article worth something!
Write articles that are at least 1,000 words in length.
Put content upgrades in your articles. Content upgrades are post-specific incentives that you give for free in exchange for an email address. Have a content upgrade for every blog post you put out. This will ensure your list grows with every article you write.
Give people something actionable to implement in every blog post.
4. Don't be on every social media platform.
When it comes to promoting, many bloggers believe they need to be on every social media platform. They spread themselves thin being on Twitter, Facebook, Pinterest, Periscope, etc. etc.
But the minimalist approach to business tells you that you don't have to be everywhere to be effective.
Again, minimalism is about pursuing what works, not spreading yourself thin. So here's my advice: choose Facebook plus one other platform to market your business.
I say Facebook because everyone's on Facebook. This is not to say that you won't be effective if you don't have a Facebook account. I just suggest it because you can literally do everything--from live video to groups--on Facebook.
But then, only choose one other platform outside of Facebook. To do this, you have to know where your target resides. If you have a cooking blog, you belong on Pinterest. If you want to do a coaching business, Periscope is probably your best bet. Know the strengths of each platform and choose the one that's best. This will allow you to build a great following on the platform where most of your audience is instead of burning out trying to be on every platform.
Set up your Facebook page on Facebook and invite your friends and family to like it.
Research which platform will be best for your business.
Use scheduling tools like Buffer or Hootsuite to grow your engagement on the platform of your choice.
Show up on the platform of choice every day.
5. Only create what you know will sell.
After writing blog posts, promoting on your platforms, and growing your list for some time, now it's time to monetize and create a product. But the thing is, you shouldn't waste your time on a product that won't sell.
I did this before. Before I adopted a minimalist, essential mindset to business, I just came up with a random product and tried selling it to my audience. It didn't go so well.
Minimalism helps you focus and not waste time on what doesn't matter.
So if you're a minimalist blogger, you won't spend an excruciating amount of time on a product that won't sell. Instead, you'll validate your product.
Build a preview version of the product. Could be first chapter of a book, first module of a course, etc. etc.
Presell the product idea. Ask for people to pay a discounted amount for the product upfront, before you create the rest of it. If people buy, give them the preview of the product, and consult with them as you create the rest of it.
If you reach your goal of presales, then move forward with creating your product.
6. Launch with one strategy first.
When you're finally ready to launch your awesome product to the world, don't go in without a plan. I've seen entrepreneurs with a chaotic launch plan because they're trying everything to launch their product.
Again, you don't want to try everything. The minimalist approach to business is a disciplined pursuit of what works, which means, you're going to launch with one awesome strategy.
Come up with a clear, repeatable process for your launch, and focus on that. Don't burden yourself with three different marketing strategies. Focus on one.
For instance, you could do a three-part video series to launch your product, and go all in with that. Or you could do an email sequence to sell your product. Or you could really focus on webinars for your launch.
The only thing is, when you're launching your product for the first time, don't try to do all of these at once. Perfect one strategy before you try others.
Know what process will work best for you first. If you're not good at webinars, don't choose that. But if you're an excellent copywriter, perfect your email sequence and go all in with that.
You could balance multiple launch strategies later, when you launch your product again. This will allow you to automate your past strategies so you can add another one to the mix. For instance, you can automate your email sequence so you can go all in with a webinar strategy.
This is the minimalist approach to profitable blogging.
Again, it doesn't try to do everything. It sticks to the essentials.
Now, I'm not sure why you stuck with me for this long. It might be because you're tired of trying everything to monetize your blog. Or it might be because you don't know what the simplest path to profit is.
Whatever the case may be, I want you to understand that you don't have to try everything to be profitable with your blog. All you have to do is focus on the essentials.
If you're struggling to find what the essentials to monetizing your blog is, then I encourage you to sign up for my free 5-day email course that's all about turning your blog into an online business in a simple and fast way.
This free email course will give you the simple tools and knowledge you need to monetize your blog fast.
To sign up for the free course, click the link below.
REAL LIFE. REAL NEWS. REAL VOICES.
Help us tell more of the stories that matter from voices that too often remain unheard.