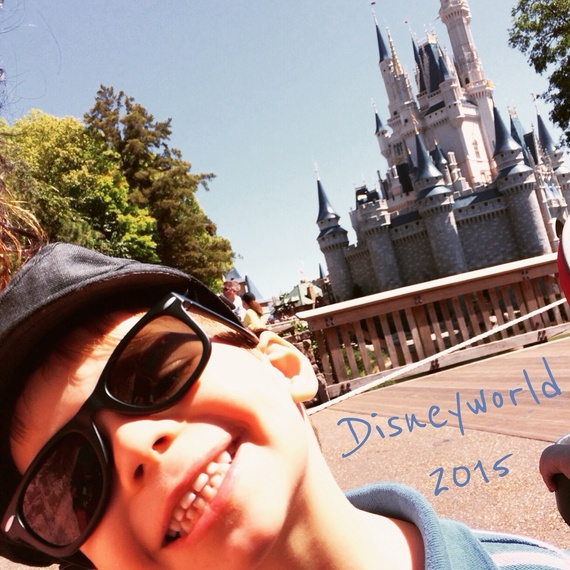 The bottoms of your feet are blistered -- from walking 7-10 miles every day. Your joints are aching -- because you've only sat for five minutes every hour. In addition to physical exhaustion, you've been pushed past your emotional breaking point: on an hourly basis, you witness at least half a dozen meltdowns all around you, but manage to press on, past the screaming and/or tears of strangers, and despite the pain. It's a battlefield out there. You're focused on pushing back that one nagging, silent question that keeps clasping onto you..."was is worth it?"
Why? Because you paid $324.83 for a park hopper pass at Disneyworld and have given yourself one and one task only to accomplish: make memories or die trying.
Here are the memories/rides/encounters that my 3-year-old son and I found extra special on our most recent trip to Disneyworld that should not be missed on your next trip.
From the security guards that check your bag before you even enter the Disney gates to the dancers in the streets, everyone who works at Disney is friendly. Like, eerily friendly. In a way that makes you question the sanity of the person standing in front of you.
My ordinarily outgoing son immediately sensed this environmental oddity and transitioned to an even more gregarious version of himself during our Disney trip -- talking to every person in a costume that would bend an ear to him. Which, as it turned out, was everyone. What became even more amusing to me is that the unsuspecting cast had no idea what they were getting themselves into with my son, who would easily converse for 10 minutes just as an icebreaker before getting into hard-hitting questions like, "I tried to get into the castle, but it was locked. Do you know who locked it?" And his favorite: "Can you take me over there and get me in?" Not only is the endurance of the Disney cast incredible, but their steadfast and detailed backstories are equally impressive. My 3 year old had a lengthy conversation with one of the street dancers who told us all about her apartment on Main street, making her dresses, and shopping for drygoods on Sundays.
2. Drive Down Main Street in a Turn-of-the-Century Fire Truck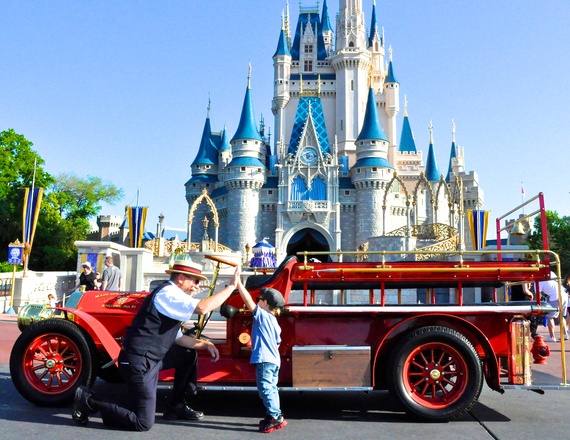 If you follow #1 above, it may lead to some unexpected insider Disney info or an equally unexpected adventure. That's what happened to us when my son struck up a conversation with the fire truck driver, who offered to take us on a ride down Main street to Cinderella's castle. Watching my ecstatic son ring the bell on the back of the truck all the way to the castle while waving to passers-by was beyond exhilarating--for both of us.
Pick up the fire truck, a horse-drawn street car, a Jitney, or an Omnibus for a ride at the Town Square and in the Plaza in front of Cinderella's Castle.
3. Planes, Trains, Boats, Buses, Monorails... and Safari Off-Road Vehicles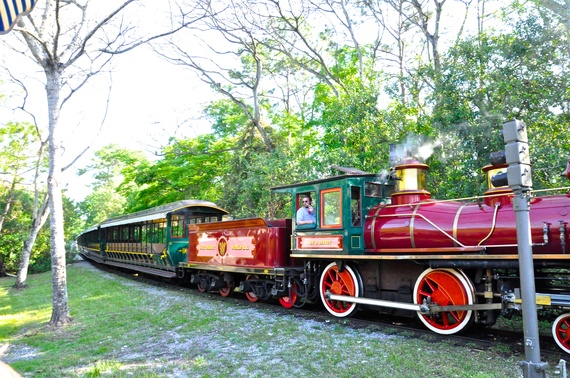 Many of the Disney rides can be scary for 3 year olds, but we found that the rides my son enjoyed the most were not necessarily rides, but means of transportation. The ferry boat from the hotel, the Monorail at Magic Kingdom, the train at Animal Kingdom, and the Off-Road Safari Truck on the Kilimanjaro Safari were some of his favorites. They were also some of mine -- I just wished the respite lasted longer--providing time off our feet to refresh and, at times, for my son to get a short nap in before heading back to the fray.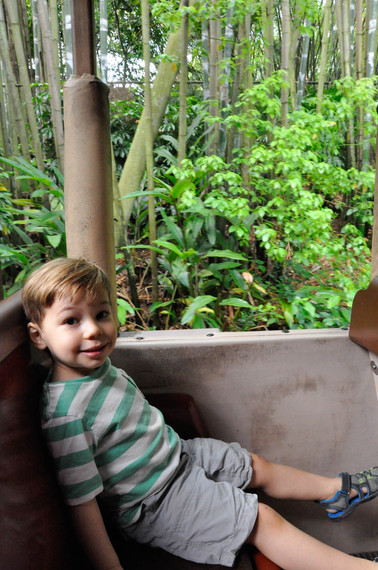 While Animal Kingdom is not nearly as exciting as Magic Kingdom, it had a few fabulous features, including the Kilimanjaro Safari where we witnessed a giraffe running after a pick-up truck full of food and the Tree of Life with 300 animals carved into its trunk standing at 145 feet tall.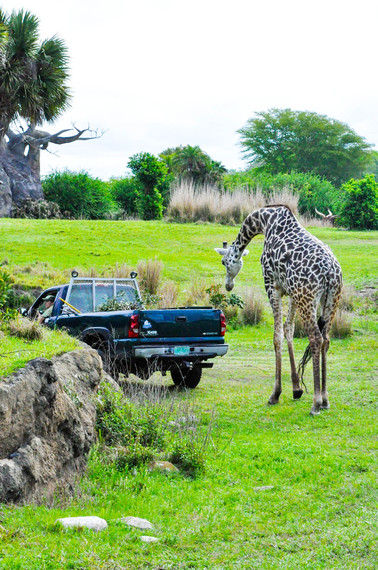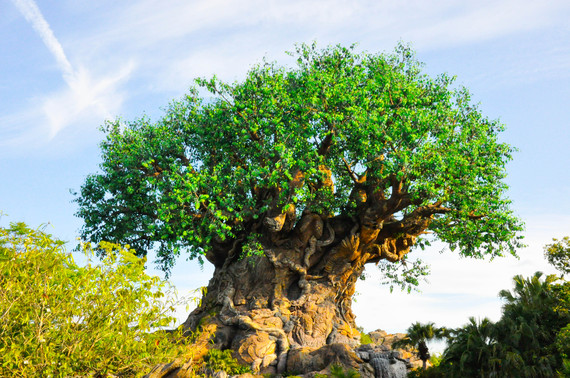 4. Buy Into the Disney Hype, Literally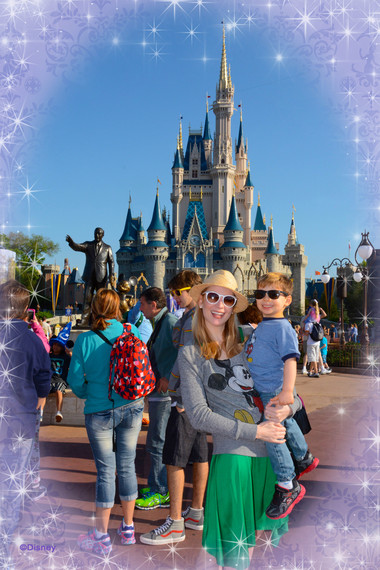 My husband and I went to EuroDisney a few years ago and were shocked to find that there were no Frozen balloons, no glass thimbles etched with Cinderella's castle, no Donald Duck baby onesies. It may be that Europeans just don't have the extra space and/or accompanying desire to buy branded paraphernalia everywhere they go to prove they went there and then hoard it in their big houses. But luckily, this is America and as Americans, we are obligated to buy as much of that crap as we can hoard, which I would heartily encourage. As many times as I told my son, "We don't need that... We don't need that...", it was meaningful for us to bring home a few choice Disney designer items to remember our trip by, which -- I told myself -- can only be purchased at Disneyworld.
In addition, don't be afraid to embrace the unknown at Disney: lean into the excitement, the mushiness, the stereotypes, and the hype. Cut the restraints, letting go of who you think you are, and jump directly onto the bandwagon, destination Disney, at least while you're there. Speaking of bandwagons, how adorable is this?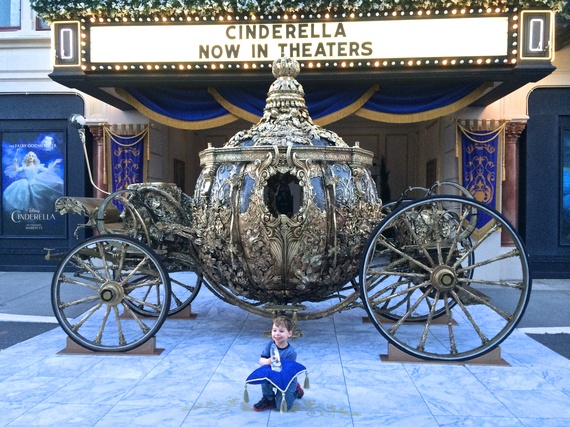 5. Meet Privately with the Mouse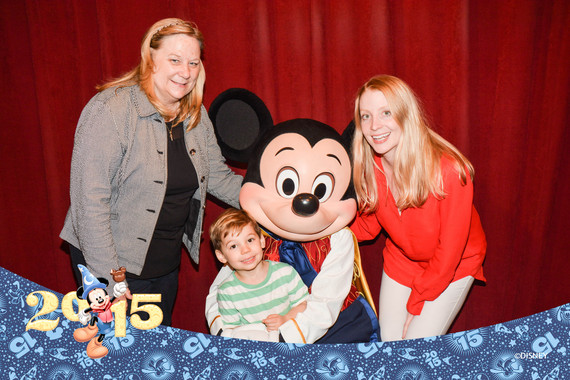 One of the highlights of the trip for us was meeting Mickey Mouse on Main Street in the Town Square Theater. A fastpass is available for this and, after a wait in line at the theater, you are ushered into a private photo studio with only your party, Mickey Mouse himself, and a photographer to document the experience. Mickey is personable, engaging, and has a whole conversation with you via an animatronic mask that allows everything he says to be in Mickey's actual voice. My son asked Mickey where Minnie was (he is far more interested in Minnie than Mickey and, on another note, opted for a Frozen princess balloon instead of one of the more masculine options, which I just could not talk him out of) and why Mickey's shoes were so big. I was mesmerized by the entire experience.
6. Have an Expresso (or Five) and Watch the Fireworks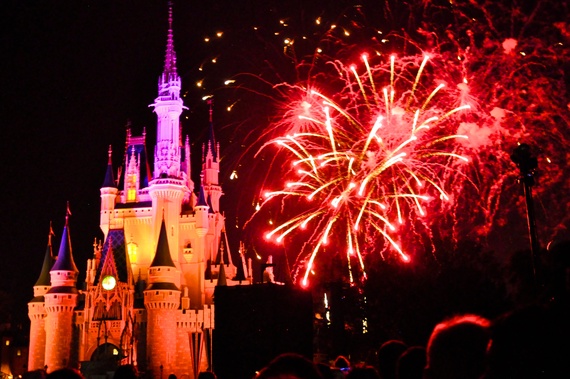 Disneyworld has that Vegas-like quality of pushing the envelope continuously with what's bigger, better, and more elaborate. Every time you think you've seen something phenomenal, the ante is upped, and right around the corner is something even more breathtaking than before. This is a Disney attribute that, in my opinion, is unparalleled for most of us mere mortals. For that reason, no matter how tired you are, how many fights you've had, or how badly you want your Disney experience to, for God's sake, come to an end, stop at the Starbucks on Main Street, have a seat on the sidewalk, and partake in that night's parade/show/fireworks that will absolutely wow you. In particular, I thought the Fireworks at Epcot (IllumiNations: Reflections on Earth) was jaw-droppingly riveting and unlike anything I've witnessed before.
If you don't have it already, Disney fireworks will instill within you a core admiration for Mr. Walt Disney himself and a hearty respect for the vision that he set into motion and miraculously manifested into the Disneyworld we know today.
Want to see more of what I'm up to?
Follow me on Twitter here.
This post was previously published on www.jessicashaool.com.