12 clean milestones show our region is not only moving in the right direction, but often leading the way to disrupt dirty energy. In this two-part series, here are the second 6:
7. Surging Electric Car Sales and Charging Infrastructure
With a choice of over 25 electric cars available in 2014(!), these cool new wheels depend on places to plug in. Electric vehicle (EV) charging opportunities are popping up at residences, high rise apartments, parking lots, universities and so on. Even 6 solar canopy trees allow electric cars to drive on sunshine. Officially there are 264 charging locations in Illinois, excluding private stations. Since 2012, the Illinois Department of Commerce & Economic Opportunity has awarded rebates for approximately 450 residential and non-residential charging stations. The expansion of stations is welcome news, as Illinois ranks 12th in the number of EVs per capita. In case you are looking, Tesla opened its fourth and largest Chicagoland showroom in Highland Park this past December. A $7,500 federal tax credit and up to $4,000 Illinois rebate for EVs are other great incentives to ditch the gas pump.
8. Top Spots in Alternate Transit
Among cities across the nation, Chicago is currently ranked #6 for transit friendliness, #5 for bike-friendliness, and #6 for overall walkability. Beyond freeing up city traffic, each year Metra saves area travelers about 34.8 million gallons of gasoline -- the same amount of fuel consumed by more than 61,000 cars annually. Metra has 240 rail stations accessible to more than 8 million people in 100 communities. The mass transit fleet is also getting greener. The CTA currently operates more than 250 hybrid buses, which achieve 20 percent greater fuel efficiency than standard diesel buses. Even 72 percent of the city's taxi fleet are "green" vehicles, either gas-electric hybrid or alternative fuel vehicles.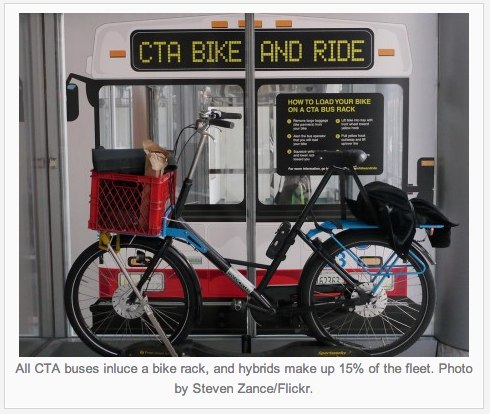 9. Sharing Economy Lovefest
Chicagoans are finding less need to own a car with plentiful bike and car share options. The Divvy bike sharing network has been wildly successful in Chicago. Since starting in June 2013, Divvy currently has 300 stations with 3,000 bikes, and another 175 new stations are planned for this next year. As of this month, more than 15,000 annual members and 146,000 day-pass holders have taken more than 950,000 trips and have collectively ridden two million miles. Popular part-time car sharing programs, including Zipcar and Enterprise CarShare (formerly I-GO), are continuing to expand reach as well. Zipcar now has 350 convenient locations throughout Chicagoland and offers a variety of fuel-efficient coupes, hybrids and carpool-friendly vans. It's estimated that each and every share-car takes 15 personally-owned vehicles off the road.
French fry grease, cow waste and algae include some local materials used in producing biofuel. Loyola's Institute for Environmental Sustainability is the first and only school operation licensed to sell biodiesel in the United States. The student-run biodiesel lab collects waste vegetable oil from oil from Loyola, Northwestern, DePaul, and other cafeterias and converts it into biodiesel used in campus shuttle service. Not too far away, trucks run on biofuel harvested from cow manure generated at the Fair Oaks Dairy farm in Indiana. This largest on-farm anaerobic-digestion-to-renewable-CNG project in the U.S. is owned and operated by Chicago-based New Frontier Holdings. In Peoria, Solazyme's algae biorefinery is producing algae-derived fuels. On a larger scale, the Midwest Aviation Sustainable Biofuels Initiative is a public-private collaboration working to develop alternatives to petroleum-based jet fuel and position the Midwest as a national leader in the advanced aviation biofuels market.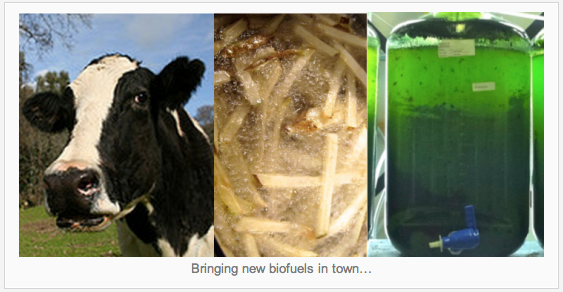 Local, sustainably grown food = less fossil fuel miles, less petrochemicals and more carbon sinks. Estimates have suggested that Illinois businesses only supply around 4 percent of our food, with most produce traveling an average of 1,500 miles to our plate. Thanks to an exploding food movement over the past 10 years, more food than ever is now being grown in backyards, rooftops, vacant lots and abandoned factories throughout Chicagoland. A slew of urban farms are following the footsteps of City Farm. Ag training programs, such as Windy City Harvest and the Prairie Crossing farm incubator, are grooming local organic farmers. With a broader supply of locally sourced fruits, vegetables, dairy, meat and artisanal foods now available, new food hubs, such Local Foods, are connecting farms and producers to wholesale markets. Consumers can consult with The Local Beet to find growing lists of CSAs, famers markets and local artisanal foods. Also, the Chicago Green Restaurant Coalition is helping the food service industry become more sustainable and locally sourced. Noticed the trend of locally roasted coffee, craft micro-breweries, and restaurant menus that identify local purveyors? Or visited Uncommon Ground's Devon restaurant with the nation's first organic certified rooftop farm? Food and farm entrepreneurs are feeding the growing demand. Working to improve the local food system for the past 10 years, Family Farmed, serves as a good food business accelerator and hosts the annual Good Food Festival, the oldest sustainable food trade show in America.
12. Tireless Environmental Defenders
We are lucky to have many dedicated folks in Illinois working hard to promote clean energy through state and national policy. Gratitude is due to elected officials, environmental groups, non-profits, businesses, trade groups and citizens that devote countless hours to make a low-carbon, clean energy a reality. This is no easy task. Keep in mind, super-funded Big Oil/Coal/Power is fighting to maintain the status quo.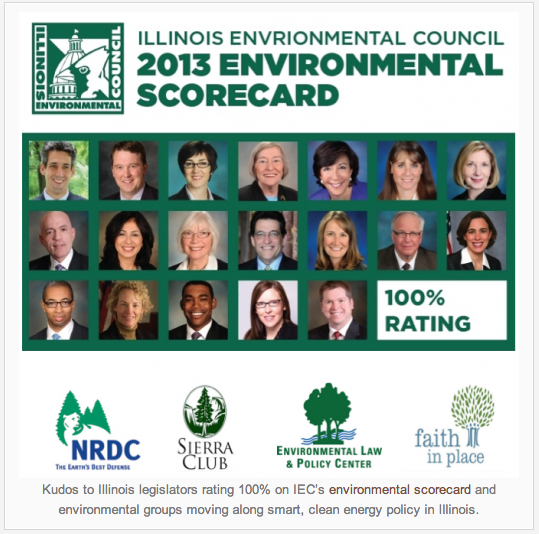 Let's build on our momentum!
While these 12 achievements are to be celebrated, a great deal of work lies ahead to scale up. We need to prioritize strong policies that spur clean energy growth to deliver vital economic and environmental benefits throughout the state. Critical items on the policy agenda include: fixing the Illinois Renewable Portfolio Standards to maximize the full potential of a 25 percent renewable power by 2025 goal; developing a robust statewide implementation plan to comply with forthcoming carbon pollution standards for existing power plants; and creating a permanent Production Tax Credit, so renewable energy investors will have the same business certainty that the fossil fuel industries have enjoyed for over a century. Let's tap the tremendous potential of clean energy in Illinois to meet the significant challenges we face with a changing climate.

Join a lively discussion How Clean Energy Can Drive the Illinois Economy on Monday, May 5, 5:30 - 7:30pm, at the Arts Club of Chicago, hosted by NRDC, the Clean Energy Trust and the Institute of Politics at the University of Chicago. Details here.

Also see 6 Ways Chicagoland is Greener & Cleaner Than You Think (Part I).
Calling all HuffPost superfans!
Sign up for membership to become a founding member and help shape HuffPost's next chapter