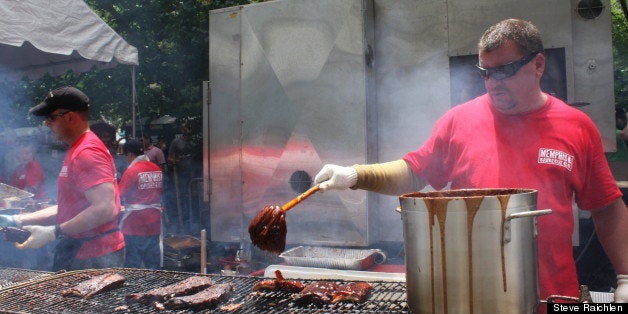 Tell me the kind of barbecue sauce YOU like, and I'll make a pretty accurate guess where you live. There are almost as many unique regional barbecue sauces that are as distinctive accents, y'all. Every aspiring pit master should be familiar with them. Or at least know how spill them strategically on his laminated map of the U.S. of A.
Kansas City, Missouri: This is where ketchup and brown sugar officially tied the knot. Sweet with molasses and sugar, edged with cider vinegar, and punctuated with a generous dose of liquid smoke, this popular style of sauce was one of the first barbecue sauces to be sold in stores. It has a flavor profile familiar to almost all Americans born after World War II -- people who have eaten ribs or chicken grilled in the backyard slathered with KC Masterpiece, the BBQ sauce created by Dr. Rich Davis. The child psychiatrist turned sauce mogul had a lifelong fascination with barbecue and he tinkered with the family sauce recipe for decades until his KC Masterpiece finally went on sale in 1977.
St. Louis, Missouri: Drive west of KC a few hours and you find yourself in St. Louis, home of fatty crosscut slabs of Boston butt revered locally as "pork steaks." The sauce de rigeur in these parts is an aromatic tomato-based sauce called "Maull's." The mere mention of Maull's is enough to tease anyone with St. Louis roots out of a crowd. Being a made-from-scratch kind of guy, I came up with a homemade version of Maull's -- fragrant with soy sauce, Worcestershire, garlic powder, orange zest, and Tabasco sauce.
Alabama: Visit Big Bob Gibson's in Decatur, Alabama, and you'll find a style of barbecue that's sui generis: smoked chicken with white barbecue sauce. Really. The sauce -- a piquant combination of mayonnaise, cider vinegar, and black pepper -- was invented by local railroad man-turned-pit master, Big Bob Gibson, so the legend goes, for a customer who hated tomatoes. Since 1925, Big Bob's has been the go-to-place for barbecue in Decatur, and today, his namesake restaurants (there are two) are run by Chris Lilly, husband of Big Bob's great granddaughter. I know the mayo thing sounds strange, but take my word for it, it's awesome.
Kentucky: Having just discussed "white" barbecue sauce, it seems only fair -- in a gesture of culinary chiaroscuro -- to mention western Kentucky's "black" barbecue sauce. Confined mostly to Owensboro, a city of 60,000 on the banks of the Ohio River, this distinctive sauce (locally called "dip") traditionally accompanies an equally distinctive local specialty: barbecued mutton. You read that right: Not lamb, but strong-flavored mutton. Made from Worcestershire sauce, lemon juice, melted butter, and allspice, Kentucky's black barbecue sauce has an amazing ability to tame the gamey taste of the mutton (it makes a fabulous sauce for milder lamb, too).
Memphis, Tennessee: Memphis knows its stuff when it comes to barbecue. The dry rub rib (charcoal grilled ribs mopped with vinegar sauce, then thickly crusted with spice rub) was invented here (at the Rendezvous), and the city hosts one of the world's biggest barbecue contests, The Memphis in May World Championship. Memphis-ites aren't shy about wet-fixing their pork either, swabbing ribs with vinegar-and-mustard based mop sauce, or pairing tomato-based barbecue sauce with smoked pork shoulder.
FIND MORE BBQ SAUCE RECIPES IN THESE BOOKS: