It's difficult to remember my life before Netflix, and frankly, I'd rather not. The era of all-day binge watching and having unlimited titles waiting patiently at our literal fingertips has completely revolutionized the way we consume media--but still, even the best things in life have some room for improvement.
Here are some tips, tricks, and "hacks" (for lack of a better word) that will improve your Netflix experience dramatically, all compatible with the current, revamped version of the site. You may never leave your house again.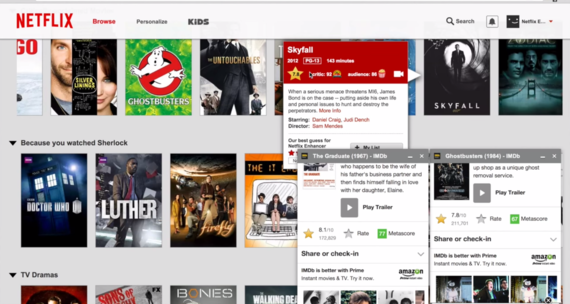 Credit: YouTube/Rajaramanbros
1. Add Rotten Tomatoes ratings, IMDb links, and trailers
If you want to instantly improve your binging, your first step should be downloading the Netflix Enhancement Suite, a smorgasbord of vital add-ons in one succinct (and free) package. From pop-up ratings off of Metacritic and Rotten Tomatoes (so you can separate the cream from the crap) to IMDb profiles, to trailers for basically every title, once you enhance, you'll wonder how you ever Netflixed without it.

2. Use an unblocker to get other countries' Netflix movies
Did you know other countries' Netflixes have movies and TV shows that aren't included on our U.S. version? What the hell, right?! Why should Argentina get Modern Family, when we're stuck streaming five seasons of Undercover Boss? Unblockers like Hola (for free) or the pay-for-play Media Hint trick the site into thinking you are in another country, granting you access to literally hundreds of new titles. Though Media Hint isn't free, it may be a better option than Hola, considering the unblocker has landed in some hot water recently over security issues. Unblock at your own risk.
3. Play Netflix Roulette
Do you ever wish Netflix had a "random" button, so you didn't spend the prime of your life skimming over 4,000 titles, only to settle on re-watching Parks & Recreation for the hundredth time? Flix Roulette is this miracle device, and much more: you can pick directors, actors, or even keywords (like sexy thrillers featuring a strong, bisexual lead) to help hone your searches. All-day Frank Stallone marathon, here I come.

4. Put an end to buffering
Buffering time is the scourge of bingers everywhere. How can one be expected to navigate Mad Men's dark themes and dramatic build-ups, if the climax is snarled by the horrors of excessive loading? There are some workarounds here, but they only work for watching on a computer: while playing a title, hold down Shift+Opt (Shift+Alt for Windows) and left click, to open up a "hidden" menu (called the Stream Manager) with buffering fixes and other streaming options. If you are using Chrome, press Ctrl+Shift+Alt/Opt+S to access this menu.
5. Watch Netflix at weird times for better video quality
One way to improve your video quality is streaming during off-peak hours (like early in the morning, late at night, etc.), according to a Digital Trends report. During the study, they found video quality and speed improved significantly during hours when less people were logged onto the site binging. Finally, a legit excuse to quit your job and stay home to watch some high quality Kimmy Schmidt.

6. Know all the computer shortcuts
These five keyboard shortcuts will make your binging more efficient, leaving you with even more time to scar yourself for life by watching Black Mirror:
- F will give you full screen; Esc will take you out of it
- PgDn pauses, PgUp will play
- The spacebar will also pause and play
- Shift + Right Arrow will fast forward; Shift + Left Arrow will rewind
- M should toggle your mute button, depending on your computer
More from Supercompressor: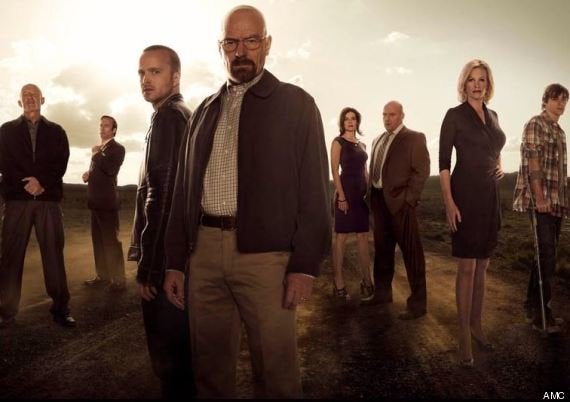 Best TV Shows To Binge-Watch
Related