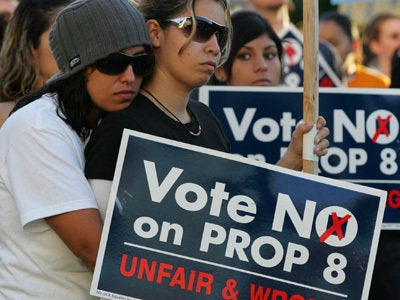 If you read this headline and you're automatically thinking, "Wait, what about California, you fool?! Don't you care about marriage equality?" Just hold that thought. I'll get to you in a second. Let's be clear: marriage equality in this country matters, and the demoralizing loss in California is significant, but that vote shouldn't overshadow the hard fought victories on 26, count them, 26 other right-wing initiatives. The win record for conservatives this year is paltry -right-wing backers won only 23% of what they conceptualized and supported, and they failed to qualify even all that was attempted.
This is an important point. If as progressives we're going to get out of our natural silo mentality, we must look at the big picture. The seventy thousand foot picture shows us this: conservatives went down, and down big. If they were looking to ballot measures to console themselves with, they found no comfort. Initiatives that attacked a woman's right to choose were rejected by voters in Colorado, South Dakota and California (now making their win record 3 to 25). Anti-government tax measures went down in Massachusetts, North Dakota and Oregon. Poor Grover Norquist is going to have to go back to the drawing board. Extreme efforts to weaken labor unions went down in defeat in Colorado, Oregon and South Dakota. In addition, voters in Ohio and Arizona defeated measures pushed by the greedy predatory lending industry that sought to roll back payday loan reforms in both states - even with the predatory lenders spending over $14 million alone in Ohio.
Progressives beat back right-wing efforts in Arizona, Colorado, Florida, Massachusetts, North Dakota, Ohio, Oregon, and South Dakota. Progressive-backed initiatives were approved by voters in Michigan, Missouri, Montana, Washington, and Wisconsin. Progressive policy solutions advanced at the ballot box included stem cell research and medical marijuana in Michigan, clean energy and home health care reform in Missouri, children's health care in Montana, health care reform (long term care) and a "Death with Dignity" initiative in Washington, and paid sick leave in Milwaukee, Wisconsin. As further evidence of voters' desire for their states to provide critical services and respond to the needs of its citizens, 14 out of 17 bond measures were approved dealing with a range of issues from veteran's benefits to supporting senior citizens, ensuring clean water, construction of health facilities and much more in Alaska, Arkansas, California, Maine, New Jersey, Minnesota, Ohio, Pennsylvania and Rhode Island.
These are important victories that show we can use ballot measures to give people rights and services, not just take them away.
So, as to marriage at the ballot box, there's both good news and bad news.
The bad news: California is the 29th ballot measure that we have lost on marriage. Prop 8 was narrowly approved by voters with spending on both sides of the aisle topping $70 million. Florida also approved a constitutional ban. Arizona, the first state to reject the attempt to discriminate against marriage and domestic partnerships in 2006, approved a more narrowly focused marriage measure this year with heavy spending by proponents. And what's the good news, you may be wondering?
The good news: California was not the "last stand" for marriage rights in America. Despite these defeats, 2008 proves that the "wedge" effect of these measures is dead. The political usefulness of gimmicky ballot initiative issues such as marriage inequality is an empty promise. Much of the evidence on the electoral effects of anti-gay marriage amendments does not support the claim that they boost turn-out and deliver elections for Republicans - California and Florida this year are further evidence of that.
Secondly, we are moving numbers on this issue, which means we are moving hearts and minds of voters! Let's not allow ourselves to diminish that fact. In California, voters approved Prop 8 by 52%, which is significantly closer than the marriage initiative vote of 2000 when 61% of voters approved a marriage ban. The intensity against marriage continues to wane on this issue, despite its passage. In 2004 voters constitutionally banned gay marriage in 13 states by an average of 70%. Two years later, the average passing rate fell by more than 15 percentage points to 54.5%. Nearly two-thirds of voters support some form of legal recognition for gay and lesbian couples, and seven of ten voters believe that civil unions will be permitted throughout the country within ten years, according to a post-election survey of 19,356 voters conducted by Zogby International in November 2006. The fight continues and I have my money on the side of equality.
If the defeat of the affirmative action ban in Colorado this year is any indication, we can, and have, fought for equality at the ballot box. It just may take us some time! The fight for equal opportunity for women and minorities took 12 years to achieve. Colorado is the first state, since Ward Connerly started this divisive agenda, to vote down rolling back equal opportunity. The lesson? Social movements don't happen overnight. Ward Connerly's campaign to outlaw equal opportunity programs lost in four of five states he attempted to pass his divisive initiatives (he originally wanted to sponsor 11 measures). Connerly's near $3 million campaign was plagued by charges of fraud and deception and, as a result, he made it on the ballot in only two of the five states - Colorado and Nebraska. He narrowly won in Nebraska, where a lawsuit over signature fraud is still pending. After Colorado's news, when asked how he planned to proceed now that the voters had rejected Amendment 46, Connerly said that he might curb his 12-year-long effort.
At the end of the day, progressives won important victories and beat back right wing backed initiatives all across the country in 2008. All in all, voters advanced progressive policies and rejected the right wing's tired agenda. And 2008 showed us that giants can be slayed. But it's hard work.
Highlights of Progressive Victories
Health Care
•Stem Cell Research and Medical Marijuana: MI
•Home Care: MO
•Children's Health Care: MT
•Death With Dignity: WA
•Long Term Care: WA
•Paid Sick leave: WI (Milwaukee)
Clean Energy
•Clean Energy: MO
Reproductive Freedom and a Woman's Right to Choose
•Parental Notification: CA
•Definition of Personhood: CO
•Abortion Ban: SD
Anti-Labor
•"Paycheck Deception": CO, OR
•"Open & Clean Government": SD
•"Right to Work": CO
Anti-Government Tax Measures
•Eliminate Income tax: MA
•Income Tax Cut: OR
•Corporate Tax Cut: ND
•Revenue Cap: NH (Somersworth)
Anti-Equal Opportunity
•Affirmative Action Ban: CO
Ballot Initiative Strategy Center (BISC) is the nerve center for progressive ballot measures across the United States. BISC is the only organization of its kind, a resource for grassroots advocates seeking to promote issues of economic justice, environmental protection, expanded health care, quality public education, and much more. BISC uses the initiative process as a tool for achieving policy goals and building broad citizen power in the states. Our sister organization, the Ballot Initiative Strategy Center Foundation, is an educational policy center that tracks ballot measure activity and contributions -- shedding more light on the money behind measures, improving donor disclosure and signature gathering laws.
Popular in the Community