If you're wanting to get a new bag, Tumi luggage is sure to deliver your belongings with safety and style. Many travelers consider Tumi to be the "gold standard of travel luggage." No matter how long you plan on being away from home, Tumi offers suitcases that can either carry-on or be checked. They even have Tumi backpacks. And while Tumi luggage can be expensive it will last you longer than cheaper suitcase alternatives. Buying Tumi is an investment which is why doing your research and comparing the best Tumi suitcases is necessary.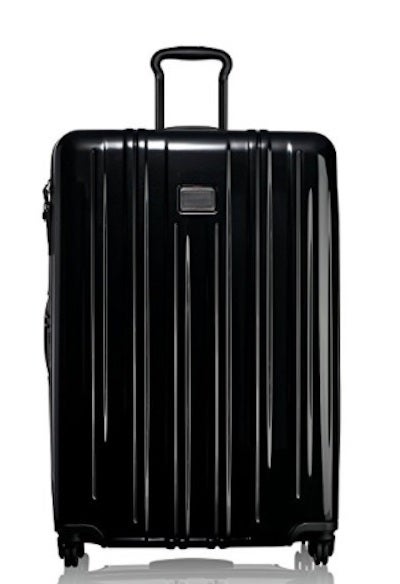 Here are six of the best Tumi luggage to check out:
Hard-Sided Carry-On: V3 International Expandable
Soft-Sided Carry-On: Alpha 2 Front Lid International Carry-On
Garment Bag: Alpha 2 Carry-On Garment Bag
Hard-Sided Checked Bag: V3 Worldwide Packing Case
Soft-Sided Checked Bag: Alpha 2 Worldwide Expandable Packing Case
Duffel Bag: Alpha 2 Large Wheeled Split Duffel
Best Tumi Carry-Ons
Tumi offers eight different carry-on suitcases that come in hard or soft sides.
V3 International Expandable Carry-On
The Tumi V3 International Expandable Carry-On measures 9 x 14 x 22 inches. These are the maximum dimensions for most carriers. If you are flying with a carrier that has a more lenient carry-on policy, hello Southwest and JetBlue, the V3 expands 2" and can still be carried on.
The V3 Carry-On is made of polycarbonate plastic which is especially durable. Believe it or not, this is also Tumi's lightest suitcase yet as it weighs in at 9.4 pounds.
In addition to its durable construction, the V3 also has four recessed dual wheels and a 3-stage telescoping handle for optimal maneuverability. For additional security, it has a built-in TSA lock on the side.
Inside the V3, you have three zipper pockets and tie down straps. If you're a light packer, you can get up to four days of clothes in this suitcase.
You can find the V3 carry-on on Amazon for around $419. It's available in four different colors.
Alpha 2 Front Lid International Carry-On
You might prefer soft-sided suitcases for the additional storage space. When that's the case, go with the Alpha 2 International Carry-On. Like the hard-sided V3, it also measures 9 x 14 x 22 inches and passes as a carry-on.
Even though it has soft sides, it's still more sturdy than your average suitcase as it has protective bump guards on the corners and is woven with Tumi's exclusive, abrasion-resistant FXT ballistic fabric.
If you like pockets, there are plenty of them on the Alpha 2. It has three external zip pockets with one large enough to hold a 15" laptop. Inside, you can pack two suits and there is also a removable suitor section as well. To access the main compartment, you can use the traditional split-case zip entry or the front lid as well.
The Alpha 2 International Carry-On retails for $625 on Amazon.
Alpha 2 Carry On Garment Bag
It can fit up to two suits and a few dress shirts, has tie-down straps, and wrinkle guards. On the inside are also a zip pocket and a mesh zip pocket.
There are plenty of features on the outside as well starting with zip entry to the main compartment. You will also find an integrated hanging hook, speed clip closures, a front u-zip pocket, front zip pocket, and a back zip pocket.
You can carry this Tumi garment bag with the leather top carry handles. Like the other Alpha 2 products, it's made of the abrasion-resistant ballistic nylon.
Tumi does make some larger garments bags that will have to be checked when you fly. This carry-on bag retails for $495 on Amazon, although you can pay up to $983 for a wheeled Tumi garment bag that is intended for longer trips.
Best Tumi Checked Bags
Tumi offers several different checked baggage suitcases that are ideal for extended trips.
V3 Worldwide Packing Case
The V3 Worldwide Packing Case is Tumi's only hard-sided checked baggage option. It measures 12.5 x 22 x 34 inches. Like the V3 carry-on, it's made of polycarbonate plastic, has four dual wheels, and a 2-stage telescoping handle.
This packing case has three zip pockets, a hanger bracket, and tie-down straps on the inside.
You can purchase the V3 Worldwide Packing Case for $625 on Amazon. The two color choices are black and pacific blue.
Alpha 2 Worldwide Trip Expandable Suitcase
This is Tumi's largest suitcase yet. The Alpha 2 Worldwide Expandable Packing Case measures 12.5 x 21.75 x 34 inches. It holds two men's suits and almost everything else in the two zippable pockets and passport pocket. The weight limit might keep you from squeezing in the kitchen sink.
Like the other Alpha 2 suitcase, this packing case is made of the ballistic nylon, corner bumper guards, and two handles to help you lift the bag with ease. It also has a telescoping aluminum handle and four dual wheels underneath for maximum dexterity.
This bag does weigh 22.6 pounds which is on the heavy side, but you will get many years of use from this bag and there's plenty of storage space to be found.
The Alpha 2 Worldwide Expandable Packing Case retails for $1,175 on Amazon. If you travel frequently across the globe, this can be one of the best travel investments you can make.
Alpha 2 Large Wheeled Split Duffel
Travelers like duffel bags because they are more flexible and maneuverable than a traditional suitcase. Tumi's Split Duffel can also help you be an organized packer too.
In addition to being able to access the main compartment on top, there's also a zipper on the bottom portion of the bag that can also divide the compartment into two distinct chambers with a removable divider. There's also a hanging mesh zipper pocket inside the main compartment too.
On the outside of the duffel are two zippable pockets on the front and a large back zip pocket for easy access to your passport and other small items.
Another reason you might be considering this duffel bag is for its many different carrying options. It has a retractable handle so it can be pushed or pulled like a traditional suitcase. You can also use the 10" shoulder strap or the top and side handles if you need to lift the bag.
The bag is made of ballistic nylon and also has bumper guards on the bottom and sides to protect your valuables in the main compartment.
This Alpha 2 Duffel Bag costs $745 on Amazon and is only available in black.
Summary on the Best Tumi Luggage for Travel
If you have ever owned a Tumi suitcase Tumi luggage, or Tumi backpack, you know that's its a very quality product. You get what you pay for with Tumi and while there are many different Tumi suitcases to choose from, these six are sure worth considering.
Popular in the Community