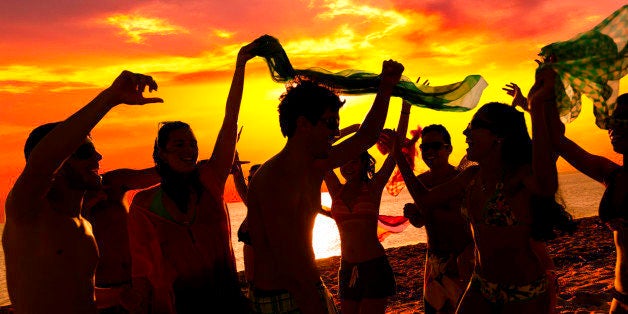 Some of us travel for culture, to savor international cuisine, perhaps for adventure or even just to work. But, some travel in search of the best parties on the planet. It's one thing to experience those iconic black-out nights in college, but it's another to dance the night away under the glow of a full moon on a secluded island on the islands of Cambodia.
Oh, the world is full of such exotic splendors and immersing yourself in culture will (in cliche travel-writing form) change your perspective blah blah and change your life blah blah and you'll be addicted blah. It would be wrong to leave out though, that part of immersing yourself in a different culture is experiencing how the locals let loose and live it up. Whether it's a New Year's celebration that is actually a giant water gun fight or a gathering to watch a wooden giant go up in wild flames in the Nevada desert; letting your inner beast out to play while traveling can be good for the soul and you'll leave with outrageous stories to tell the kids one day...or maybe it's a good idea to bury some of those stories deep, deep down within your loins where no one can uncover them.
Move over Full Moon Party and Coachella. From fashion to vegetable flinging and music festivals to national holidays, take a sneak peek at how the world parties hard and perhaps you animals may find yourself at one for your next international escapade.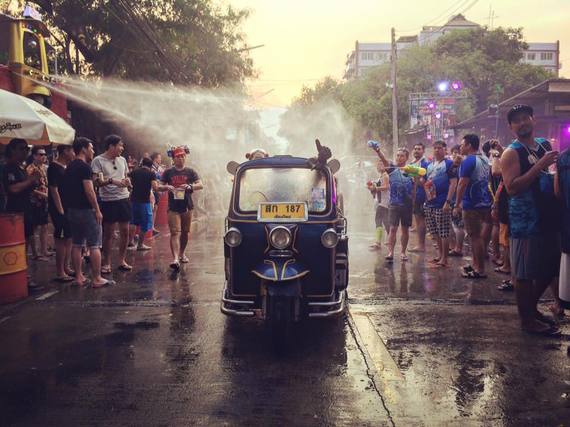 Two words: water gun. That is, you'll need one for this water fight held throughout all of Thailand from April 13-15. On a serious note, this is the Thai New Year celebration, where water is poured on the hands of elders as a symbol of respect and cleansing. It has over time though, become a wet n' wild party, with locals and tourists lining streets with buckets of ice water and super soakers. No one is immune to the cleansing, so leave your electronics and whiny "Don't you dare wet me, I just caked on makeup" attitude at the hotel. Where can you soak up the fun? Bangkok, Phuket and Chiang Mai boast some of the biggest parties.
For all of the fashionistas out there, dip your fingers into some of the poshest parties, runway shows and events during a fabulous week that celebrates style and culture worldwide. Don your trendiest threads and scamper on over to Berlin, Istanbul or Sydney to be engulfed by the boldest looks and freshest clothing lines to hit the industry. Even if fashion isn't your thing, it's a thrilling way to get a taste of the creative ingenuity that goes into the festivities and bump elbows with the beautiful people, with parties organized by the top dogs in the promotional business.
Amsterdam is the city to be on April 27, when the Dutch honor King Willem-Alexander with a national celebration. The party is held nation-wide, but Amsterdam is the popular spot, where a street party of epic proportions takes place. There's plenty of live music all over the city and various art events to explore. The infamous canals are jam packed with boats and those boats are jam packed with peeps. Don't forget to wear orange- the national color of the Netherlands.
If you've ever dreamed of splattering people in the face with fruits without getting punched in the face in return or getting grounded by the parents, then this is the party for you. Travel to Buñol in eastern Spain, where 175 tonnes of ripe n' ready tomatoes are supplied for the world's largest food fight. For this festival, a gun fires and the tomato tossing begins. The sun shines, streets run red with vitamin C and the celebrations are non stop until the pistol fires once more to signal a close to the friendly gathering of tomato flinging.
Burning Man, where strange and beautiful souls- the best kind of souls- gather in the heart of Nevada's Black Rock Desert to create a special community of around 30,000 people. Taking place in August or September, attendees must contribute something to the festival in accordance with the year's theme. Don't you dare try to use cash or card resources- the name of the game is to barter. Let your inhibitions explode out in the barren dust and sand and take in the magnificent artistic creations that seem to come to life when the moon and stars rule the heavens. The grand finale of the fest is a massive wooden figure that towers over the landscape, set ablaze for all to watch and reflect.
If it's not a water or tomato fight you're after, maybe you're one of those that just need to get down and dirty, like plastered from head to toe in mud dirty. In the small town of Boryeong in South Korea, there's a festival lasting around two weeks long to quench that mucky thirst. What began in 1999 as a way to promote the cosmetic benefits of the beach town's mineral packed glop, soon turned into one of the most popular annual parties, drawing international visitors in hordes. It's simple: show up, mud, get drunk, mud and mud it up some more until you and everyone around you is covered in, you guessed it, mud.
Related