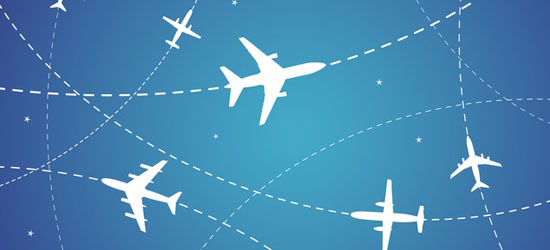 Photo Courtesy of Dreamstime. Article by Kaeli Conforti of Budget Travel.
Travel can be an expensive hobby -- you have to figure out where to stay, what do see and do, what to eat, and more importantly, how to get there, and all without breaking the bank. Flying can often be the priciest part of the journey, especially with all the extra baggage fees and other taxes that are involved nowadays. Luckily, there are airlines out there that want to make it easier -- and cheaper -- for travelers to get from Point A to Point B. We've rounded up the world's best budget airlines, great for that quick weekend getaway you've been dreaming about and there to help support your endless sense of wanderlust with an affordable way to visit a new city abroad.
JetBlue Airways: Comfy leather seats and televisions for all
So you want to fly down to D.C., Orlando, or even San Juan for the weekend -- no problem! JetBlue Airways makes your flight -- whether it's a cross-country hop to San Francisco or a shorter, regional flight to Boston -- comfy and enjoyable with plush leather seats and your very own TV screen equipped with 36 channels to make the time fly by. Complimentary snacks like Linden's chocolate chip cookies, Terra blues potato chips, and Dunkin Donuts coffee are available among other tasty snack options, and to top it all off, your first checked bag flies free of charge. Taking the red-eye? JetBlue offers a complimentary snooze kit with eyeshades, ear plugs, and pre-landing treats like hot towels, coffee, and orange juice to help you greet the new day.
Where they fly: Between major cities in the northeast, southeast, and western United States; the Caribbean; select cities in Mexico, Central America, and South America.
Southwest Airlines: Fun-loving employees and open seating options
Best known for their above-and-beyond customer service -- the airline made news in 2011 when a pilot held an outgoing flight for a grieving grandfather trying to see his dying two-year-old grandson -- Southwest Airlines now offers connections to even more cities around the U.S., Caribbean, and Mexico, thanks to a nifty partnership with Air Tran Airways. Their unique open seating boarding procedure is another thing that makes this airline stand out. You'll receive a group number when you check-in (the earlier the better), and after your group is called, stand in line and choose any seat you want while boarding the plane. Your first bag flies free, and your biggest decision all day will be choosing between the window or aisle seat.
Where they fly: Major cities throughout the United States; Nassau, Bahamas; San Juan, Puerto Rico; Punta Cana, Dominican Republic; Montego Bay, Jamaica; Mexico City, Cancun, and Los Cabos, Mexico.
WestJet: Connecting Canada with the U.S., Mexico, and the Caribbean
Founded in 1996 and based out of Canada, the idea behind WestJet is that you shouldn't get less service just because you're paying less for a ticket. The airline has won several awards since then, was named J.D. Power Customer Service Champion, and is involved in several community service projects including the Boys and Girls Club of Canada, Make-A-Wish Canada, and the Ronald McDonald House among other charity groups. WestJet is also committed to investing in more eco-friendly practices like building more fuel-efficient jets. The airline offers flights to and from a number of Canadian cities, as well as flights between Canadian cities, making this an affordable way to visit the sites in Montreal, Vancouver, Winnipeg, Victoria, and Toronto for less.
Where they fly: Major cities throughout the United States, Canada, Mexico, and the Caribbean. Major cities throughout the United States, Canada, Mexico, and the Caribbean. Check their flight map to see more options.
LAN: Gateway to South America
Looking for an affordable way to explore South America? LAN is known for their reasonable long haul prices between the U.S. and a variety of destinations -- sign up for their email newsletter and never miss a sale. The airline also offers extensive in-flight entertainment options. Each seat has its own television, and you can choose from more than 100 movies, 42 TV shows, 25 games, and even customize your own music playlist from their collection of more than 1,000 CDs or listen to one of their 10 available radio stations; entertainment options sure to make that international flight go by in a jiffy.
Where they fly: Miami is the major U.S. hub, but flights also leave from most major cities in the U.S. and Canada. Within South America, destinations include Lima, Santiago, Buenos Aires, Montevideo, Rio de Janeiro, Guayaquil, Bogotá, LaPaz, and Caracas among others. Domestic flights are also available within Colombia, Ecuador and the Galápagos Islands, Peru, Chile, and Argentina.
IcelandAir: Spice up your next transatlantic flight with a free stopover in Iceland
Want to make that long awaited trip to Europe just a little more interesting? How about adding a free stopover in Iceland? Thanks to IcelandAir, you have the option of adding a stay of up to seven nights when traveling from the U.S. and Canada to Europe for no additional cost to your original plane ticket. If you've got time to spare, don't miss this opportunity to tack on a few days and explore this intriguing nation, home to the Blue Lagoon, gorgeous natural landscapes, and a rare chance to catch a glimpse of the elusive Northern Lights. Check their website for specials from the U.S. and Canada to seemingly pricey destinations like Oslo, Copenhagen, and Helsinki, and for budget-friendly packages to Iceland that include airfare, hotel stays, and visits to popular attractions.
Where they fly: From New York City, Boston, Washington D.C., Orlando, Minneapolis, Denver, Seattle, Halifax, and Toronto, to 25 major European cities and, of course, Reykjavik, Iceland.
Aer Lingus: Service with a brogue and a smile
Erin go bragh! Originally created in 1936 to provide service between the Emerald Isle and the U.K., Aer Lingus is now the national airline of Ireland, operating 43 aircraft and carrying more than 10 million passengers per year. Customers can look forward to an impressive amount of in-flight entertainment-long haul flights from the U.S. feature a large selection of movies, TV shows, and music on demand, as well as several radio stations and gaming options-and complimentary in-flight WiFi on all flights beginning June 2013. Check the Aer Lingus Vacation Store for special deals on trips to Ireland that include airfare, hotel stays, and car rentals depending on the package.
Where they fly: Major cities in the U.S. and Canada, various cities in the U.K. and around Europe. Also to Puerto Rico, Sydney, Melbourne, Kuala Lumpur, Abu Dhabi, Bahrain, Oman, Morocco, and the Canary Islands.