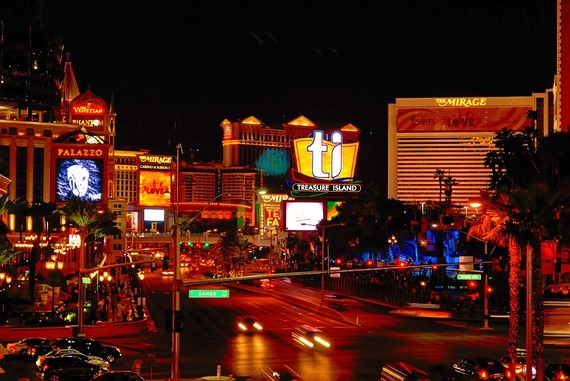 Las Vegas is well-known for its glitz and glamour. Bright lights, show girls, and a party every night. Those aren't the only things that happen in Vegas. Besides the long stretch of casinos, clubs and hotels, there is plenty more fun waiting for you. For all those adventurous spirits out there, after you are done with the slot machines and blackjack, why don't you give these activities a try and find the other side of Vegas?
Many people have no idea that Vegas has a large desert backyard waiting to be discovered. Vegas is a short trip away from the grandeur of the Grand Canyon or hiking amidst the beauty of Red Rock Canyon. There are many places and destinations that would quench an adventurer's thirst. And if speed is more your thing, an ATV tour in the Nevada Desert will give you the experience of a lifetime, while taking in the scenic beauty of the desert.
If you are not into hiking, worry not because there are plenty more ways to take in the views. Consider getting some of your sightseeing done through an aerial tour, easily possible in Vegas. You're not limited to helicopter rides, either, you can also get the thrill of flying with a fighter pilot or watch the sunrise from hot air balloon rides.
For those who think museums are only for kids and history-loving people, think again. Vegas has dozens of museums that will blow your mind. To name a few, the Mob Museum, located in Downtown Las Vegas, will give you the glimpse of the notorious mobster's past, featuring various interactive exhibition and glorious artifacts from the battles of criminals and law enforcement authorities. And The Neon Museum now exists as the city's biggest casino sign graveyard, where you can explore the city's sinful past. Madame Tussaud's wax museum is a great way to get your picture taken with a celebrity!
The first Friday's of every month are extremely exciting for the art lover. It's the First Friday Art Festival. Art of every kind flows in the downtown area. Artists and local performers put up impressive exhibitions and displays which will leave you in awe, and get your creative juices flowing.
For those who don't know what this little town is famous for, Bonnie Springs Ranch was a mining town. Now it is a great place for the entire family. As you walk around in this town, with horse riding and dramatized gun fights, you will enjoy reliving this blast from the past.
If there is one thing that keeps the people happy in Las Vegas, it's the amazing food there. With high end hotels and casinos dominating the strip, you can expect some top class food there. But great restaurants aren't limited to the strip, you can find them all over this great city. How about finding a local mom and pop joint that gives you a great view of the strip to enjoy while you eat?
If you thought that Vegas is only busy for its gambling, think again. With so many fun and exciting activities, one can certainly understand why is Vegas considered to be the hub of fun.