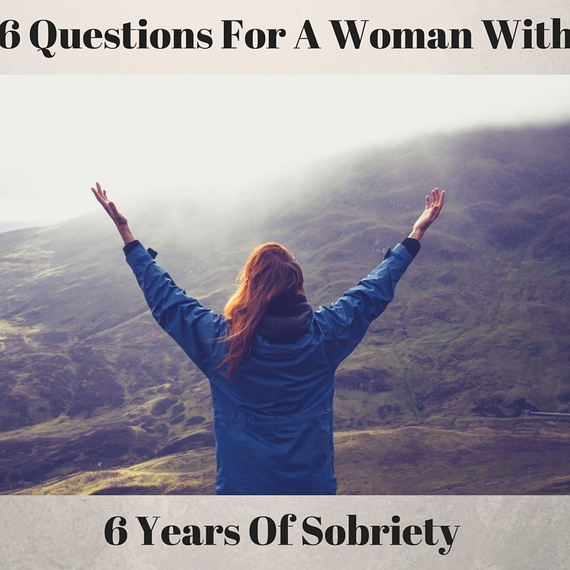 As the heroin epidemic continues to impact many cities across America, and as alcoholism affects more than 30 percent of Americans -- nearly one million people- it's uplifting and inspiring to hear stories of those overcoming their addiction. Last week I was lucky enough to celebrate with my mom for her sixth sober anniversary. She has always been open about her recovery in hopes to help others through their own sober journey. Six years ago at the lowest of lows she asked the Lord to get her out of her own way in order to seek the help she desperately needed. Now, six years later, she is close to earning a degree for addiction counseling while in the mean time lending a helping hand and offering no B.S. advice to those wanting to get out of their own way. So since she's such an inspiration to me and many others I thought why not spread the love.


What are the biggest changes you see in yourself since being clean and sober?
I'm a much healthier and happier person than I was back then. Before I was miserable and punishing myself for losing my family; I thought I deserved every bad thing that was happening to me. I was deep into drugs and homeless so you can imagine how unhealthy I was. Now my family is back in my life, I eat healthy for the most part and I try to go to the gym twice a week. When bad things happen I don't drink and I don't get high -- I can face my demons instead of running from them. The way I see myself is SO different. When I look in the mirror I'm happy with what I see -- I don't wanna spit in my own face. The biggest change though is my honesty. People trust me now because I'm an honest person living an honest life.

Does sharing your story get easier over time or is it hard to keep reliving the past?
Every time is different and every time I get even more nervous. When I'm nervous it's Gods way of shaking the truth out of me and when I'm in the position where I have to share my story I never know what I'm going to say -- I don't really prepare for it. I just ask God to give me the words and it's working for me. Sharing my story ins't so much for me, it's more for the people who are listening. Even if I impact only one person then I've done my job because maybe because of me they take a look at themselves and push harder for their own sobriety and then hopefully offer help to someone else and so on. Plus it always feels good to know that I helped someone- so maybe sharing is for me.
God, honesty, keeping an open mind and peer support. I'm never afraid to ask for help because I know I can't do this on my own. No one should have to go through this alone and I want people to know they don't have to. When I first decided to get sober I didn't know what the hell I was doing. I didn't know where to go or any of that so I asked for help and found a wonderful support system. The minute I stop asking for help I will lose my sobriety. The minute I stop fighting for it or working toward it then I know everything I've gained over these past 6 years is all gone. Staying sober ain't easy but nothing good is ever easy.
Describe addiction in three words.
Describe sobriety in three words.
Joy. Wholeness. Serenity.
What's your best advice for those sinking in addiction but needing to get help?
Always ask for help and be willing. If you are not willing you won't get sober. Nobody can make anybody want to get sober -- that person really has to want it. Sometimes it's a 10 second window when an addict is willing to accept help and if they take it it can change their lives. I never knew an addict that wanted to be an addict but if they don't have the will than forget about it, they won't stay sober. You have to do whatever it takes.
Need help with substance abuse or mental health issues? In the U.S., call 800-662-HELP (4357) for the SAMHSA National Helpline.