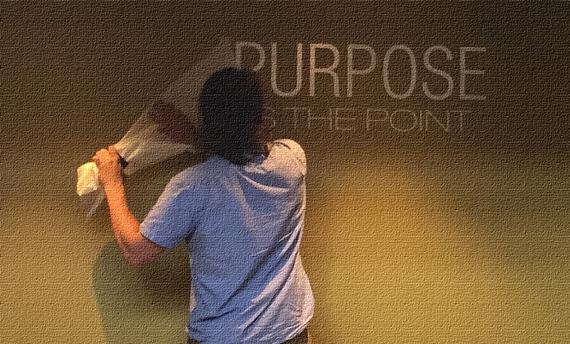 Near the British Museum in London is the headquarters of Bupa, one of the largest health-care companies in the world. Meeting with their chief executive officer, Stuart Fletcher, I'd learned ahead of time that he had a tradition of placing his senior leaders beneath a blinding spotlight and asking them what their purpose was. The ordeal reminded me of George Bernard Shaw's suggestion that we should all "appear before a board every five years, and justify our existence . . . on pain of liquidation." What, I wondered as I waited in his anteroom, does Stuart Fletcher do with employees who are unable to define their purpose? Is a trapdoor involved?
Entering his CEO-ish office I encountered an ebullient man with bright eyes and a bounce in his step. In fact, he reminded me of Tigger from Winnie the Pooh--counter to my stereotype of a world-class CEO.
Our conversation began by discussing the purpose of Bupa, which was displayed prominently throughout the headquarters: "longer, healthier, happier lives." It was clearly more than just a slogan dreamed up by the marketing department. Not only does this purpose provide an ethical compass in the everyday decisions Fletcher and his people make, it also motivates his personal behavior to take the stairs and walk many miles a week.
I asked him where his interest in purpose came from. He responded slowly, eyes welling up: "I don't generally talk about this, but when I was a child, my elder brother was killed in an accident. It shattered my parents, and for me, his death taught me that we're not here forever--life is very precious. In the brief time that we are here, the possibility is to make it really count!"
A purpose in life may be thought of as a self-transcending goal that you deeply value. A purpose, like other goals, focuses the mind and removes extraneous clutter. That it comes from one's core values makes it non-negotiable and authentic.
The ubiquitous corporate mission, "To make the world a better place," has practically become a joke. We know better, and as many business-focused people (the more candid ones, anyway) have told me, "The ultimate goal of any business is to maximize shareholder value." What about the "make the world a better place"? What about the customer? The employees? The community? Do they matter?
Self-transcending purpose has been shown through dozens of research studies to be good for your health. Revenue-transcending purpose in companies appears to be good for your business. In their book Firms of Endearment, business school professors Raj Sisodia, David Wolfe, and Jag Sheth identified twenty-eight companies based on the strength of, and demonstrated dedication to, a revenue-transcending purpose. You've heard of many of these companies: REI, Trader Joe's, 3M, Costco. They're loved by their customers, employees, and surrounding communities. They were deliberately not selected for this study because of their financial performance, but because of their purpose.
Sisodia and his colleagues matched the financial performance from 1998 to 2013 of their twenty-eight Firms of Endearment against the Standard & Poor's 500 and companies selected from the Good to Great book by Jim Collins. Three years into the comparison, the Good to Great companies were returning over 200 percent of investment, more than doubling the performance of both the Firms of Endearment and the S&P 500. It looked at that time like the focus on revenue, regardless of purpose, resulted in more revenue.
By 2013, over the fifteen-year period, the Good to Great companies returned 263 percent of investment, completely swamping the 118 percent return from the S&P 500. But hold on to your stock portfolio: by 2013, the Firms of Endearment ended up returning 1,681 percent of investment!
In his famous book Working, Studs Terkel said that work "is about the search, too, for daily meaning as well as daily bread, for recognition as well as for cash, for astonishment rather than torpor; in short, for a sort of life rather than a Monday through Friday sort of dying." Yet torpor and dying is the situation that the employees of most businesses find themselves in.
Large corporations often have mission workshops requiring all new employees to learn a treacly mission statement and watch an inspirational video or two with cloying music from the illegitimate spawn of Kenny G and John Tesh. A human resource representative then asks employees to describe how the mission relates to their life. Kill me now.
Here's a quick six-step guide for finding your company's authentic purpose:
Step 1: Consider the top three-to-five core values of the company. What are the things the company cares about the most? What's non-negotiable?
Step 2: Consider other companies you admire and would want to emulate (not imitate).
Step 3: This is a tough one. Assume your company went out of business. In retrospect, what would you want it to be known for? What legacy would you'd like the company to leave?
Step 4: Now that you've primed the pump, it's time to ask, "What are the goals of your company that matter most?" These goals naturally emerge from what you value the most.
Step 5: Assemble these valued goals into an overall company purpose. This is where you stop and ask yourself, "Does this purpose transcend revenue?" Make sure the suit fits - your purpose can be aspirational but it must be authentic.
Step 6: Wear the suit. Make sure everyone in the organization understands the purpose. If the purpose doesn't fit, change it until it does.
I find it interesting that so many people living purposeful lives, like Bupa's CEO Stuart Fletcher, have seen the grim reaper up close and personal. Two thousand years ago, the Stoic philosopher Seneca said that "The life we receive is not short, but we make it so, nor do we have any lack of it, but are wasteful of it." Stuart understands the absurdity of being the richest person in the cemetery. He understands the importance of leaving a positive legacy. Do you?
Join me at the May 12-13 Positive Business Conference at the University of Michigan's Ross School of Business where we will explore how to live and work with purpose. Together, with leading practitioners and scholars, we will learn how to create the fuel to sustain our commitment to Positive Business.
Vic Strecher is a behavioral scientist, professor, and Director of Innovation and Social Entrepreneurship at the University of Michigan's School of Public Health. He is also founder and President of JOOL Health, a digital health solution company that integrates the science of purpose in life, advanced smartphone and biometric technology, and big data analytics to improve well-being, helping users become better researchers of themselves as they develop, and align daily with, their purpose in life.
Excerpts taken from LIFE ON PURPOSE: How Living for What Matters Most Changes Everything. Copyright © 2016 by Victor J. Strecher. Reprinted with permission by HarperOne, a division of HarperCollinsPublishers.
Related
Popular in the Community