Wedding industrial complex got you down? If hearing about your friend's $91K wedding bill gives you the cold sweats and the idea of buying a multi-thousand-dollar dress to wear but once makes you queasy, then the quote-on-quote traditional ceremony and reception probably isn't for you. And that's more than OK. In fact, we talked to six couples who all had their own reasons for ditching the typical fête in favor of intimate elopements — it was the best decision they ever made. Here, their stories.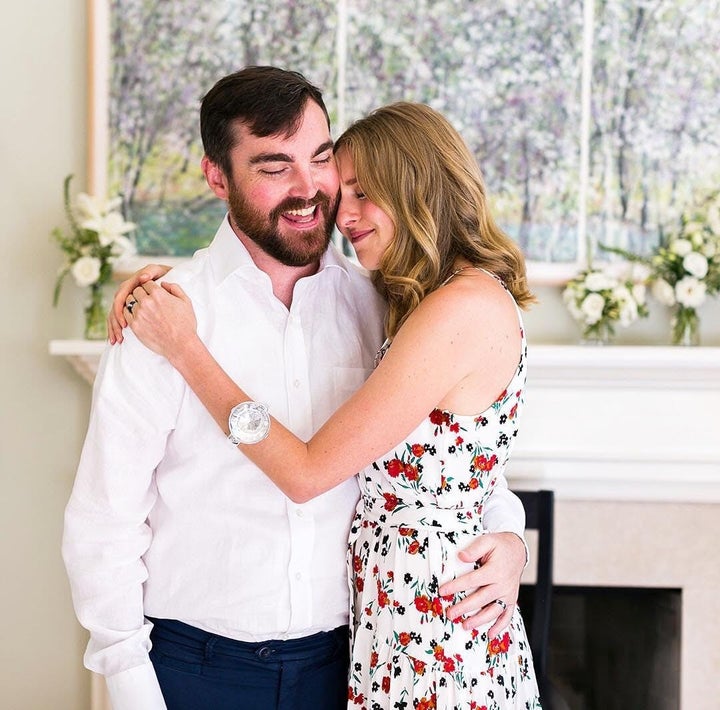 1. Because weeping in public is not an option.
"I decided to elope because I don't like weeping in front of large groups of people. Kidding. But also dead serious. I've always known I didn't want a traditional wedding. And that's been cemented over the years as I've watched friends deal with family drama and the stress of planning. I love celebrating others in the ways they choose and cry at almost every wedding. But dropping that kind of money on a party where I'll barely get to spend time with the people I love just isn't one of my values. (I don't want a diamond either!—I got an adjustable ring from a hardware store.)" – Coterie member, Phoebe Lapine, Brooklyn, NY
2. Because there's no day but today.
"My now husband and I planned to be together forever, we just were never in a rush to 'take the plunge'! In October 2017, my husband was diagnosed with cancer. He had an evasive, quickly growing tumor that was taking over his jawbone. At that point we did not know what life may throw at us and decided to elope now and not wait! We're simple people and having an easy wedding and celebration was absolutely perfect for us. We commenced a new era of loving one another without the stress of 'the big day.' My advice to anyone considering the option of eloping would be...you never know what could happen tomorrow so if you love someone and want to keep them forever, do it! You could be joined as one in about a week from today!" - Lindsay L., Hortonville, WI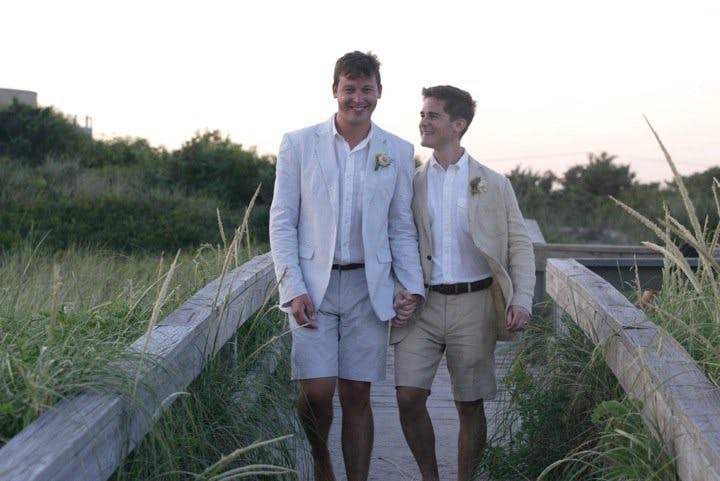 3. Because marriage equality passed.
"Marriage Equality passed in New York that June of 2011, and it took a month to go into effect. So we got married about a month after that. (We jumped on it, but we weren't, like, first in line at the courthouse.) We'd been together seven years and been to a lot of weddings together so I think we wanted to just get it over with. On top of all those feelings, as a gay couple, we weren't sure who would support us and who would potentially ruin our wedding, so eloping took that out of the equation. My wedding was the first gay wedding I went to. We eloped on a Wednesday at sunset on Fire Island. We spent the day on the beach, and when we saw the sun was setting, we were like, 'Crap! We were supposed to get married today.' So we quickly showered, put on our suits—shorts, no shoes—and walked to the last boardwalk in town. Our officiant was the person who introduced us back in college, and she was conveniently already a reverend of the Universal Life Church. Her brother was our witness and photographer. The whole ceremony took ten minutes. An older gay couple with a kid and a dog watched from about 100 feet away on the sand. When we kissed, the dog barked. I'm happy I did it, because it was a day that was just for us. No performance. No pressure." - Brian F., Brooklyn, NY
4. Because no expectations are great expectations.
"I highly recommend eloping. We freed ourselves from the expectations that everything would be perfect, and actually, everything was perfect. We didn't tell anyone we were getting married ahead of time, not even our parents. We called them right after as we walked to an impromptu 'reception' at a Chinatown roof bar. My parents reacted how I predicted they would. They were happy and excited at first and then kinda mad they didn't know and then just happy—all emotions within about a minute. As for the reception, we just texted a picture of ourselves at city hall to our friends and told them we got married and invited them to join us to celebrate. Some of our friends didn't believe it at first, but eventually about 30 of them showed up to the bar. We didn't even have a reservation and we ended up drinking all the Champagne in stock. Then some of our friends chipped in and got us a room in the hotel the roof bar is attached to. Couldn't have asked for a less stressful and happier day." –Eric S., New York City, NY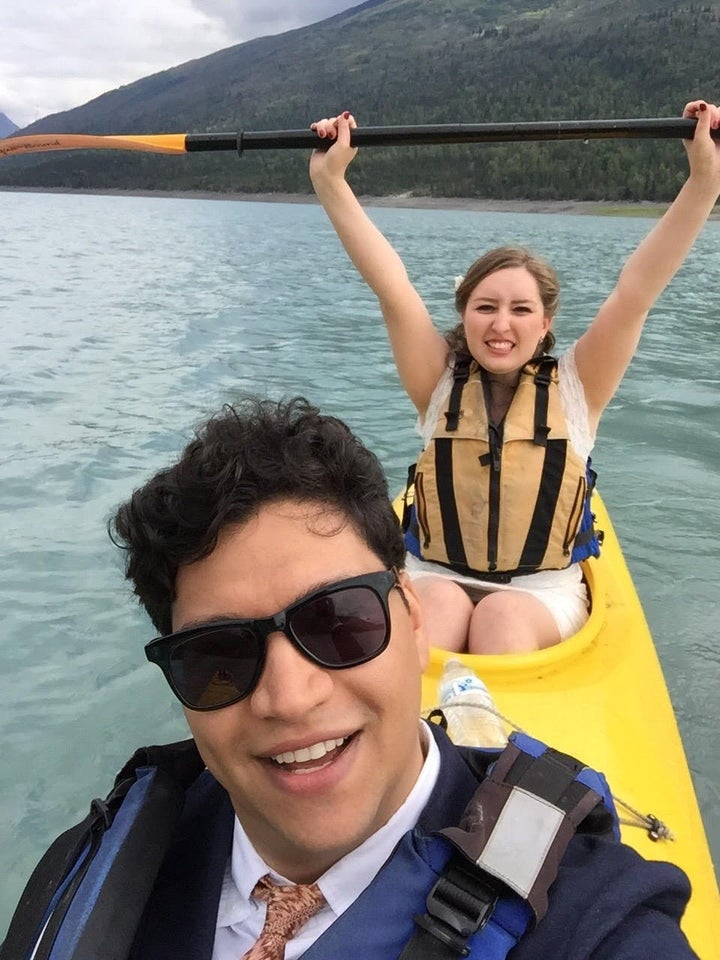 5. Because getting everyone together in one place is complicated
"We had a summer trip planned to my fiancé's hometown of Anchorage, and I was bringing both of my nieces as a high school graduation trip gift. Since we had been dating for six years, living together for four already and domestic partners for over a year, we figured we'd have members of both of our families in one place and decided a few weeks ahead of time to go for it. We told her parents and sister about a week before because we needed their help getting preliminary paperwork completed. When my nieces arrived, we told them and got one of them to officiate (anyone over 18 can officiate in Alaska if you fill out a form). My other niece was my 'best man.' We chose Eklutna Lake in Chugach State Park as a location since my fiancé has fond memories from there as a child, and it's free to the public. Her parents brought their canoe for themselves, and we rented kayaks for the rest of us. In formal attire we paddled across the turquoise glacial waters where Anchorage gets its drinking water to a nice grassy patch on the other side. It was an absolutely magical scene with low clouds covering the tops of the green-tree-covered Twin Peaks mountains. The beauty of nature and our love made it unforgettable and the best decision of our lives. I'm not sure what a view like that would cost in the continental U.S. with a full wedding ceremony and reception, but between our clothes, lunch and kayak rentals, we probably only spent like $400 that day." – Alex A., Brooklyn, NY
6. Because that money could go to a house
"Fifteen years (and attending many other kinds of weddings) later, I feel better than ever about our decision to elope. We invited a few close friends and family to join us for the ceremony and lunch afterwards. It was a fun and relaxing time, on our own terms. Spending a lot of money on a big wedding wasn't an option for us, but even if it was, we would rather have put those dollars toward a house. We agreed that a wedding is just one day, not the whole marriage. Focus on the life you're establishing together as a couple, not on all the trappings the wedding industry says you 'must' have." – Jen M., Chicago, IL