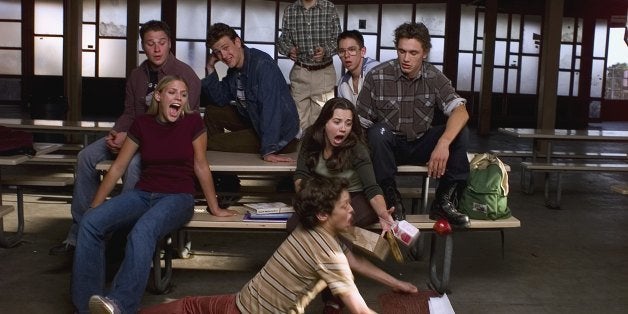 Freaks and Geeks was a critically acclaimed television series that was cancelled after only one season. Nonetheless, this show helped launch the careers of many of its young actors such as Jason Segel and Seth Rogen, just to name a few. This show is unique for conveying a different view on the American teenager and the average high school experience, because of it's raw honesty. These are just a few of the many reasons why Freaks and Geeks understands the average American teenager by addressing issues that are constantly overlooked in other television shows.
1. We lose touch with our childhood friends
Admit it. Chances are that we won't have a Now and Then moment 20 years from now with our childhood friends. High school sometimes makes or breaks our friendships. In Freaks and Geeks, Lindsay and Millie are childhood best friends but have been drifting away. Millie is a very good girl. She is very religious and wholesome. Millie cares for Lindsay's academic success and she doesn't want to see her fall into a bad crowd. Lindsay on the other hand is very smart but wants more than just straight A's. That eventually leads her to try new things and meet other people. They eventually drift enough apart to the point that they won't even eat lunch together like they used to. I'm not best friends with my bestie from middle school anymore so it was nice to see Freaks and Geeks address this unlike other shows that assume all teenagers are still besties with friends from youth. Freaks and Geeks also displays how some teens even go as far as not letting their friends join clubs or have other interests because they fear that they might lose them or drift apart. Sam and his friends try to prevent their new friend, Maureen, from making other friends and joining the cheer team because they also fear losing her. While I sadly admit I've done this before in the past with friends, it is never a good idea in the long run.
2. We try to please everyone
Teenagers have garnered the bad rep of being self centered and rebellious. While that is somewhat true, I can honestly say that a good percentage of us teenagers are the exact opposite of that. We want our friends and families to be proud of us. We try to please our parents by doing good in school and we try to please everyone else in between as much as we can. Lindsay Weir is the epitome of that. She tried to please her teachers, parents and friends but never really gave a thought to what she truly wanted for herself. It's okay to be a little self-centered once in a while!
3. We give into peer pressure
We see plenty examples of teenage peer pressure conveyed in the media; however, Freaks and Geeks gives us a more realistic take on this issue. Marijuana is a popular drug among teenagers and sadly, many teenagers are subjected to it by their friends or by other people they know. What makes Freaks and Geeks portrayal of peer pressure different than other examples on other television shows is that this show doesn't give us a pep talk about how peer pressure is bad; instead, they simply show the character's entire experience from giving in and how the character learned from it. Lindsay doesn't feel like she belongs with her friends because she's never smoked and she is also tired of being such a good girl. Lindsay gives into peer pressure and decides to smoke for the first time. She quickly notices that she made a huge mistake.
4. We don't all seek popularity
Freaks and Geeks is unique because the male lead, Sam Weir, doesn't actually want to be the popular kid at his school. Various television series based in a high school setting seem to portray the idea that teenagers seek popularity and solely want to be the cool kid with a hundred friends. Sam makes it clear that he doesn't want to be popular with tons of friends because in his words, he "already has two friends." This is a great example of quality over quantity. I would rather have two awesome friends than have twenty terrible friends.
5. We don't have a perfect first boyfriend/girlfriend story.
Freaks and Geeks gives us a very refreshing take on first loves. The love between Lindsay and Nick isn't like anything I've ever seen on television. They are both very different kinds of people but both are still very inexperienced and naïve, like most teenagers are when it comes to their first relationships. If you grew up watching Hilary Duff movies, you'd know that the shy but cute girl miraculously always gets the rough but sensitive cool guy and eventually live happily ever after. Seems realistic right? Yeah, that's what I thought. Sometimes when I watch other teen couples on other shows, it just doesn't seem real. Television makes teenagers look as if they are experts at smooth talking and kissing but it just doesn't seem right. In Freaks and Geeks, Lindsay isn't very comfortable with having all of Nick's utmost attention and she's worried about taking things too fast. Nick is the type of boyfriend who doesn't really know how to be a boyfriend. He's a bit awkward at kissing and he thinks smothering his girlfriend is normal. When I was a sophomore, I had a boyfriend who was just like Nick, even down to the height. He would awkwardly sing to me just like Nick. When his friends and teachers (yes, teachers) found out I was dating him, I was constantly told about how great of a guy he was and how I couldn't break his heart, just like Nick's friends in the show told Lindsay. I was obviously the Lindsay Weir of that situation.
Lindsay's little brother, Sam, also has some first love issues of his own. The girl of his high school dreams is finally dating him after years of solely being some boy in her class. Sam quickly catches on that this girl is not exactly the girl he thought she was. She is shallow, rude and egotistical. She also has a different sense of humor and finds Sam's interests to be dumb. Sam does not take this lightly so he breaks it off with her even after spending years crushing on her. This is a great example of how some teenage relationships actually are. We aren't all shallow and some of us actually care to have common interests with our friends, boyfriends or girlfriends. Most relationships in high school do not work out and Freaks and Geeks conveys that perfectly.
REAL LIFE. REAL NEWS. REAL VOICES.
Help us tell more of the stories that matter from voices that too often remain unheard.