Springtime is host to numerous March for Babies events all across the county. These events raise money to support the March of Dimes and the various research and programs they fund.
Here are six reasons I march for babies and always will:
1. They strive to prevent premature births. Although the March of Dimes was established in 1938 by Franklin D. Roosevelt to fight polio, its mission focus was shifted around 1950 to preventing premature births and birth defects.
2. They were instrumental in creating Newborn Screening Tests. The March of Dimes funded the initial research leading to the creation of Newborn Screening. It includes simple blood tests to check for various conditions and disorders to help ensure your baby is healthy, or to identify problems early -- so they can be treated. The New York State Newborn Screening Program tests for more than 40 disorders. Every state has Newborn Screening in place, but the particular tests may vary. Every baby born in America is a March of Dimes baby because of this!
3. They are trying to figure out why babies are born premature. In 2004, the March of Dimes began the Prematurity Research Initiative (PRI), which funds research into the causes of prematurity. Since then, nearly $24 million has been awarded to 73 grantees. Some PRI grantees are exploring how genetics or a combination of genetic and environmental factors may influence a woman's chances of going into labor prematurely. Others are examining how infections may trigger early labor.
4. They are discovering methods to treat the side effects of premature birth. The March of Dimes funds prematurity research through its national research program. Grantees are developing new ways to help treat common complications of prematurity like BPD (bronchopulmonary dysplasia), PDA (patent ductus arteriosus), CP (cerebral palsy) and ROP (retinopathy of prematurity) -- all side effects of being born too early.
5. They are helping little immature lungs breath easier. Researches funded by the March of Dimes helped develop surfactant treatment (a substance that keeps the tiny air sacs in the lung open), which has saved tens of thousands of premature babies with breathing problems.
6. My daughter was born a micro preemie at 23 weeks. She weighed just 1 pound and 4 ounces (575 grams) and was not even as long as a ruler. She had a breathing tube down her throat for months, countless intravenous lines, numerous X-rays, blood transfusions and painful medical procedures. My daughter spent 121 days in the NICU (neonatal intensive care unit) before joining her three older brothers at home.
Her time in the NICU was the most difficult time in our family's life and we will always walk at the March for Babies and support the March of Dimes to help prevent this from happening to other families, and to prevent other babies from being born too soon.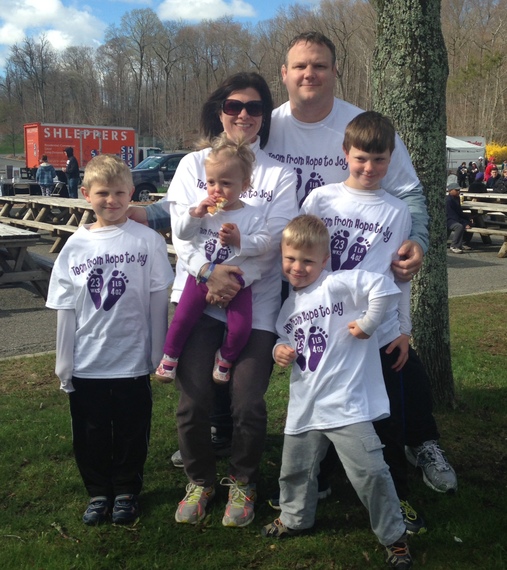 (Our family at the March for Babies in 2014 -- where we were the Westchester County, NY Ambassador Family)
Our daughter will be 3 years old next month and she is the light of our life. We owe her success to the excellent medical staff at her hospital and to the March of Dimes for all of the work they did help our precious little girl.
Support HuffPost
A No-B.S. Guide To Life
Related
Popular in the Community