After spending the last year living and teaching English in Seoul, South Korea, I am trying to spread the word that this city is absolutely incredible.
With a metro population of more than 25 million, Seoul is a lively, economic powerhouse. Home to several of the world's largest companies (Samsung Electronics, LG, Kia and Hyundai Motors, to name a few), this city truly never sleeps.
But the city is much more than its tech-obsessed economy. Korean people are friendly, and are generally welcoming to foreigners. Their society is derived from Confucian principles, which emphasize the importance of family and respect for others (specifically the elderly). These distinct customs create a bond of peace and trustworthiness among citizens and visitors.
But why Seoul of all cities? You might be more interested in seeing other destinations around Asia, and South Korea might not be on your radar. But after you read the following six reasons, perhaps you'll change your mind.
1. Amazing food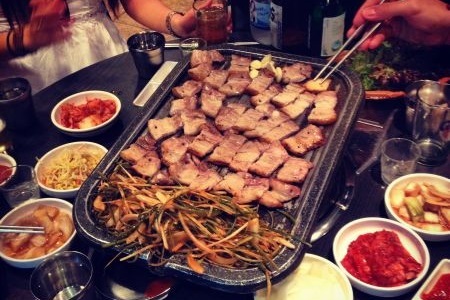 Drew Goldberg / The Hungry Partier
If you love spicy food, then you've come to the right place. Korean BBQ, the city's well-known cuisine, involves grilling fresh cuts of beef or pork tableside. Unlimited portions of side dishes -- including soups, fresh vegetables and spicy sauces -- are served at the table. Kimchi -- a spicy fermented cabbage dish -- is usually mixed with rice or soup and is consumed with almost every meal.
Almost all ingredients are locally grown, so the food is about as fresh as it gets. The city's traditional food markets, Gwangjang and Namdaemun, showcase fresh handpicked vegetables that are used in Korean cuisine. Cabbage, garlic, cucumber, potato, spinach, bean sprouts, chili peppers, zucchini and mushrooms can all be found at the local markets.
2. Fascinating culture
Koreans live by a unifying "work hard, play hard" mentality. Whether they make their living as businessmen or construction workers, Koreans put every last effort into accomplishing success. This is an unstoppable, contagious mindset.
Respect is heavily ingrained into Korean society, especially when someone interacts with an elder or someone they don't know. For example, Koreans will always give a proper bow when greeting (they don't shake hands), and they always use two hands when giving or receiving something as a sign of politeness.
3. Thriving nightlife
The nightlife in Seoul feels like a nonstop party, and drinking alcohol is a frequent social event among friends. Many people imbibe local rice liquor called soju, which is normally served in a green glass bottle. It's similar to sake of Japan, but soju is actually the most popular liquor sold in the world (more than 61 million cases were sold in 2013).
Whether you like to kick back and enjoy a beer with some friends, or dance at a nightclub, Seoul has something for you. Head to Gangnam, Itaewon and Hongdae to experience the best after-hours entertainment -- almost nothing closes until the sun rises.
4. Tech-savvy innovations
It seems like Korea is five years ahead of the world in technology. At night, the streets never darken thanks to the perpetually illuminated neon lights, which make Las Vegas look like a quaint rural suburb. Inside, nearly every room of every building in Seoul has a giant Samsung TV screen mounted on the wall. Other top-of-the-line Samsung & LG products like computers, cell phones, printers and air conditioners are seen everywhere. Samsung even produces a brand of high-tech cars commonly seen on the streets of Seoul.
But above all else, the readily available and utterly fast Wi-Fi speeds are perhaps the best facet of Korea's tech-driven economy. In fact, South Korea is renowned for being the most connected country in the world, thanks to its widespread Wi-Fi availability (you can pick up a Wi-Fi signal from any coffee shop, restaurant or street corner).
5. Affordability
While Seoul may not be as inexpensive as other destinations in Asia, it can be traveled cheaply, which is why many backpackers and budget-minded travelers make a stop here.
Food, in particular, is very affordable. Street vendors, which are stationed throughout the city, are the cheapest option. You can get mandu (Korean dumplings), ddeokbogi (Korean spicy rice cakes), fried chicken and more for less than $3 USD. As long as you avoid the touristy restaurants, a traditional Korean BBQ meal will cost you no more than $12 USD (soju and beer included). Get your first Korean BBQ meal at Nongoljip or Saebyukhip -- both located in Gangnam.
Accommodations are just as reasonable. Hostels offer rooms for less than $10 USD per night, and cheap hotel rooms can be found throughout the city. However, if you want to experience even more Korean culture, consider staying at a jjimchilbang (a Korean spa). For 7,000 KRW per night ($7 USD), you'll have the opportunity to experience Korean culture first-hand. The base price includes a mat for sleeping, access to the spa and showers and a change of clothes to sleep in. Depending on the jjimchilbang, you can also pay a little extra to get a massage or a haircut.
6. Ancient history
All around Seoul, there are dozens of colorful and detailed Buddhist temples that preserve a rich, ancient heritage. Buddhism was introduced to Korea in the fourth century, and according to a recent government survey, about 25 percent of Koreans still identify themselves as Buddhist. Buddhist temples like Jogyesa, Myogaksa, Bongeunsa and Jingwansa (situated within Bukhansan National Park) are some of the city's must-see religious sites.
As a recent University of Wisconsin-Madison graduate, Drew Goldberg has visited more than 40 countries since 2012. Drew is currently teaching English in South Korea, blogging about food, culture and nightlife at The Hungry Partier. You can follow his adventures on Twitter, Facebook and Google +.
Related