According to a recent Gallup poll, fewer than 30 percent of Americans are engaged at work. The research asserts that it is not enough to be well-compensated at work. Instead, the happiest employees are the ones who feel a sense of purpose in what they do. These findings are an excellent reminder to consider more than just the starting salary and bonus the next time you are in the market for a new position. Whether it is a non-profit like The Art of Elysium, a Los Angeles-based organization which encourages working actors, artists and musicians to voluntarily dedicate their time and talent to children who are battling serious medical conditions, or a for-profit social enterprise, like Tom's Shoes, which donates one pair of shoes to the needy for every pair of shoes sold, there are many good work and life satisfaction-related reasons to work for an organization where you will have the chance to make a difference. Below are six of the best ones:
1. You will be a happier person. In a Deloitte survey of more than 1,300 working adults, employees at companies with a strong sense of purpose were more than four times as likely to (79% versus 19%) state that there was high employee satisfaction at their company. Many of us spend more time at work than we do with our partners, families, or friends. As a result, doing work with a good purpose can make a big difference not just to our satisfaction with our professional lives, but with our lives in general.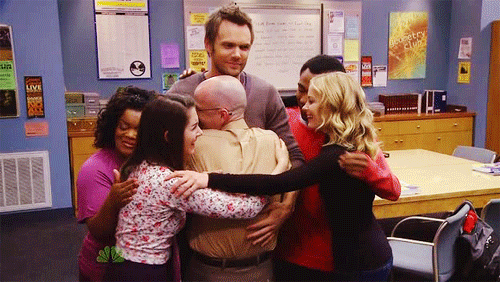 Liking your co-workers doesn't have to mean bringing it in for a group hug like the gang from Community.
3. You may have access to some pretty great perks. In addition caring about the impact of the work they do, mission-driven companies also to tend to care about the well being of their employees and value work-life balance. Depending on the size and industry, socially-conscious companies can offer a wide variety of perks. For example, at BidKind, we offer employee benefits including a paid two week leave of absence each year to perform community service, group spin classes, and free healthy snacks. At the nearly 40-year-old Creative Artists Agency (CAA), the CAA Foundation is dedicated solely to giving back. The CAA Foundation harnesses the power and reach of pop culture to create positive, social change by forging strategic partnerships, encouraging volunteerism, stimulating public awareness, granting financial contributions, and providing in-kind donations. The CAA Foundation also empowers employees, companies, athletes, and artists to contribute their time, talent, and resources to make a difference, be of service, and improve conditions worldwide.
6. You will have more exit opportunities. If you ever decide to leave your new mission-driven employer, your resume will now resonate more with other purpose-driven companies, regardless of sector. Similarly, working for a non-profit or social enterprise can actually help make your business school applications stand out from those of more traditional candidates.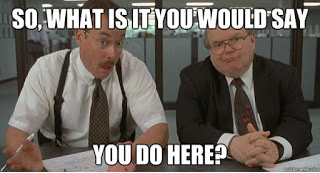 Your interviews won't go like this scene from Office Space after working at a mission-driven company.
There are many personal, professional, and of course, moral, reasons that working for a mission-driven company can improve your satisfaction with work and life. Having a sense of purpose is even enough motivation for Jay Z to give up the $2.3 million that he averages each night while on tour in order to perform for free in Central Park as part of the Global Citizen Festival, a concert encouraging individuals to make a difference. Hopefully you have found that level of satisfaction at work. If not, it may be worth considering a change. Happy job hunting!
Calling all HuffPost superfans!
Sign up for membership to become a founding member and help shape HuffPost's next chapter