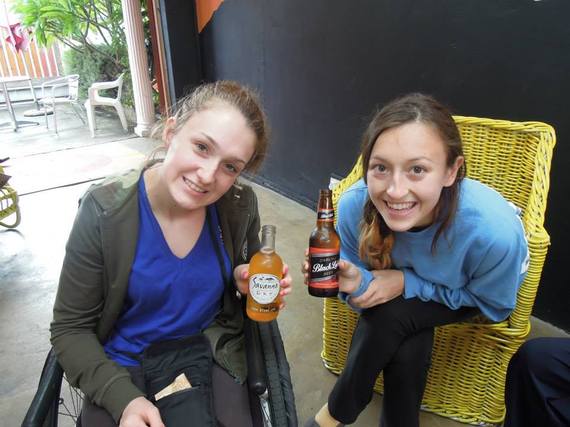 Hostels are more than just somewhere to stay, you can meet new people, save some dough and lessen your impact on the planet.
One of the first things that travelers tend to consider as they plan their next adventure is accommodation. Having a place to sleep at night is pretty important especially when you are in a foreign country.
So far, my journey as a traveler has taken me to Costa Rica, South Africa, Sweden and Australia. All these countries have vast differences and unique cultures. However, all of these trips shared one thing in common: I've stayed in a hostel each time.
Hosteling enriches your travel experience and it does so without breaking your bank. I encourage all travelers to look into staying in hostels and here are a few reasons why.
Let's face it, travel is expensive. Flights, food, accommodation and activities all add up. Generally, hostels offer accommodation for much lower prices than hotels. By utilizing a shared bathroom and kitchen, you can cut down your housing expenses dramatically. Even if you're not up to sharing a room with people you don't know, many hostels private rooms and bathrooms that are worth checking into.
When traveling, you aren't going to want to spend a lot of time at home anyways. So you might as well save a little money on accommodation and splurge on outings or souvenirs!
Hostels are generally conscious about the environment and trying to lessen their impact. The hostel I visited in South Africa encourages people to limit their water and energy usage, practice recycling and composting, and air dried their linens instead of machine drying them. At a time where conservation is so crucial to the future of our planet, it is great to support companies that are trying to do their part to help.
This is probably my favorite part about the hostel experience. When I went to South Africa on a short term study abroad program, we stayed six per a room for three weeks. Before the trip began we were basically strangers and at the end we left close friends.
We had movie nights and late night chats that brought the whole group together in a short amount of time. Our professor has done the same program plenty of times before our group, but this was the first time she booked a hostel. Before, each participant had their own room. She said that our group formed connections much faster than her past trips, and besides, who wants to sleep alone in a foreign country anyways? Not me.
Even if you are not traveling with a large group of people, you are sure to make friends with the other hostel dwellers. There is normally a communal kitchen or gathering area that people go to eat or hang out in. This is a chance to meet people from all walks of life, from all over the world. You never know, you might meet a new travel buddy or a life long friend.
One concern I've come across when talking to people about hostels is safety. This is obviously a priority that everyone should be aware of when their traveling, but in all the hostels I've stayed in, I've felt very secure.
Most places have a gate or a code for the residents to use after dark, so only people who are staying there can get in. Additionally, there are lockers, so even if you sharing a room with people you don't know, your stuff will always be safe. There is normally a staff member on duty 24/7 as well as luggage storage in case you arrive before your check-in time.
All of the staff at the hostels I've stayed at have been awesome. Now, that is not a 100 percent money back guarantee, but many hostel employees are travelers themselves, so they want you to have an enjoyable experience! They can give you recommendations for what to do, where to eat, and the local favorites that you don't get from the tour books.
At my stay in a Hostel in San Jose, Costa Rica, there was a agent who helped planned adventurous excursions for travelers, which included transportation to and from the site. With a little bit of encouragement, this is where I signed up to go bungee jumping!
How does a rooftop bar that overlooks San Jose sound? Or a beautiful outdoor pool complete with a wet bar stocked with endless margaritas? And of course everyone's favorite: free wifi. Just like hotels, hostels have many perks for travelers to take advantage of during their stay.
In our South African hostel, the manager charged one USD for a beer or cider. That sounds like a pretty good deal to me. I'm looking forward to my next hostel stay in Sydney over Easter Break and can't wait to see what features they have in store for us.
Hosteling is a unique experience, that everyone should try at least once. According to HI Hostels, there are over 4000 worldwide in 80 different countries; so it shouldn't be hard to find a hostel that works for you!
Popular in the Community